So you've just built yourself a brand new gaming PC. Lots of RAM. Big graphics cards. A speedy CPU. One, two, or maybe more special SSDs. A nice, 4K capable monitor, and a nice set of headphones to match.
But what do you play? Hardware hasn't evolved to the point where it can play everything in 4K, and there are plenty of older games that really shine with the bump in resolution. So if you've just built a brand new gaming PC and you're looking for things to test the waters, here's the games you should really play in 4K.
Presented by 7th Generation Intel® Core™ processors, which will immerse you in gaming and entertainment like never before. Desktop PCs and mobile devices start faster, work longer, and support higher-res graphics and video.
The Witcher 3: The Wild Hunt
You could be playing in 8K and 12K and The Witcher 3's world would still be worth journeying through. The way the light breaks through the trees, the way the branches sway in the wind, the sound of Roach travelling through the snows of Skellige or sailing through the mist: it's a gorgeous, often haunting world.
Another advantage of playing a slightly older AAA game is that you get years of patches, performance improvements and driver optimisations. I still wouldn't enable NVIDIA Hairworks if you want the best performance, mind you, but outside of dutch angle shots most people won't notice the difference in hair quality too much.
Elite: Dangerous
Image: Elite Dangerous
Star Citizen will be amazing to play one day at 4K – or higher – but the game's still got a lot of development to go, and as nice as it looks you've got buckley's of getting a smooth 60fps at 4K. Elite: Dangerous, on the other hand, is in a much better state. One of the best titles for showcasing VR and a well-optimised game in its own right, E:D has plenty of moments where you can get dwarfed by the magnitude of space.
If you've been thriving for a first-person view of space full of aliens, marauding pirates, space stations to accidentally crash into and the newly discovered TRAPPIST-1 star system, Elite: Dangerous is the trick. It's best played with a full HOTAS setup, but you can fly around the galaxy just fine with an Xbox controller or a mouse and keyboard.
Mass Effect: Andromeda
Image: Kotaku
The facial animations might be a little janky at times, but the combination of the Frostbite engine and Mass Effect means the environments are stunning. Andromeda also shipped with day one support for NVIDIA's in-game photography tool, Ansel, allowing for super high-resolutions shots as well as stereo, 360o and VR-viewable images. Here's a couple of examples:
Image: Twitter (@sarge0079)
Image: Twitter (@BFCaptures)
DOOM
Image: Kotaku
One of the best shooter campaigns in years, DOOM also has the luxury of being one of the most well optimised games for the PC. The introduction of Vulkan support is second to none, allowing most medium to top-tier GPUs to run id's demon slaying simulator at 4K without missing a beat.
There are plenty of games worth running at 4K regardless of performance because the environments and scope are worth it. There's older titles worthwhile playing at 4K because PC hardware has advanced to the point where they can handle it. And then you have games that are so well developed that they smash it out of the park from the beginning.
DOOM is that game.
Rise of the Tomb Raider
Image: Xanvast
Like Andromeda, Rise of the Tomb Raider is a great game for just stopping to smell the roses. It was already a good looking game when it first launched on the Xbox One, but Lara's latest adventure is best served by a high-end CPU and a similarly powerful GPU. Rise of the Tomb Raider also encourages a lot more exploration than the reboot did a few years ago, which is even all the more worthwhile when you get to sit back and enjoy stuff like this:
Image: Xanvast
Stunning.
House of the Dying Sun
Image: Supplied
The final frontier has always been a great way to push PC hardware to its limit. But if you want a take on space that's more action oriented and more stylised than Elite: Dangerous or Star Citizen, House of the Dying Sun is a great alternative.
A mix of traditional dogfights with some real-time strategy elements, the indie title from Marauder Interactive channels a bit of X-Wing vs TIE Fighter and comes with full support for the Oculus Rift and HTC Vive. Most importantly, Kirk found the controls were tight – a must for any space shooter – and the aesthetics were always a joy to behold.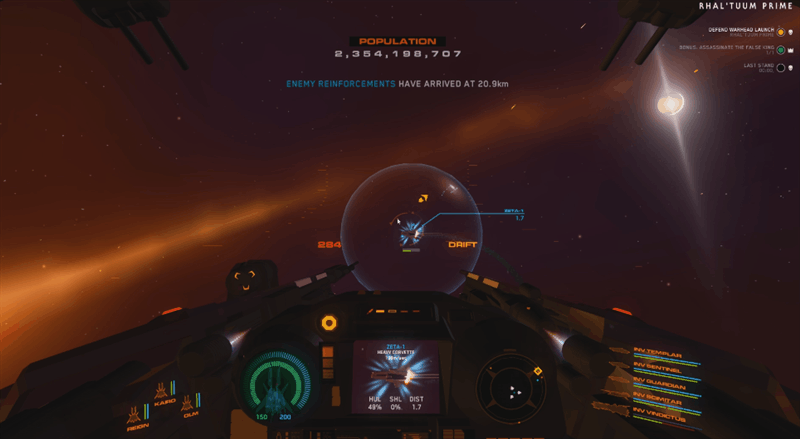 Image: Kotaku/Kirk Hamilton
Mario Kart
Another advantage with building a beefy PC rig is that you can push games on other platforms well beyond what they were originally intended for. Case in point: Super Mario Galaxy and Mario Kart look fantastic in motion at 4K, thanks to all of the graphical enhancements and tweaks added by emulators like CemU and the Dolphin community project.
Even when it was released in 2006, Nintendo's Wii games were already looking a little past it, stuck as they were in the muddy depths of standard-definition resolution and on relatively old hardware. In 2017, they're way past it.
Read more
Fair warning: you shouldn't do this if you don't own a copy of the games in question. But if you've got everything up and running, you really owe it to yourself to play a few rounds of Mario Kart at insane resolutions. It brings the whole game back to life again, and the same treatment can be applied to a whole host of other games from platforms of old.
ArmA 3
Image: Xanvast
There are games like DOOM that run amazingly at 4K. And then there are games that are purpose-built to punish your PC now, tomorrow, and for the next 5 years.
Case in point: ArmA 3. If you don't believe me, fire it up and set the draw distance to 25 kilometres. Go on.
Fallout 4
Image: Steam
The textures in Bethesda's post-apocalyptic trip through Boston aren't on the same level as The Witcher 3 or a more linear game. But then again, other games don't have official high-resolution texture packs that recommend users have a Core i7-5820K CPU or better and a GTX 1080. And 58GB of extra space, on top of Fallout 4's base install.
It might push your PC off a cliff – a time-honoured tradition for Bethesda games – but hey, the Commonwealth will have never looked better. And if you want to really go for broke, you can add throw the Texture Optimisation Project mod into the mix while you're at it.
The Vanishing Of Ethan Carter
Image: Александр SanchouS
If you're going to pump the visuals up as far as they go, sometimes you just want to take your time enjoying them. And the perfect game for doing that is the murder-mystery adventure The Vanishing of Ethan Carter, which looks even better these days after it was ported to the latest Unreal Engine.
Set in the American midwest, Ethan Carter is a story about a paranormal detective who receives a letter from a boy who goes missing. It's the detective's job to wander through the forest and piece together exactly what happened to Ethan Carter.
---

Intel Extreme Masters is coming to the Qudos Bank Arena in Sydney. Go hands on with demos of the latest in VR and PC gaming tech — plus catch world-class Counter-Strike: Global Offensive action with a record prize pool of AUD$260,000!