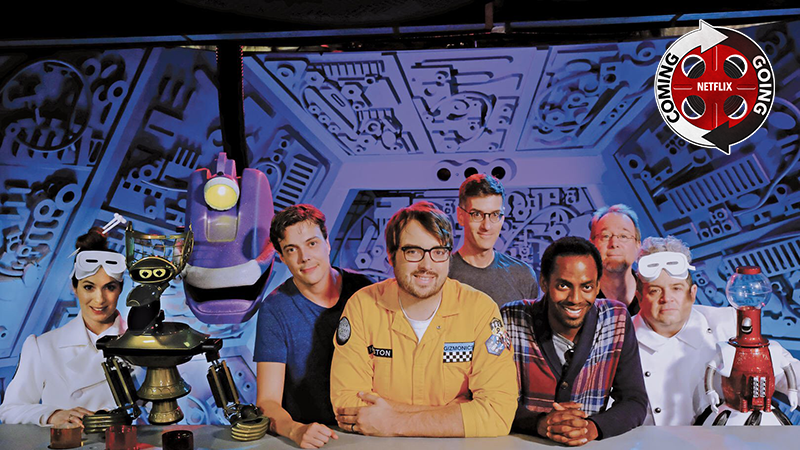 US Netflix is about to rain down on April with some nerd-friendly original content, but that's coming at the cost of some of the best nerd-friendly classic TV.
Note: This list refers to the US version of Netflix. It has a different library to Australia which changes from month to month. This information is only relevant to readers who access US Netflix using a VPN.
The Highlights
Let's get the bad news out first. Several classic series are leaving Netflix. From my probably incorrect memory, a few of these have been with Netflix since the start of streaming. OK, here we go then, you ready? Because this is going to hurt. Here are some of the shows leaving Netflix April 1: Firefly, The X-Files, Angel, Buffy the Vampire Slayer, Dollhouse, House, Bones, Ally McBeal, and Roswell. Movies aren't safe either, with The Princess Bride, Ferris Bueller's Day Off, and The Usual Suspects all leaving at the beginning of the month too. I know, it doesn't feel great. Take a second. There's good news though.
The new Mystery Science Theatre series arrives April 14 and Bill Nye's new show, Bill Nye Saves the World arrives April 21. Also coming back are the The Get Down and Chewing Gum, alongside a handful of interesting looking new shows, like, Girlboss and Dear White People.
New Netflix movies are also on the way, including the already-maligned live-action Death Note, which features white people in a remake of a Japanese anime — something that we all know people love. If that wasn't enough, Death Note is directed by the same guy behind the 2016 Blair Witch movie and one of the writers also worked on the 2014 Fantastic Four and the 2016 The Exorcist.
Also something people love, another Adam Sandler movie. This time it's Sandy Wexler, which is directed by the man behind other Adam Sandler classics like Little Nicky and Mr. Deeds. You remember those Adam Sandler classics, right? Also on the way is a stylised documentary about JonBenét, Casting JonBenét, which looks like a fittingly bizarre take on an already very-weird story.
Non-Netflix movies arriving this month include The BFG, which was supposed to arrive last month but apparently was delayed, Gremlins, Schindler's List, and The Prestige, a film that's so Christopher Nolan-y that just reading the title of the movie puts your brain in a "figure it out" mode. Spoiler, there's a twist revealed at the end! Also Christian Bale has a moody mustache.
Leaving Netflix This Month
April 1
Ally McBeal: Seasons 1 - 5
Angel: Seasons 1 — 5
Better Off Ted: Season 1
Barbershop 2: Back in Business
Bones: Seasons 1 - 4
Buffy the Vampire Slayer: Seasons 1 - 7
Chaplin
Dollhouse: Season 1
Ferris Bueller's Day Off
Firefly
House, M.D.: Seasons 1 - 8
Lie to Me: Season 1
Menace II Society
Resident Evil: Extinction
Rosewell: Seasons 1 - 3
Snow Day
Stomp the Yard
Superman II
Superman III
Superman IV: The Quest for Peace
Superman Returns
Superman: The Movie
The Agony and the Ecstasy
The Boys from Brazil
The Escapist
The Princess Bride
The Riches: Seasons 1 - 2
The Usual Suspects
The X-Files: Seasons 1 - 9
Vanilla Sky
April 3
Collateral Damage
The Circle
April 7
Legit: Season 2
Wilfred: Season 4
April 9
April 10
Legit: Season 1
Flower Girl
April 14
April 15
A Fantastic Fear of Everything
April 17
April 26
The Nutty Professor 2: Facing the Fear
April 30
Under the Tuscan Sun
The Mirror
Born to Defence
The Defender
Arriving on Netflix This Month
April 1
A Weekend with the Family (2016)
A Nightmare on Elm Street (1984)
Across the Universe (2007)
An American Tail (1986)
An American Tail: Fievel Goes West (1991)
An American Tail: The Mystery of the Night Monster (1999)
Boy Bye (2016)
Born To Be Free (2016)
Cool Runnings (1993)
Good Witch: Season 2 (2016)
Gremlins (1984)
Only for One Night (2016)
Richard Pryor: Live & Smokin' (1971)
Scooby-Doo (2002)
Schindler's List (1993)
Something's Gotta Give (2003)
Thunderstruck (2012)
Wynonna Earp: Season 1 (2016)
Trouble with the Curve (2012)
Tropic Thunder (2008)
The Tenth Man (2016)
April 2
April 4
Chewing Gum: Season 2 — NETFLIX ORIGINAL
Louis C.K. 2017 — NETFLIX ORIGINAL
April 6
April 7
El Faro De Las Orcas — NETFLIX ORIGINAL FILM
Dawn of the Croods: Season 3 — NETFLIX ORIGINAL
The Get Down: Part 2 — NETFLIX ORIGINAL
Win It All — NETFLIX ORIGINAL FILM
April 8
Kubo and the Two Strings (2016)
April 10
Documentary Now!: Season 2 (2016)
April 11
Kevin Hart: What Now (2016)
April 12
DC's Legends of Tomorrow: Season 2 (2016)
April 14
Chelsea: Season 2 — NETFLIX ORIGINAL
El Elegido (2017)
Mystery Science Theatre 3000: The Return — NETFLIX ORIGINAL
Sandy Wexler — NETFLIX ORIGINAL FILM
April 15
Disney's Homeward Bound: The Incredible Journey (1993)
Slam — NETFLIX ORIGINAL FILM
April 18
Lucas Brothers: On Drugs — NETFLIX ORIGINAL
April 19
April 21
Bill Nye Saves the World: Season 1 — NETFLIX ORIGINAL
Girlboss: Season 1 — NETFLIX ORIGINAL
Hot Girls Wanted: Turned On: Season 1 — NETFLIX ORIGINAL
Sand Castle — NETFLIX ORIGINAL FILM
Tales by Light: Season 2 — NETFLIX ORIGINAL
The Mr. Peabody & Sherman Show: Season 4 — NETFLIX ORIGINAL
The Prestige (2006)
Tramps — NETFLIX ORIGINAL FILM
April 22
The Great British Baking Show: Masterclass: Season 1-3 (2016)
The Secret Life of Pets (2016)
April 23
Liv and Maddie: Season 4 (2016)
Phantom (2013)
April 25
Long Nights Short Mornings (2016)
April 25
Disney's Queen of Katwe (2016)
The 101-Year-Old Man Who Skipped Out on the Bill and Disappeared — NETFLIX ORIGINAL FILM
Vir Das: Abroad Understanding — NETFLIX ORIGINAL
April 26
Real Rescues: Season 6-7 (2012)
Trust (2010)
April 27
Las Chicas del Cable: Season 1 — NETFLIX ORIGINAL
April 28
A Murder in the Park (2014)
Casting JonBenet — NETFLIX ORIGINAL
Dear White People: Season 1 — NETFLIX ORIGINAL
Rodney King — NETFLIX ORIGINAL FILM
Small Crimes — NETFLIX ORIGINAL FILM
April 30
Sofia the First: Season 3 (2015)
'.Since it launched in 2015, the Australian version of Netflix has been adding a steady stream of content each month. (You can see what's coming in November here.) While the selection of movies and TV shows is getting better, it still pales in comparison to the US version due to national licencing deals. Here's how to get the whole US catalogue in Australia — without getting slugged by the exchange rate..'