If you need a solid lighting solution for your home workspace or workshop, this custom build uses super-bright, dimmable LEDs that don't use very much power. Best of all, it runs on batteries so you don't need to hire an electrician!
In this video from the Make YouTube channel, host Darbin Orvar shows you how to build a modern-looking LED lighting fixture that you can dim remotely. Orvar uses some walnut for the box and some sanded polycarbonate panels at the bottom where the light shines through.
This build uses some high-powered LEDs and a tiny, five-volt Adafruit Arduino trinket for the dimming capabilities. With this setup, you'll have super-intense, bright light when you need it, and a way to dim the light down to lower levels when you don't. You could probably customise it for other uses too, like providing some much-needed light during the winter or in windowless homes. You can find a list of needed supplies and special instructions at the link below.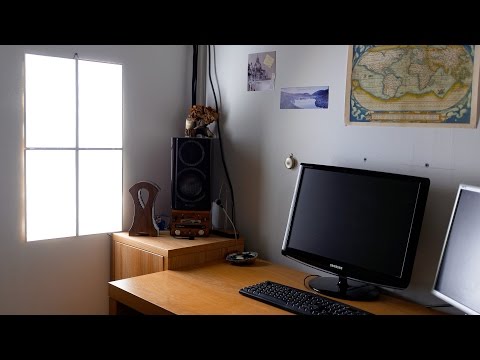 If you like to work at night, or your room doesn't have any windows that face the sun, it can be hard to come by any natural light. This light panel made from four laptop LED screens looks like a window and can give you the light you need.
Read more
How to Make a Super-Bright Light Fixture w/ Dimmable LEDs [YouTube]