Once again, the tireless bargain hunters at Lifehacker have trawled the depths of the internet to find you the best geeky gifts for Christmastime. Whether you're shopping for a gamer, a film buff, an avid reader or a pop culture fanatic, you're going to find plenty of gems in this epic loot guide which covers every budget. We've also included online shopping links for all 60+ products.
The following geek goodies have been sourced from a variety of online stores with prices starting at just $4. Some products are only available from international sellers, but you should still get them in time for Christmas if you order in the next few days.
You should also keep an eye out for special holiday promotions in each store. For example, ThinkGeek is offering 20% off orders over $40 (use the discount code 'SEASON') as well as free international shipping for orders over $150 (use the discount code 'GIFTYSHIPALL'.) Red Bubble is knocking 10% off for new members. And so on and so forth.
We've endeavored to link to the cheapest stores for each product (including shipping), but you might be able to find a better deal if you hunt around. Happy shopping!
$4 – $25
If you're looking for a secret santa gift that your co-worker can actually use, look no further.
---
---
The Doctor Who TV Christmas special has become a traditional part of the holidays for geeks the world over, which makes this the perfect gift idea. You can also get Dalek and Cybermen variants.
---
---
Doctor Who
---
---
---
---
---
---
here
---
discussed at length
---
---
---
Teach kids the importance of saving money while also giving them nightmares. The sculpt is based on the original Xenomorph from the 1979 horror film Alien, complete with the creepy skull details you barely see in the movie.
---
Star WarsA New HopeThe Empire Strikes Back
---
Minecraft
---
$25-$50
Game Of Thrones
---
Star Wars
---
Stan "The Man" Lee (the co-creator of Spider-Man, Hulk, Fantastic 4, The Avengers and countless other super heroes) gets the biography treatment in graphic novel form. 'Nuff said!
---
Console Wars
---
---
This
---
---
---
written about this t-shirt before
---
---
AT-AT and Ewok Dog Costumes [$30], [$36]
---
---
---
---
Labyrinth
---
---
Makin' pancakes, makin' bacon pancakes!
---
---
---
Yes, the Tomb Raider franchise really has been going for 20 years. (If you were around for the first installment; yes, you really are that old!) This deluxe 360-page hardback book charts the rise, fall and rise of Lara Croft across gaming and pop culture.
---
---
---
---
---
---
This clever book presents itself as an official Weyland-Yutani document (AKA the sinister mega-corporation that pulls strings from behind the scenes in the Alien franchise.) It contains extensive information on the characters, locations, vehicles, and weapons from the movies, along with an in-depth breakdown of the Xenomorph's life cycle – all written completely straight as if all this stuff really happened.
---
The first book in George R R Martin's A Song Of Ice And Fire saga now comes in an illustrated edition. There are 73 black-and-white illustrations, plus eight colour plates by various artists.
---
$50-$100
---
---
5.0.3
---
---

[clear]
This cute skirt contains over 250 tiny LEDs that sparkle like stars. For the stargazer in your life.
[clear]
---
---
Game Of Thrones
---
Remember Zelda? She's back. In Chess form.
---
Ever wondered what a Star Wars stormtrooper transported to Feudal Japan would look like? Wonder no longer! This fully articulated action figure boasts a range of weapons and stands an impressive eight inches tall.
---
This is the holy grail Christmas gift of 2016. A worldwide units shortage coupled with online sales snafus has made this console frustratingly difficult to get hold of. Target will apparently be selling new stock this Monday. You can find additional buying tips here.
---
$100-$150
$150+
The Xtreem SkyRanger Video Drone is suitable for both indoor and outdoor use and shoots video at 720p, giving you a bird's eye view of flights on your smartphone. Here are the features and specs.
---
---
Star Wars: The Force Awakens
---
---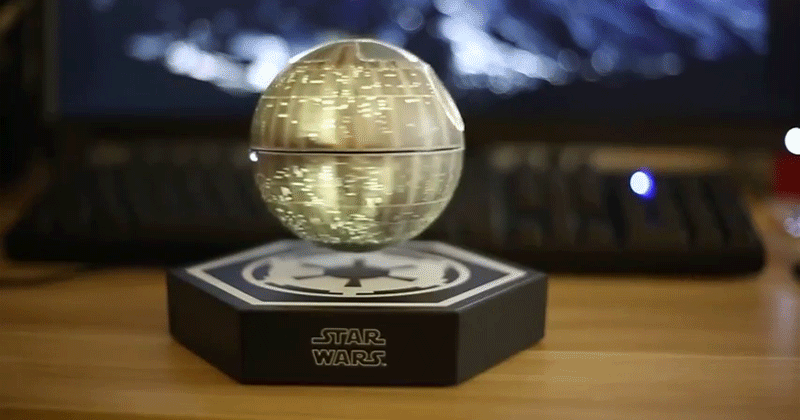 floats
---
---
A deluxe coffee table book of original concept art for a little indie flick you may have heard of.
this Facebook video
Super-Rich Only
Life-size R2-D2 [US$$7450]