November 16 is National Fast Food Day over in the US. While we don't officially celebrate it Down Under, as fast food connoisseurs, we wanted to contribute to Fast Food Day in our own way. From Taste Tests to Takeaway Truths, Lifehacker Australia has long documented what the Australian fast food scene has to offer. We've even travelled the world to sample fast food delicacies abroad. Today, we're bringing you our 10 best fast food stores of 2016. Without further ado, here's the list.

There's no room in life for sub par burgers. If your local takeout shop isn't cutting the mustard, you need to upgrade to a tastier establishment immediately. According to TripAdvisor's customer review data, these are the best ten burger places in Australia. (Note: The following descriptions and photos may cause extreme taste-bud torture. You have been warned!)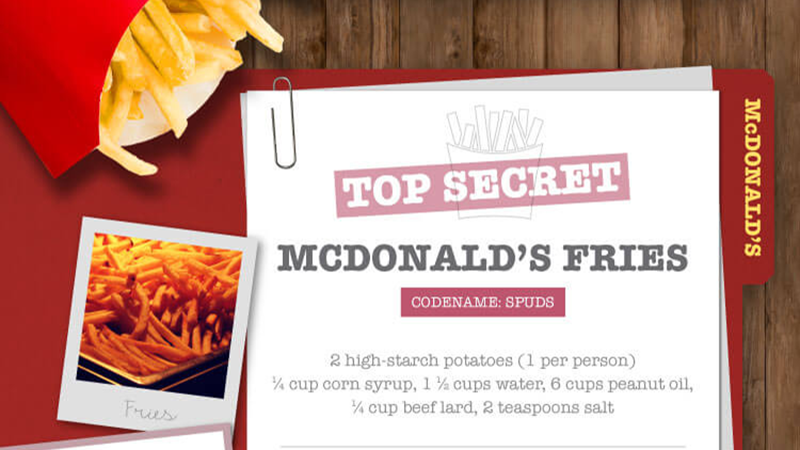 Fast food isn't great for you, but it sure does taste good. This infographic has recipes for thirteen popular fast foods so you can split the difference and make the tasty goods at home.
They say imitation is the sincerest form of flattery. If that's true, Hungry Jack's must be McDonald's biggest fan. Time and time again, the flame-grilled burger specialist has taken note of what works at Macca's and then brought out a slightly tweaked version of the same concept. Its latest rip-off/re-imagining is the Angus Grill Masters; premium, plus-size burgers that take their design cues from McDonald's Create Your Taste range.
The KFC Zinger Black burger is the most unusual takeaway product we've seen in quite a while. While the concept isn't new – other "black" burgers include the heibai liangdao tongchi from McDonald's in Hong Kong, the Kuro Burger from Burger King in Japan, the Black Crumbed Schnitzel burger from Grill'd and the Black Widow from Parlour Burger – it's exceedingly rare for an Aussie mainstream takeaway chain to offer such a bold menu item.
You can complain about it all you want, but it's a fact: some fast food is delicious. The US has become the holy land for delectable fast food and many famous franchises have yet to hit Australian shores. But recreating some of the most iconic American fast foods is easier than you'd think and it gets a whole lot better with fresher, tastier ingredients. Here's our seven ten favorite American fast food recipes that you can make at home.
Image: Lifehacker Australia
Salted eggs might sound disgusting to you, but it's a commonly eaten food in Asian countries. For the uninitiated, this delicacy is made from soaking duck or chicken eggs in brine then preserving them with salt. I personally love salted egg yolk (the gelatinous egg white, not so much) so when I saw McDonald's was selling the Salted Egg Yolk Chicken in Singapore, I jumped at the chance of a taste test. Here's my verdict.
There's nothing better about living in the 21st Century than the ability to order, pay for and arrange delivery of food from the comfort of our own homes. Thanks to the internet, we don't even have to talk to anyone to do it. Though delivery has traditionally been reserved for pizza and cheap Chinese takeaway, you might be surprised how many of your favourite fast food joints deliver – from Red Rooster and Subway to gourmet burger joint Mary's and decedent dessert maestro Gelato Messina.
The Go Bucket is the latest potted poultry creation from KFC's food innovation labs. As its name implies, it is a single-serve takeaway bucket designed for snacking on the go. KFC is marketing this product directly at motorists – which sounds both dangerous and potentially illegal. Nevertheless, we decided to taste test the entire range as the Colonel intended: behind the wheel of a moving car.
After teetering on the brink of closure in 2014, Pie Face has managed to claw its way back to the top of the takeaway pie market. Like any fast food chain worth its salt, Pie Face regularly adds limited-edition items to its menu, usually with weird 'n' wonderful fillings. The Double Cheeseburger Pie does exactly what it says on the tin: it's two beef patties, cheese, tomato relish, onion, mustard and pickles stuffed inside pastry enclosure sprinkled with sesame seeds. Yep, it's another food "mash-up" that was clearly designed to maximize the brand's presence on social media. Instagram has a lot to answer for.
KFC stands for Kentucky Fried Chicken. Operative word being "chicken". That's what the fast food chain is known for. But KFC has decided to try its hand at another type of meat: pork. It has brought out a new Kentucky Pulled Pork Burger. We did a Taste Test on this novel burger and here's our verdict.