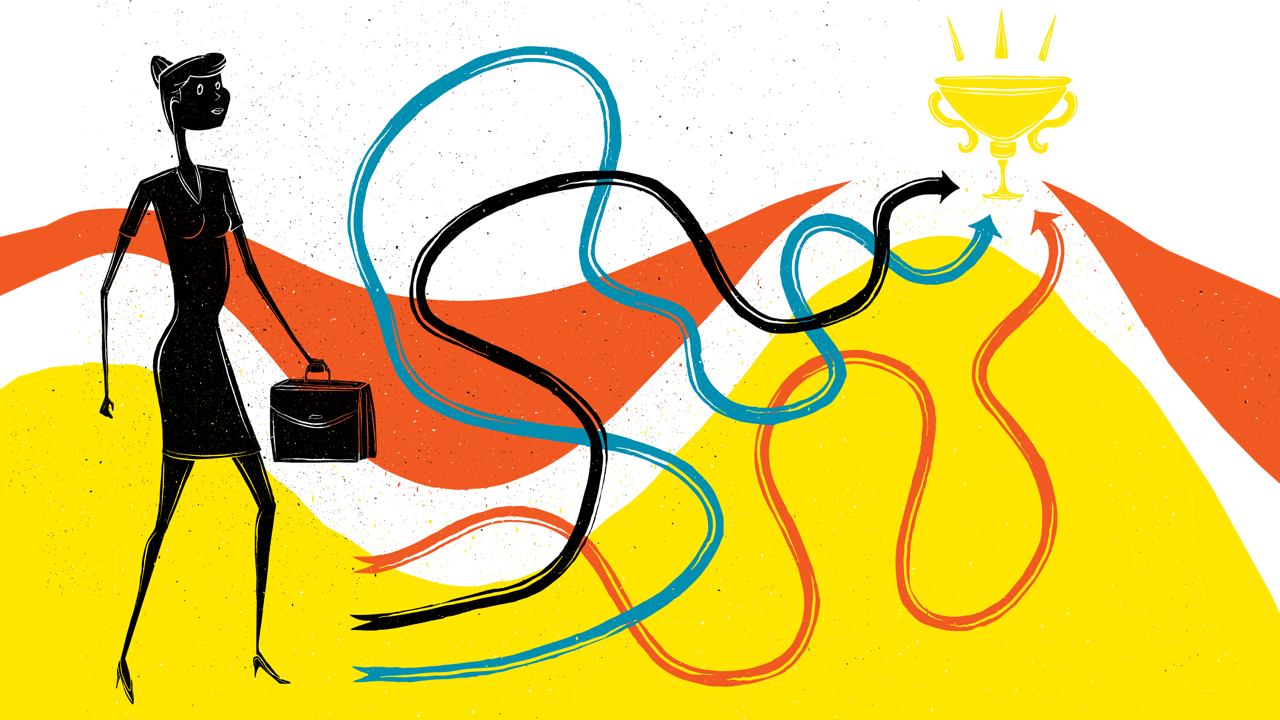 This past May, a person that I have a lot of respect for graduated from university. A few days after he graduated, he asked me a very simple question: If you were in my shoes and graduating from uni all over again, what would you do differently?
This post originally appeared on The Simple Dollar.
Image by Retrorocket (Shutterstock).
He was obviously trying to tap my life experiences over the last 15 or so years since I graduated. During that time, I've had two careers, built a surprisingly large business from scratch, married, had three children, bought a house, paid off piles of loans and other bills and a mortgage and built a pretty wonderful social circle and role in my local community.
The thing is, there are still a lot of things I would do differently if I could do them all over again.
Rather than answering right away, I told him I'd give the question some serious thought and write him a thoughtful note. I eventually came up with a list of about 20 things, nine of which I'm including below (it's actually most of them combined into nine principles) because these are the ones that I feel have a direct impact on finances, both short-term and long-term.
So, here's my full answer to this slightly modified version of my friend's question: If I were suddenly 22 years old and graduating from college all over again, what would I do differently in terms of my career and my finances? In other words, what steps would I take that are a bit outside of the obvious "get a job and start paying bills" steps that everyone takes after graduating?
I Would Look at My First Job Solely Through the Lens of Building Experience and Skills
When I first started searching for a job after uni, I put a pretty high premium on salary and stability. I wanted a job that paid reasonably well, but just as importantly, I wanted a job at a company that wasn't struggling financially and wasn't likely to lay me off immediately. I researched the places I submitted my resumes to and didn't bother with places that had a history of instability.
In the end, I got a job that met those needs. The organisation I worked for was very stable and didn't have any history of firing people without cause. I did start off on a one-year contract, but it was a contract that led straight into full-time employment provided my initial project went well. The pay was also solid, though not stellar. I believed it was a place that I could work for a long time and indeed, I worked there for almost six years.
The problem was this: It wasn't an environment that really rewarded building a resume. Sure, I added some very nice completed projects to my resume, but the organisation did virtually nothing to encourage skill building and it did nothing to encourage working on cutting-edge stuff and it did virtually nothing to encourage networking. If you wanted those things, you did them on your own.
A much better approach would have been to look at my first job through the lens of building experience, building skills, working on cutting-edge things and building a professional network. Salary and stability should have been very secondary in that search.
Why? Your first job (or your second... or your third...) is rarely the job you wind up settling into over the long term. Instead, it's a stepping stone to bigger and better things.
Keep that first job wholly in the context of being a stepping stone for bigger and better things. What makes a job a good stepping stone? Skill-building opportunities. Network building opportunities. Useful experience. Those are the things that will lead you to the next rung on the ladder.
Don't get me wrong, it's nice to earn a great salary, but if that comes with a job that sucks down your hours and causes your career progress to stagnate right off the bat, you're going to find yourself never climbing above the first rung or two in your career.
I Would Keep Living as Cheaply as I Did in Uni
If you follow the logic of that first tip, you'll quickly realise that the first job you get out of uni will likely be a low-salary job. Yes, it will offer some great tools to help you build a great career, but it won't offer a lot of money, at least not in the immediate future.
That's why, if I found myself graduating all over again, I would do everything in my power to hold onto the ultra-frugal life patterns I used in my university years.
During those years, I lived about as cheap as humanly possible. I pretty much stuck to a rotation of very cheap meals, largely selected by what was on sale at the store — eggs, noodles, spaghetti, chicken breasts, apples, bananas and peanut butter were my constant friends. I went out a lot, but almost entirely to things that were free, like free concerts and events with no cover charges or community events in the park.
My biggest financial mistake after leaving uni was allowing my spending to very quickly inflate to fill up my new salary. I didn't spend all of that money on anything very memorable, either; looking back, the only thing that I can remember spending a lot of money on that was actually memorable was my honeymoon with my wife. Almost everything else is a blank slate, which basically means that most of it (aside from covering basic needs) was a waste of money.
If I had instead chose to stick with my uni spending routines (or close to it), I would have paid off my car loan within two or three years and never accumulated any significant credit card debt.
Don't let the siren song of income convince you to start escalating your spending when you're freshly out of university. Keep living in much the same way you always have, be choosy about what areas of your life that you spend more on, and use that money instead to pay off your debts and cover any expenses related to improving your career.
I Would Spend Significant Spare Time Continuing to Build Skills and Certifications
As I mentioned above, the job I got directly out of uni had a nice salary and some interesting challenges, but it didn't really offer many opportunities for building new skills or earning certifications within that job. If I had it to do over again, I would have chosen a job with a lot of future-building features rather than one with a strong salary, if given a choice.
But what if the only job I could get was one that didn't actively support skill building or certification earning? That was effectively my situation and I made a bad choice. I just focused on the tasks at my job itself and didn't bother to seek out additional certifications or additional skills.
If I had it to do over again, I would be devoting 10 hours a week minimum to cultivating new skills and earning new certifications within my field, whether in the workplace or outside of it.
Naturally, I'd do my best to find ways to do this within the constraints of my job. I would have approached my boss to discuss spending some time on certifications or on taking classes at the nearby university, making the case as to how these endeavours would directly help my job.
However, if that didn't happen at work, I would have done these things in my spare time. You can prepare for and take all kinds of certification classes in the evenings and on weekends.
I also would have looked for projects to work on that were related to the skills I needed to cultivate for work and for my resume — again, within my job if possible and outside my job if necessary.
How would I have done that? Well, here are a couple of possibilities...
I Would Get Involved in Civic and Professional Organisations as Soon as Possible
During my first year at my new job, I joined an informal group of people who were recently graduated from uni and would go out for drinks after work most nights. I figured this would be a great way to start building a professional network and making some friends in my field.
I was wrong.
It turned out that most of the people in this group weren't really interested in their careers much at all. They were largely interested in drinking, showing off their latest purchases to each other, eating out at the most expensive places, drinking, going to clubs, badmouthing every coworker over the age of 30 behind their back and drinking.
I stuck with this circle for years and made several casual friends, but exactly zero of them have any impact whatsoever on my professional life today and I keep in touch with exactly three of them in the vaguest of ways.
On the other hand, I eventually joined a few civic organisations in my area. The people in those groups were actually interested in improving the community and helping each other out. Thanks to that group, I have several very strong personal relationships and have had tons of little "helping hands" in my professional life (and some offers of some pretty big "helping hands").
More than anything, the last 15 years have taught me that it's well worth your time to be selective about the people you spend your free time with. If you spend your free time with people who are committed to helping each other improve and helping the community at large, you're going to find pretty quickly that a rising tide lifts all boats.
In my experience, the best place to start building a social and professional circle like this is in community organisations and professional organisations. You can start by looking at community organisations in your town, particularly ones dedicated to community service and join. In larger cities, there are often professional organisations that meet regularly, so look for organisations and groups that are connected in any way to your professional career and give that group a shot, too.
Yes, it probably won't be as immediately "fun" as going to a club or engaging in your favourite hobby, but it will end up being enjoyable once you get involved in those organisations and the activities that they run. You'll start connecting with people that have character, that have good financial habits and that have a strong professional background. Those are great people to have in your professional network and your social network as well as a great place to connect more deeply with some of them and build new friendships.
I Would Start Cultivating Mentors and Reliable Peers Immediately
One of the first things you should do once you start your first real job in your career path is to start looking for two types of people and build strong relationships with them immediately.
The first type of person is a mentor. A mentor is simply someone who has found success in the career path you want to follow and can offer advice to you on how you can succeed, too. Look for someone who is much further along in their career than you are, but someone who is widely respected by everyone at work (or perhaps someone that works in your field locally, though not necessarily at your business, but still has that wide respect). You'll figure out who these people are pretty quickly if you listen and pay attention.
Take the time to get to know this person. Be very respectful (though not reverent) and when they tell you something, don't just blow them off and think that you "know better". A person who has built respect in their field over a lot of years isn't going to waste your time or their time feeding you stuff that isn't true — they're going to tell you things that actually help, even if it doesn't line up with what you think or what you want to hear.
In exchange, help the mentor when you can by taking on things that he or she might not want to do, taking them out for lunch, or helping with other things that he or she might help with.
The other type of person is what I call the "reliable peer". Look for people who are near your level on your career path who have a lot of positive traits. They tend to get things done when asked. They don't talk negatively behind peoples' backs. They don't cause drama. They usually have at least some skills to offer. Those are the people you want to befriend.
People with those traits are usually the quiet ones, I've found. They're the people who aren't out there talking at the water cooler constantly. They're the people who don't say much when the office gossip is being passed around. They're the people who don't grab for attention all the time and they're also the ones who don't get attention for failing to deliver, either. They usually just quietly get the job done.
Make friends with them. Help them out, and don't be afraid to ask for their help when you've built up some rapport with them and you actually need the help. Never, ever talk negatively about them behind their back. Socialise with them — in particular, be willing to dive into their interests a little with them — I've found that there's no better way to bond with someone professionally than to learn about their hobbies with them and find appreciation of those hobbies.
You'll find that these relationships — mentors and reliable peers — will help you again and again throughout your career. They will provide references, positive word of mouth, opportunities, and countless other forms of assistance, most of which you'll never directly see. They also tend to be very reliable people who will stick by you when the chips are down.
If I Didn't Have a Job Related to My Area of Study, I Would Take a Non-Career Job as Soon as Possible
I was rather lucky to get a job that matched up well with my area of study right out of university, but what would I have done had I not found such a job?
First of all, I would have taken any job I could find, anywhere. Ideally, this would have been a job that had hours that didn't directly interfere with my continued search for a job in my desired career path. I would have tried to get a night shift or something like that so I could interview during the day.
Second, I would have done everything in my power to keep my skills fresh. If that meant taking certification classes, I would have done so. If that meant doing volunteer work that used my skills, I would have done so. If that meant starting a side business of some kind, I would have done so. This is how I would have filled my spare time, along with the professional and civic organisations mentioned above.
Finally, I would have done my absolute best to stay independent from my parents. Yes, there might have been some financial benefit in living with them, but there would have been reduced job opportunity for me there. I would have done my best to live in an area where it would be easy to find and interview for lots of jobs with my skills. If that happened to coincide with living with my parents, then that would have been OK, but my priority would have been seeking out good jobs.
The last thing on earth I would have done if I were in this situation is sit at home, not working and not building skills and not building professional relationships. That's begging for your skills and opportunities to atrophy.
I Would Start a Serious Physical Fitness Routine from Day One
During my early uni years, I had to walk more than a kilometre each way to go to most of my classes. During my later years, I usually biked about 6km each way to go to most of my classes. During those walking and biking sessions, I usually had study materials for at least a couple of classes in my backpack, along with other things (like lunch and the book I was currently reading).
That activity alone kept me in reasonably good shape, but after I graduated, I no longer had that routine. I drove to work and had a parking spot pretty close to the door. I ate a lot less healthy, too, particularly thanks to rich lunches with my coworkers and drinks and bar snacks after work with other professional acquaintances.
I gained weight. My physical fitness started to decline. I found myself with less energy and less motivation. It's a rut that got even worse when I started working at home, mostly due to the fact that my "commute" involved walking across the hall at my house.
While I've found that controlling what I eat is a truly powerful tool for weight management, that doesn't help with the sense of feeling in shape and ready to take on physical activity at a moment's notice. I feel better when I'm in shape and to a lesser extent, I feel more confident around others.
My attempts at getting in shape since those days has been challenging to say the least. The best approach I could have possibly taken would have been to establish a better fitness routine from the very first day I left university.
How does this help financially? For starters, it's going to help with long-term health care costs, but perhaps even more than that, it's going to help greatly with energy and focus, something that's necessary in abundance in the early stages of building a career. Whether you're a first year teacher or just starting in a research lab or whatever it is you might be doing, that extra energy and focus that a fitness routine can bring to the table will provide a huge career benefit.
I Would Contribute More to My Retirement From Day One
From the very first day that I was earning a substantial income at my job, I would contribute at minimum 10 per cent of my income to retirement. Actually, this is something I did, but I consider it to be the single smartest thing that I actually did in my post-graduation years, so I'm including it here.
You will never, ever, ever regret doing this. Ever. The money you put aside for retirement at age 22 or 23 or 24 (or even a bit later) is going to have lots and lots and lots of years to grow, and the power of compound interest is going to make that number nice and big for you when you do get old. It is far better to contribute 10 per cent early on than be forced into contributing 20 per cent or 25 per cent or more in your 40s or 50s to have any hope of retiring on time.
If you really want to push things, contribute more than 10 per cent. Doing so is going to open the door to early retirement for you — yes, you'll likely be able to walk out the door well before age 60 if you contribute that much and you'll never have to work another day in your life. Imagine having children when you're in your 30s and retiring the day they leave for uni. Contribute 15 per cent of your income to retirement starting at age 22 and that's quite realistic.
I Would Avoid Credit Cards Like the Plague
This one's simple. I absolutely would not touch a credit card, period, until I had all of my other debts under control. There would be no borrowing money to buy things until I had a firm financial footing.
Why? I learned the hard way about the allure and convenience of credit cards, as they turned into a five-figure debt at 20 per cent interest within a few years (yes, do the maths — that's thousands of dollars in interest per year that just went down the tubes). It is incredibly easy to find yourself in that situation, particularly when you're not focused that much on your finances.
If there's one simple financial rule that I recommend you follow after university and when you get your first career-orientated job, it's this: Don't get a credit card until you're essentially debt-free. Not only does this prevent you from compounding your debt problems, it also ensures that you really understand how much work it is and how much time it takes to dig out of debt.
Instead, use your debit card for convenient purchasing if you need it. Use it as a credit card when buying things and keep careful tabs on your account balance.
Doing this will make sure that you never slip into debt due to poor accounting or a lack of financial focus. It's one simple rule that will keep your finances clean for those crucial first few years and ensure that you don't wind up in a desperate financial state when you turn 30, one that will take most of your 30s (and probably your 40s) to dig out of.
Final Thoughts
I actually didn't do most of these things during my early career, to my own regret. I did manage to save for retirement and I did manage to cultivate a couple of solid mentors, but I didn't do so well in other areas.
How did that work out for me? I eventually found myself basically running in place financially and with my career within a few years. I was buried in debt, I didn't have a strong professional or social network, I didn't feel like I was moving forward in my career at all, and I didn't feel all that good to boot.
I forced myself to start making some very hard changes and I adopted many of the principles listed here. I changed career paths and got a fresh start on things and things eventually turned out pretty well.
Still, I largely wasted most of the first decade of my post-uni life because I didn't follow these principles. Rather than grinding my gears to turn this ship around, I could have been blasting into orbit with my career — as good as things are today (and I think they're pretty good), they could have been so much better.
Good luck.
Nine Things I Would Do Differently for My Finances and My Career If I Graduated Today [The Simple Dollar]