A lot of folks worry about what to drink with their food, but I firmly believe that one should pay as much attention to what one drinks both before and after. The perfect apéritifs and digestifs (meaning "to open" and "digestive," respectfully) will help you ensure your dining experience starts and ends on the highest of notes.
Photos by Franz Conde, Sam Howzit, Adrian Scottow, Len Matthews, and Joakim Jardenberg.
Think of the apéritif as a stage setter. A good aperitif not only relaxes the mood, but can serve to stimulate the appetite and prep your palate for what's to come. (For example, if you know you're going to be gorging on seafood, begin with something crisp and citrusy.)
In theory, digestifs are supposed to aid digestion and, though I haven't found any medical literature to back up this claim, I have found Fernet to help calm a tumultuous tummy. Medicinal benefits or not, digestifs are a great way to keep the evening last that much longer, and can even serve as dessert all on their own.
Start Me Up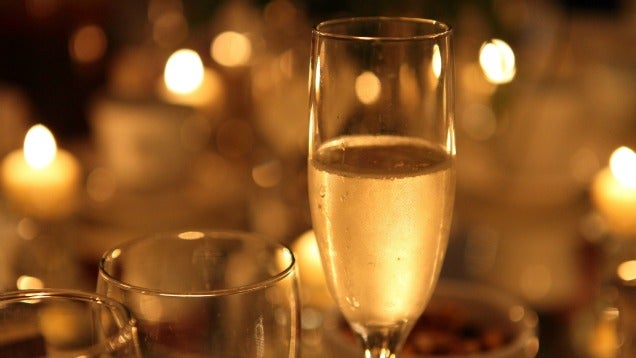 It's pretty trendy now for restaurants to not take reservations, but I have yet to be annoyed by this practice at an establishment with a good bar. Grabbing a light, moderately-boozy, refreshing imbibement before being seated sets a celebratory tone and gets the conversation flowing.
According to Vinepair, there are two major factors to keep in mind: sweetness and strength. A too-sweet drink can feel like you're having dessert first, and alcohol's sense-dulling abilities can dampen your tastebuds. This doesn't mean that martinis are off the menu, just limit it to one. With this in mind, you can pick a perfect glass of wine or cocktail to kick off the meal.
Get Wine'd Up
Bubbles are never a bad apéritif choice, but they aren't the only pre-dinner wine option. Acidity is your friend here, as it literally gets you salivating, but anything light and crisp will work. A few good options include:
Sparkling Wine: Bubbles wake up the mouth and won't overpower your palate the way a big, bold glass of read would. Champagne, Prosecco, Cava are all good choices, just lean towards the "Brut" (not sweet) side of things to keep it refreshing.
Fortified: Fortified wine is simply wine to which stronger stuff (usually brandy) has been added, and this broad category includes all kinds of delights like sherries, ports, and even vermouth. It's perfectly acceptable to sip vermouth all on its own, though I wouldn't recommend doing so with Cinzano or Martini & Rossi. Not every vermouth is well-suited to the solo treatment, but Punt e Mes does just fine over some ice or with a bit of soda, thanks to extra bittering agents. ("Punt e Mes" translates to "a point and a half," and refers to "one point of sweetness and half a point of bitterness.)
Though not a vermouth, Lillet Blanc is another fortified option that can be enjoyed without much fussing. It's pleasantly fruity without being syrupy, making it a great choice for those who aren't fans of all this bitter stuff.
Amontillado-style Sherry is another tasty fortified wine you may want to get to know. Sherry gets a bad rep for being sweet and cloying but, according to Sommelier and Ice Chef Hope Clarke, this variety is "dry with 'toasted white nut and light fruit,' notes." However, since sherry doesn't move super quickly in most establishments, most bottles may have been open for a while, giving it a "burnished and funky" flavour, which isn't necessarily a bad thing.
Rosé: A nice Italian or French Rosé is beautifully balanced and refreshing, and a beautiful way to kick off supper.
Sour Beer: OK, I know it's not wine, and I can feel some of you clutching your pearls, but hear me out: a nice tart lambic or gueuze checks all the boxes: they're fairly acidic, usually dry, and relatively low alcohol. (Avoid the syrupy, aggressively purple Lindeman's Framboise though; it's really more of a fruit beer than lambic.)
Cocktail Hour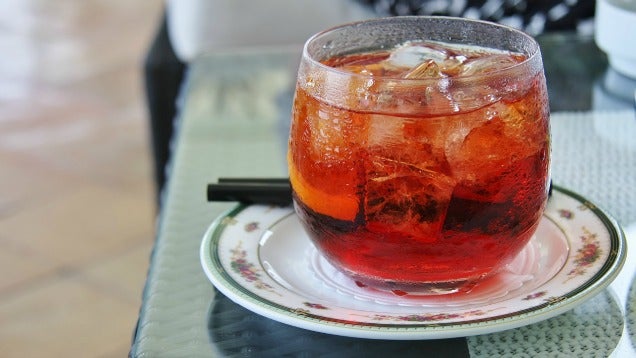 Classic cocktails make for good beginnings, especially if they're gin-based, and you can't go wrong with a good martini or gin & tonic. I would, however, urge you to consider the spritzer. Complex, somewhat bitter liqueurs with a little carbonation snap your mouth to attention without being too boozy. A few of my favourites include:
Campari and Soda: The bitter, herbal liqueur is the star of the Negroni, but it's pretty delightful with just enough soda to dilute its consistency from syrupy to sippable. Though it's usually served with an orange slice, the best I ever had came with a long strip of lemon zest. If you don't take to Campari's unique flavour right away, try adding a splash of something sweet like St. Germain to balance it out.
Cynar and Soda: Yes, that is an artichoke on the bottle, but fear not, Cynar doesn't taste of the globe-shaped thistle. Instead, it tastes earthy, not vegetal, and a bit bitter. It's a little more woodsy than Campari, but can also be used to make a variation of the Negroni if you need to mix it up.
Aperol Spritz: If you're not quite ready for the bitterness of Campari or Cynar, Aperol is a sweeter, rhubarb-y, more accessible option, and the Aperol Spritz (3 parts Prosecco + 2 parts Aperol + 1 part soda) is downright drinkable.
The Best of Both Worlds
If you can't decide between wine and liquor, get both in the form of a champagne cocktail. These babies feel very special, and are a perfect beginning to a memorable evening.
Elizabeth Taylor: This is perhaps the prettiest cocktail I've ever seen, and pretty things put me in a good mood. Named after the actress with the famous violet eyes, this purple drink get its looks from an ounce of crème de violette, which is topped with four ounces of sparkling wine and garnished with a cherry (Luxardo or gtfo imo).
Kir Royale: Similar to the Elizabeth Taylor, this champagne cocktail gets a fun, fruity kick from crème de cassis, a liqueur made with blackcurrants.
A note of caution: These aren't the most common cocktails, so read the scene. If your barkeep hasn't heard of an Elizabeth Taylor, and is unwilling to find out what it is, it may be safer to order "a shot of crème de violette topped with champagne." You would be ordering an Elizabeth Taylor, but without the obscure name. Also, keep in mind that recipes may vary from bar to bar.
After Dinner Drinks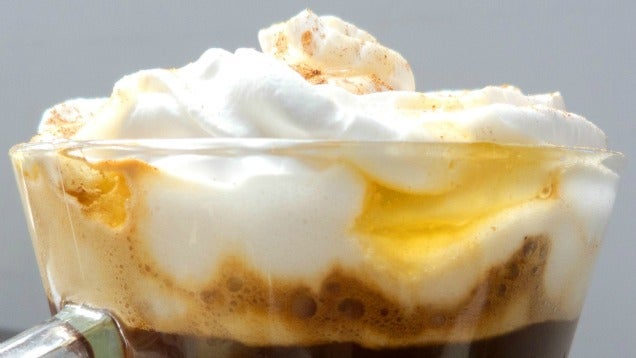 You may be done eating, but that doesn't mean you have to stop drinking. The after dinner drink can serve a variety of functions. It can be paired with dessert, it can be dessert, or it can soothe a troubled tummy and let you enjoy dessert.
A Sweet Ending
Sugary drinks aren't going to help with digestion, so you might skip these if you're so full you could burst, but if you'd rather drink your sugar, these beverages are the way to go.
Dessert Liqueurs: You're probably familiar with the classics, such as Kahlua, Bailey's, and perhaps the rope adorned Frangelico, but there are a ton of liqueurs which I like to (fondly) call "chocolate milk for grown ups." All are great with coffee, but if you need something a little stronger, mix 'em with equal parts vodka, whiskey, or rum, maybe some cream if you can handle the dairy. For something truly special, pour any one (or all) of these over ice cream, or throw a shot of espresso in there and make it a boozy affogato.
Dessert Wine: Chef Clarke describes Sauternes as the "Holy Grail of French dessert wines," and we have fungus to thank for that. In dry conditions Botrytis cinerea, or "noble rot" if you want to get poetic, causes the grapes to become partially raisined, giving the wine a concentrated, characteristic flavour. Sauternes is sweet, yes, but it has a nice bit of acidity that keeps it balanced, and you'll often find notes of honey and stone fruit.
If Sauternes proves hard to find, Monbazillac is an excellent backup plan. According to Chef Clarke, it's "relatively cheap and easy to find," and is a great "balanced, goes with-anything-wine" that would "be good with chocolate-peppermint mousse or cookies, and even for the majority of people who think disgusting pecan pies are appropriate dessert." (I must stress that though I do not agree with Chef Clarke's assessment of pecan pies as "disgusting" in the slightest, her adult beverage suggestions are spot on.)
Finally, don't feel compelled to follow any rules. If you want to start the evening with a Grasshopper, then order a damn Grasshopper. If you want your last sip of the evening to be a Bloody Mary, don't let anyone stop you. In the words of my favourite bar man, bartenders are there "to make drinks, not judgments."