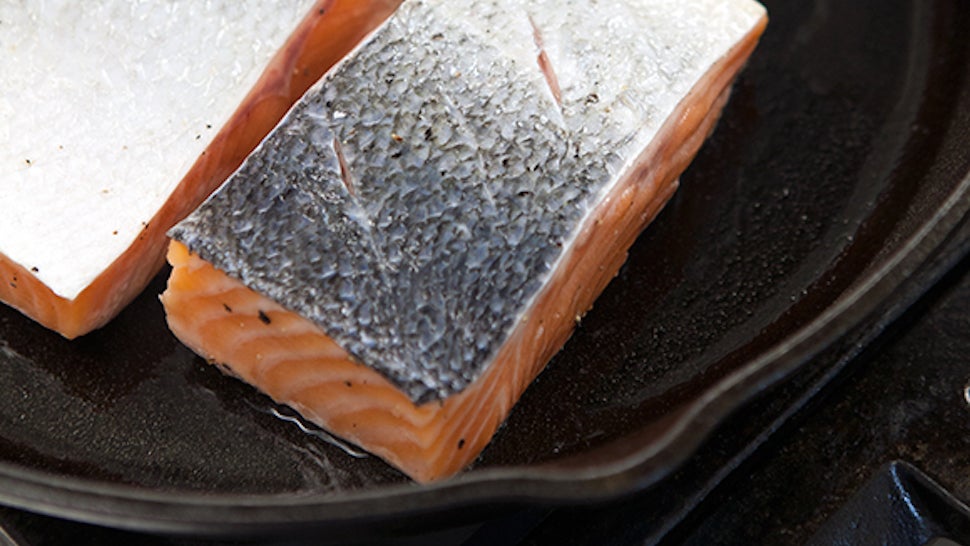 Cast iron frying pans are great for just about everything, including smelly foods like fish or slow roasted vegetables, but if the smell seems to stick to your pan after cooking, put the soap down. A quick trip through the oven will clear it up and without damaging your seasoning.
Photo by America's Test Kitchen.
America's Test Kitchen has a few tricks to fix common cast iron problems, but their solutions to a stinky pan stood out to us:
Some sources recommend adding a thin layer of oil to the pan and heating it to its smoking point on the stovetop to remove stinky, stubborn fish oils, but this method leaves an oily mess to clean up. Luckily, it turns out that heat alone is enough to eliminate the two sources of fishy funk: compounds called trialkylamines, which evaporate at around [90°C to 120°C], and oxidized fatty acids, which vaporise at temperatures above [175°C]. Next time your skillet needs a little aromatherapy, simply heat the empty, smelly pan in a [200°C] oven for 10 minutes. This method is fast, neat and effective and doesn't stink up the kitchen.
Ten minutes in a 200°C oven is a small price to pay for ridding your favourite pan of the smell of last night's salmon or sea bass, or those brussels sprouts you sautéed and then roasted in the oven to caramelise. Best of all, this method is simple and effective and won't damage that ever-so-precious seasoning we hope you have on your favourite cast iron pan.
Hit the link below for some more cast iron fixes, including how to deal with stains on enamelled cast iron cookware and how to clean an especially dirty frying pan.
Four Easy Fixes for Common Cast Iron Problems [America's Test Kitchen]