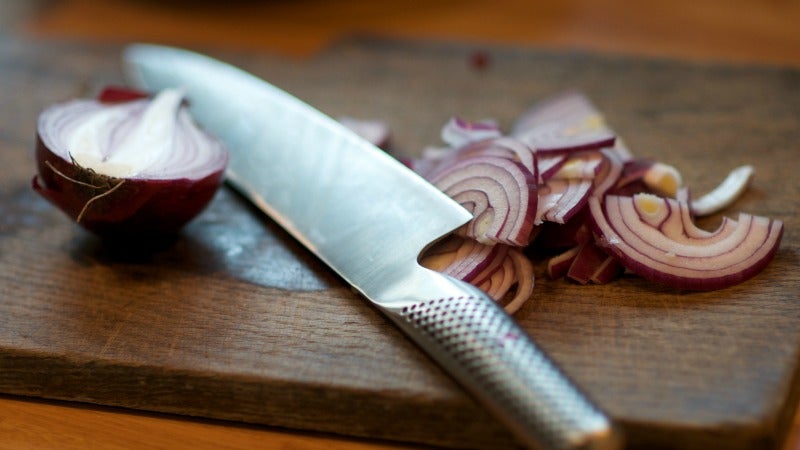 You really only need three or four knives in your kitchen: an 20cm or 25cm chef's knife, a 7.5cm or 10cm paring knife, a serrated bread knife and maybe a 17.5cm or 20cm Santoku. Those will take care of most of your cutting needs, but once you master those, you might want to supplement your collection with a few choice additions. Photo by Ben Coombs.
Cook's Illustrated has rounded up some of the most useful blades beyond the essentials. You should click the link below to read the entire guide, but I cannot recommend the following three enough:
Boning knife: If you do any sort of home butchery at all — like breaking down a whole chicken or duck — a boning knife is super helpful for removing delicate little tenderloins or trimming off silver skin. Cook's Illustrated recommends this Victorinox 15cm.
Kitchen Shears: Not really a "knife", but I keep mine on my magnetic knife strip, so we'll say it counts. These are not only great for chopping herbs and scallions; they can be used to trim pie dough, spatchcock a chicken and easily cut bacon into beautiful lardons. These Kershaw Taskmaster Shears are a Cook's Illustrated favourite.
Meat Cleaver: There are two things a meat cleaver can help you with, and those two things are bones (think of all the delicious marrow!) and lobster. They're also pretty great for hacking through large amounts of meat (or chicken wings!) while relieving some stress at the same time. Cook's Illustrated high recommends this fancy one from Global.
Of course, there are still those knives you shouldn't bother with. Salad knives are pretty useless (just tear your lettuce by hand) and stay away from those pricey block sets.
Types of Kitchen Knives [Cook's Illustrated]