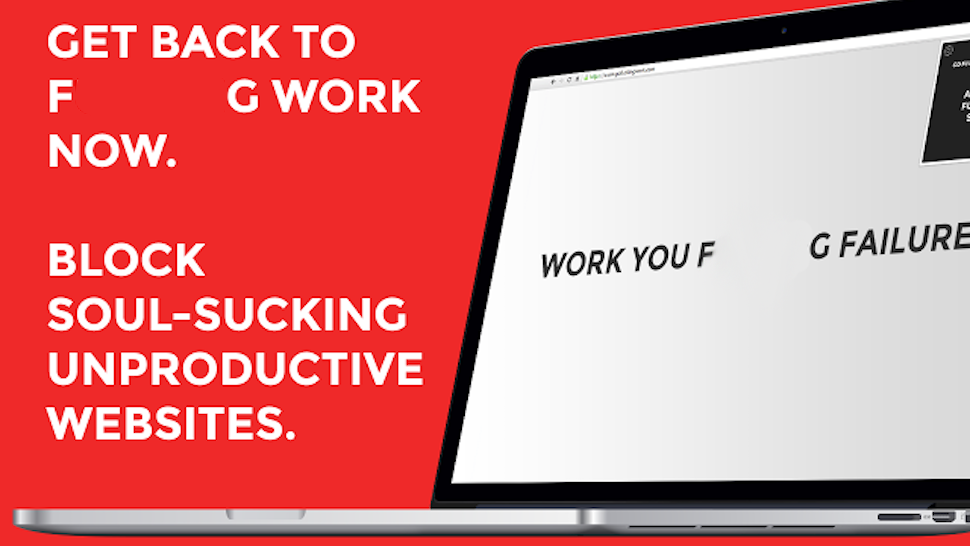 Chrome: If you need a little help getting off of Facebook or Reddit and getting things done, Go F**king Work for Chrome has that in droves — and yes, that's its (censored) name. No nonsense, no frills, just sharp, pointed advice. Go F**king Work turns every new tab page into a reminder that, well, you should really get back to work. By blanking out your whole tab — aside from a message in huge text that you should "Work you f**king failure" or "F**ing Work. Now.", consider the add-on a cruel taskmaster that will make sure you're appropriately shamed into doing whatever it is you're supposed to be doing.
Of course, that's not all Go F**king Work does — it also lets you block web sites you know will distract you, so if you try to go to one of them, you get yet another harsh reminder that you really should be doing something else. If you want to take a break, you can — just click the extension's icon in the menubar and you can choose a time period where the extension won't nag you to get stuff done — anywhere from five minutes, a half-hour or full hour, all the way up to a 12-hour timeout.
If you're not into installing anything (or you have another preferred browser), you could always just set your new tab page to the web site of the same name, but the site-blocking and break features are worthwhile. You can grab it at the Chrome Web Store, linked below.
Go F**king Work [Chrome Web Store via TheNextWeb]