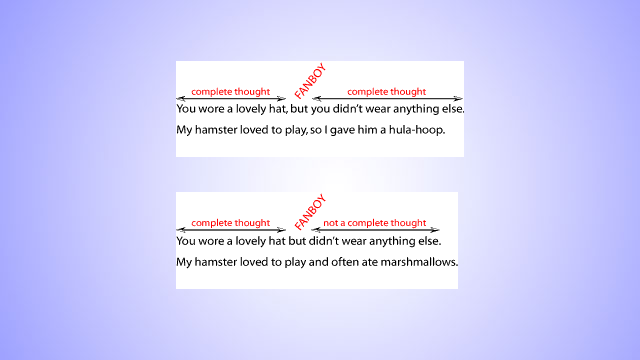 Commas are the most misused punctuation mark. Leaving a comma out or putting it in the wrong place can cause confusion, but you can avoid comma snafus with the FANBOYS acronym.
FANBOYS stands for the coordinating conjunctions For, And, Nor, But, Or, Yet, and So. We use these words to connect other words, phrases and clauses together.
When you see one of these connecting words and there are two complete thoughts in the sentence, you should always insert a comma before FANBOYS. If there aren't two subjects and two verbs separated by FANBOYS, you don't need a comma.
The University of North Carolina at Chapel Hill offers a quick tip: Try reading the words after FANBOYS to see if they could be a complete sentence on their own.
Check out the university's commas handout below for many other rules and uses for this misunderstood punctuation mark. It's a great refresher, although it leaves out one of the funniest examples: "let's eat, grandma" versus "let's eat grandma."
Commas [The University of North Carolina at Chapel Hill]