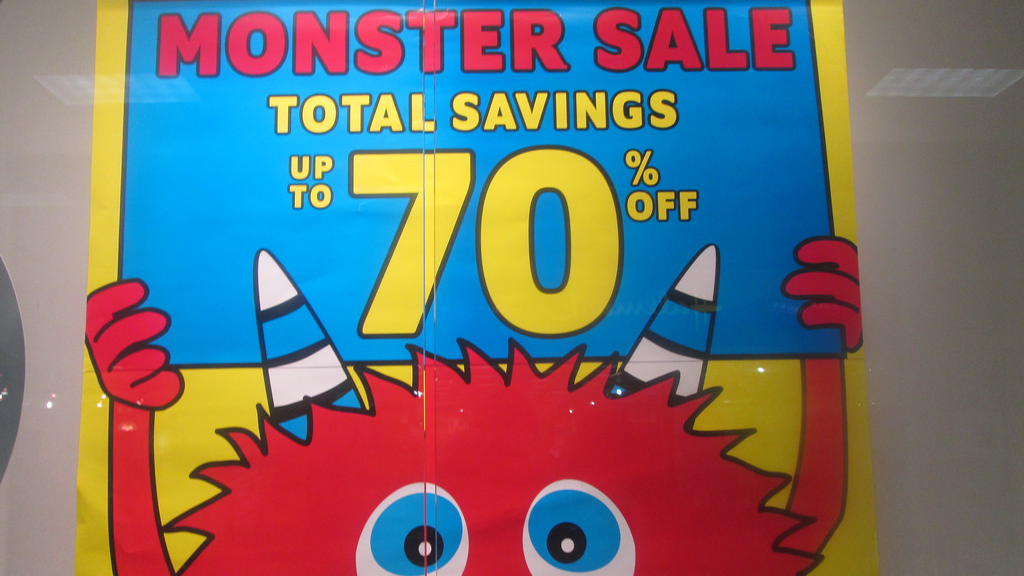 "40% off" and "70% off" sales make it seem like you're getting a great deal, but these per cent off sales are just another sales trick. At many retailers, the "regular price" is a lie fabricated by the store.
Photo by Random Retail.
When you buy something at a discounted price, you expect that discount to be real. However, because retailers can choose anything for the regular price, consumers can be deceived into buying something that isn't quite that bargain.
That's what BuzzFeed found out when investigating lawsuits about these discounts against 29 retailers, including J.C. Penney and Nordstrom. Perhaps the most egregious pricing policy is at Kohl's:
Kohl's, facing two suits tied to discounts, said that when it shows a "regular" or "original" price, it's referring to the former or "future" price on any given item. And it might mean that item or it might mean a "comparable" one. And it could be at Kohl's, but could also be at another retailer. And after all that, sales may not have ever been made at the regular price, it notes.
The regular price on a tag could represent the future price of an item? That's just nuts.
Perhaps you've already known or suspected these discounts to be a sham, but it's another reminder that if you wouldn't buy it at full price, you probably don't need the item. (I.e., don't be tricked into buying stuff because they're "on sale.")
[Why 40% Off Doesn't Mean What You Think It Does via BuzzFeed]