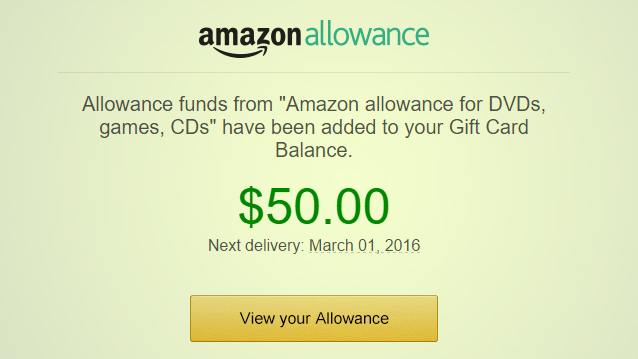 It's all too easy to go over your budget when shopping on Amazon — especially when you factor international shipping into the equation. One thing that might help: Amazon Allowance, the company's relatively unknown gift card funding program.
Amazon Allowance lets you add funds to a gift card balance. You can set it up to replenish the gift card daily, weekly, monthly, or every two-weeks — or just as a one-time addition. You're supposed to use the service as a gift to someone, but you can just as easily set it up for yourself by adding your secondary email address.
This could be a great help for parents who have kids away at college, but I'm using it for my family to help us stick to our budget for categories like books and DVDs.
The program was set up last June, but many of us have never heard of it. Head to the link below to learn more or set up an allowance or two.