These days, most tablets and laptops come with unique hardware applications (some would call them "gimmicks") in an attempt to stand out from the crowd. It might be a fancy 3D camera, a battery extender or even an inbuilt projector. Usually, it's entirely unproven technology that could prove useful… or it might be a flash in the pan. Lenovo is looking to eliminate this uncertainty with the ThinkPad X1 Tablet. Instead of saddling itself to one feature, it offers a choice of three clip-on modules to suit the needs of different customers. Or you can sit on the fence and ignore them all.
Lenovo's new top-of-the-line X1 Tablet is an impressive gadget in its own right — running on Windows 10 Pro, it boasts a 12-inch 2160×1440 IPS display, a current-gen Intel Core M processor, up to 16GB of RAM, a USB-C port and up to 1TB of SSD storage. It also comes with a detachable, full-size ThinkPad keyboard and stylus pen. But what really distinguishes the X1 Tablet from other convertibles are its optional clip-on modules.
There are currently three to choose from: A "Productivity Module" which adds extra ports and increases battery life to 15 hours, a "3D Imaging Module" which adds a rear-facing Intel RealSense camera and a "Presenter Module" which adds a pico projector and HDMI port. The modules connect to the back of the tablet magnetically where they remain firmly fastened: you can even shake the X1 from the attachment without it breaking away.
Lenovo's VP of global marketing and user experience, Dilip Bhatia showed off the device at CES 2016. According to Bhatia, the model — which has been in development for two years — was designed to meet the demands of as many customers as possible; even weird niche ones.
"We designed the [X1 Tablet] to be ultralight at 775 grams, because that's the feedback we got from our customers," explained Bhatia. "However, there were also people who wanted something more: some wanted more battery life, some wanted docking capabilities, some wanted a projector capability so we had to work out a way to take all those requirements and fit them into this tablet."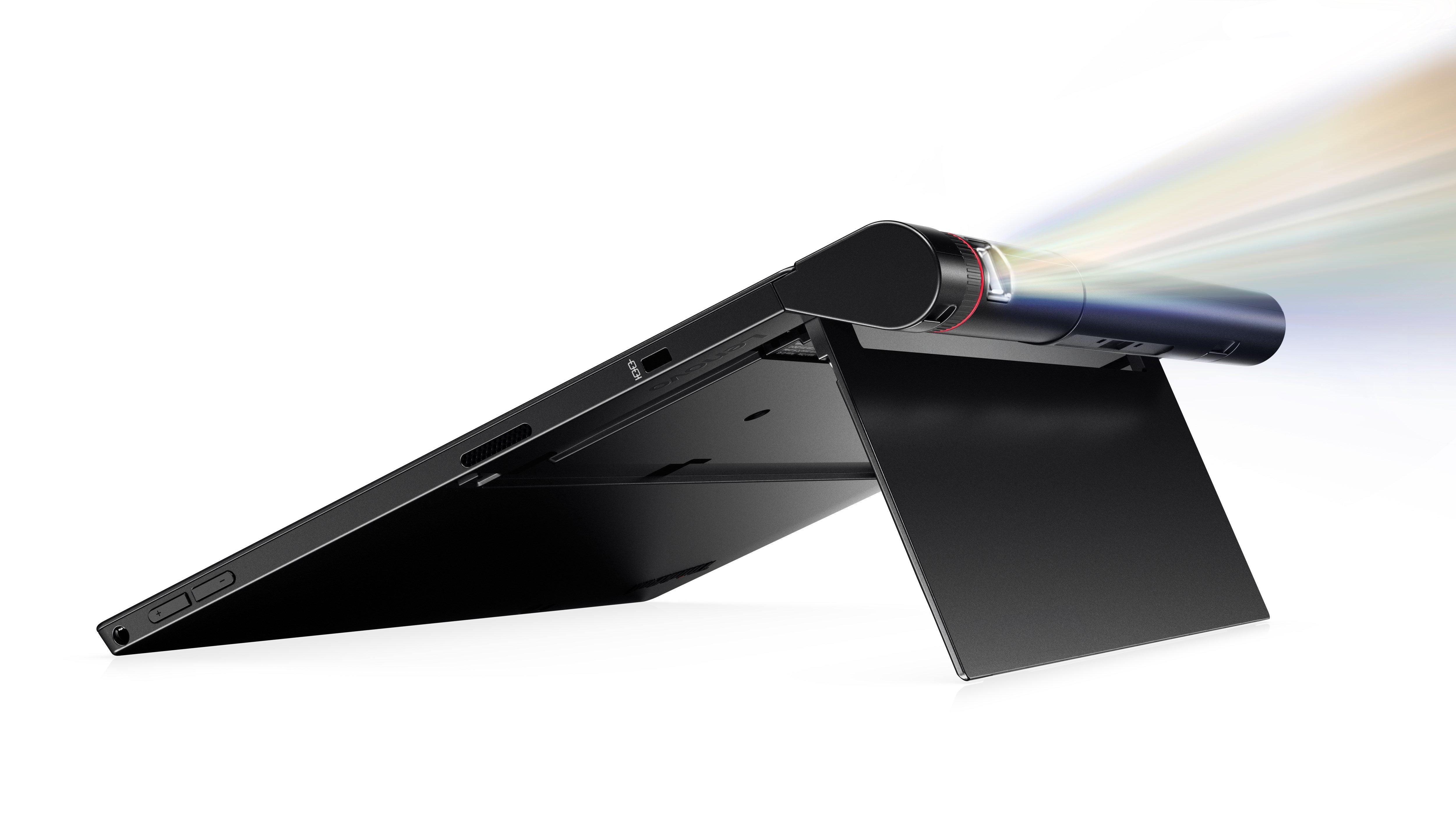 We really like this approach for two reasons: by selling the hardware apps separately, it keeps the cost of the tablet down ($899 is pretty reasonable for a Windows 10 business tablet.) The detachable modules also extend the versatility of the tablet and stop it from being a one-trick pony. It's a win-win situation: interested customers can buy the module that best suits their needs while the rest of us can stick to the base model.
We're also interested to see what other modules Lenovo will bring to the table. Intriguingly, the company said it would be basing future modules on customer feedback — so let them know what you're keen to see!
Crucially, all modules will be compatible with future X1 devices. In other words, you should still be able to use the attachments if you upgrade your tablet a few years down the line. (Although we suspect you'll probably need an adaptor depending on the form factor of your next purchase.)
Of the three options currently available, we think the Productivity Module probably makes the most sense to business users. It provides an extra 50 per cent battery life along with USB 3.0 and HDMI ports. However, we can also see how the projector and RealSense camera would suit certain professions: being able to project presentations to clients or create a 3D scan of real estate property as just two examples off the top of our head.
ThinkPad X1 Tablet will be available starting February from $899. The Productivity, Projector and 3D Imaging Modules will sell for $149, $279 and $149, respectively.
We're interested to hear your thoughts on so-called modular tablets. Is it a great way to get extra versatility out of your device, or just a different way to sell mostly useless accessories? Let us know in the comments!
Chris Jager traveled to CES 2016 as a guest of Lenovo.