If you know someone who is gearing up to travel, looking to tidy up their home, or wrangle their chaotic cables, we've got you covered. These gifts can help the most disorderly of people in your life achieve organisational nirvana.


In partnership with the Toshiba Radius 12 — where every feature is its best — Lifehacker's Gift Guides will help you pick the best present for your loved one
Packing Cubes for an Organised Suitcase
When you're packing up for a trip, a well organised suitcase can give you more space for things you need, and save you some frustration. Packing cubes (Three for $25) make suitcase organisation a piece of cake, keeping everything separated and packed tight in their own mini compartment. One cube can be for socks, another for underwear, a larger one for pants, and so on. They can also make packing electronics easier.
Sure, you can still pack efficiently without them, but when it's time to pack up for the trip home, packing strategies have a higher chance of falling apart. Plus, if your bag happens to get searched at the airport, they won't make a mess of all your hard work.
Bedside Caddy for Gadgets and More
Nobody wants a nightstand crowded with gadgets and books. A bedside caddy can store everything you need in reach, all while keeping your nightstand clear for a glass of water or alarm clock. There are plenty of options out there, but we recommend the IKEA Flort ($10).
Wall-Mounted Broom and Mop Organiser
Even if you tuck away your brooms and mops, you can still keep them nice and organised. The Oates All Purpose Holder gives you slots for five different tools and the grips easily adjust to almost any thickness. The holder also has six hooks, and comes in an easily-disguiseable off white colour
IKEA GRUNDTAL Magnetic Spice Rack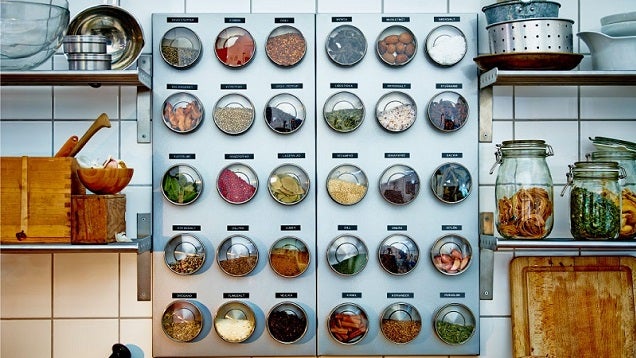 Know a cook that never has enough room in their kitchen cupboards? This SPONTAN magnetic board from IKEA ($20) and a few sets of GRUNDTAL magnetic jars ($10 for 3) make a cheap, yet attractive kitchen modification. Plus every spice will be within reach no matter what they're cooking.
Hanging Toiletry Bag
Travelling with toiletries can get messy if you're not careful. This Kit Classic hanging toiletry bag ($15) is made of polyester, and features dividers and pockets that will keep your toiletries organised and secure. It's capable of hanging on a hook or towel bar, and it's design gives you quick and easy access to each compartment without making you dig too much.
IKEA SIGNUM Under-Desk Cable Management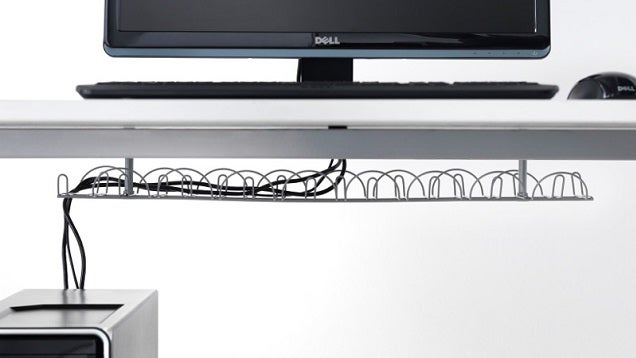 The IKEA SIGNUM under-desk cable management basket ($20) has been a popular desk add-on around Lifehacker for years, and with good reason. It's a simple, cheap bolt-on addition for the bottom of your desk that corrals all of your cables neatly. It's not so small and tight that you can't get in there to replace or re-run a cable if you need to, and it's not so loose that it looks sloppy. It's cheap, easy to install, and makes a great gift for that special someone who has a rat's nest of cables behind their desk.
Mini Surge Protector Power Strip
If you're looking for the perfect gift for someone who always travels with an arsenal of power-hungry gadgets, this mini travel surge protector from Belkin ($28) won't disappoint. It features two standard outlets and two USB outlets. You could safely charge your laptop, tablet, phone, and digital camera all at once — or you can be everyone else's hero at the airport. It's small design easily fits into a carry-on bag, and it comes with a limited lifetime warranty.
IKEA SKUBB Dresser Drawer Dividers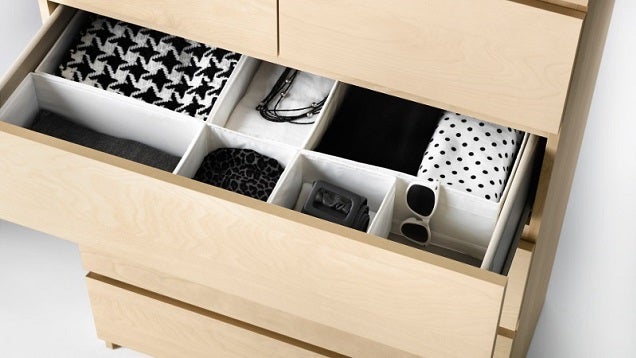 Because they're hidden from sight, dresser drawers have the potential to become a tornado of disorganised clothes and other junk. The SKUBB dresser drawer dividers from IKEA ($10) let you grid out each drawer to give every type of clothing its own place. No longer will your drawer be a mess of socks and underwear you constantly have to dig through.
Velcro Cable Ties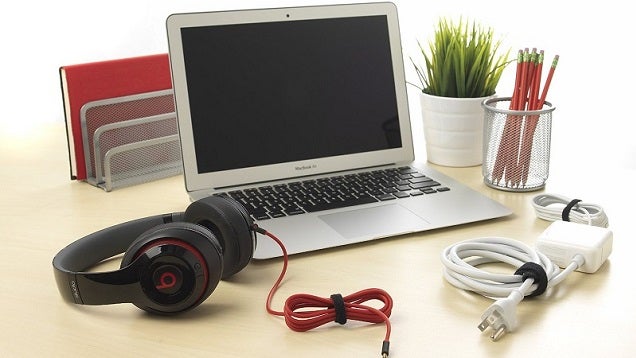 Cord clutter is one of the first things we like to see go here at Lifehacker. These Velcro straps ($6 for five) make it easy to manage and organise cables anywhere in your home, and they make great stocking-stuffers for the gadget geek in your life.