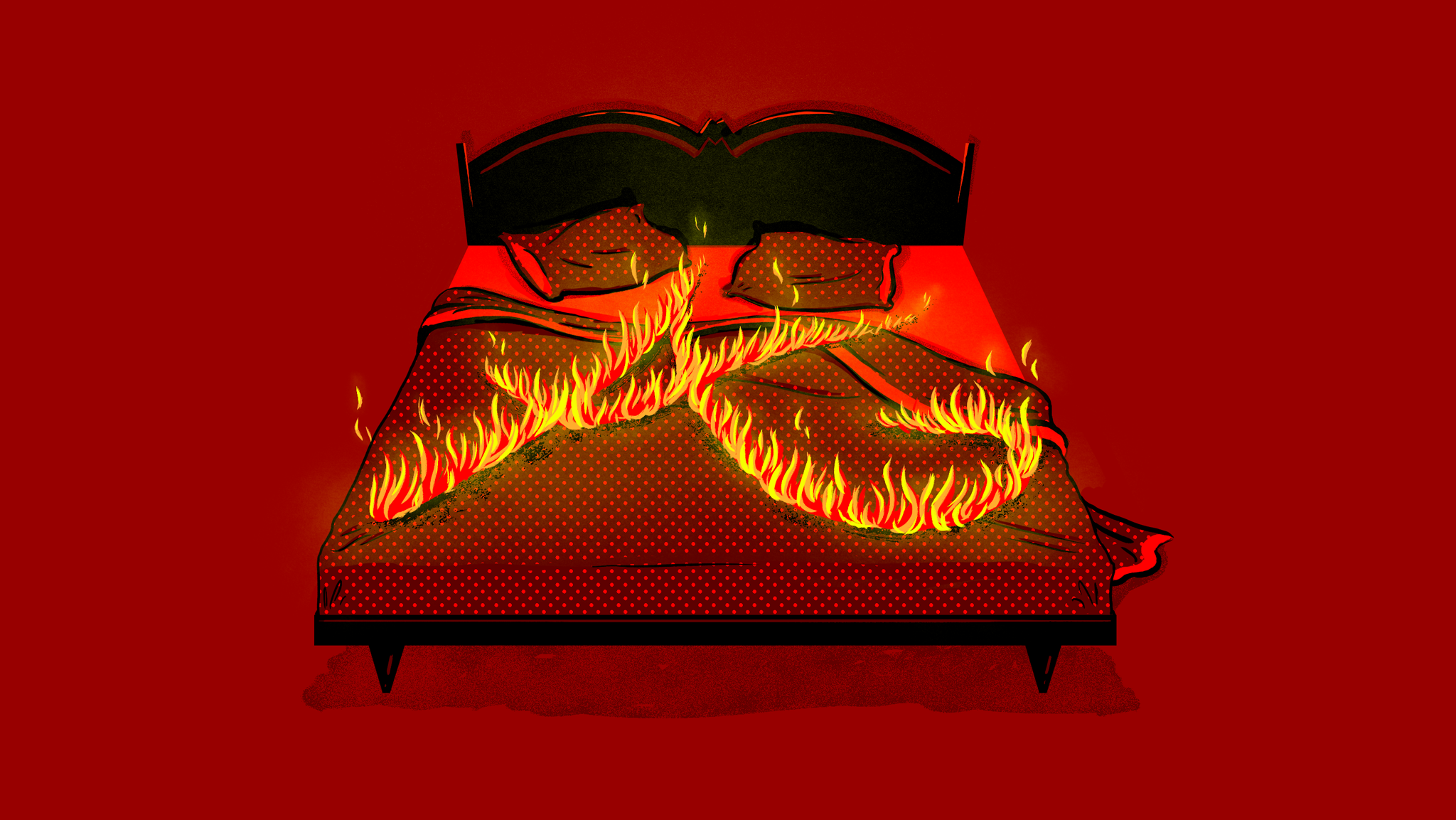 You went and did the unthinkable: you cheated. Now what? If your partner decides to end the relationship, there's not much for you to do, but if they want to stay together, you have some work ahead of you. Illustration by Tara Jacoby.
First: Decide What You Want
Your partner may want to salvage your relationship, but do you? This is an extremely difficult question to ask yourself. It sucks to know that you've hurt the person you love by cheating on them, and it's natural to want to avoid hurting them even further. Your first instinct might be to run back to your partner and beg forgiveness, but it's important to be honest with yourself about your motivations for cheating. Did you cheat because you felt like your relationship was already over? Do you have real feelings for the person you cheated with? You'll only prolong your partner's pain by leading them on to believe the two of you still have a future together, so be honest with them (and yourself) now.
Break It Off with the Other Person
This should go without saying, but if you decide you want to stay in your relationship with your partner, you need to fully break it off with the other person. Obviously, this will be a lot harder if you've had an established friendship or relationship with the other person than if you just had a one-night stand. It's best not to see them again in person, ever. You'll avoid the temptation of cheating again, and you'll be able to break things off more cleanly. Send an email explaining, in no uncertain terms, that you are staying in your relationship. Be respectful of the connection that the two of you had, but firm in your decision. Let your partner know any steps that you took to cut off contact, too.
Tell Your Partner the Truth
Make sure you've told your partner the whole truth about your affair. Take complete responsibility for and ownership of your actions. It's going to suck, but you owe it to them. If you got caught, or if you only fessed up to some of the details, you may feel tempted to minimise the amount of information you share with your partner. Unfortunately, you can be almost guaranteed that those other details will surface at a later time, and it's going to be a whole hell of a lot more painful for them to realise you're still lying. Sordid details aren't necessary, but your partner should know all of the information we covered in this post.
Be Present, but Not a Punching Bag
You hurt your partner, and now you have to deal with the consequences. Your partner is going to get triggered by seemingly innocuous things, and they're going to want you to understand how much pain they are in. You have to weather the storm along with them. Help your partner understand that you still love him or her, you're going to make sure this doesn't happen again, and you are making the conscious decision to stay in the relationship.
That being said, there are limits. You cheating doesn't give your partner licence to attack or abuse you. You don't need to give up all of your privacy or allow your partner to control your life. If they ask for your account passwords or unrestricted access to your phone, say something like, "I know I have to earn your trust again, but I don't think this is the best way for me to do that" (because it really isn't). You should also draw boundaries around questions that you know would be too painful to answer. If they ask about the dirty details, say something like "I don't want to keep anything from you, but I also don't think hearing that information will be helpful in any way."
Be Sensitive About Sex
Sex will be probably be pretty complicated between you and your partner for a while. Be ready to expect this. Your partner may not want to be intimate for quite some time, and when you do start having sex again, they are probably going to get triggered or emotional when you're together. These things take time, but your best bet is to respect your partner's boundaries and go back to basics. Focus on cuddling, kissing, and simple touch. Try to be present with your partner. Remind them of the things you love about them, and the unique aspects of your sexual relationship.
Learn from It
You may have cheated for no good reason, or you may have cheated because your relationship was strained or troubled. Once the initial crisis stage has passed, try to be honest with yourself and your partner about what was going on in the relationship before you cheated.
If you're serious about repairing your relationship, you very well may need some outside help. Show your partner that you're committed by taking the lead with couples counseling. Research some therapists in your area, book the initial appointment, and let your partner know you're in it for the long haul. You may also want to seek out individual therapy, to get a better understanding of the reasons you cheated in the first place.
These are incredibly tricky conversations to have, since you can't blame your partner for the fact that you cheated. A trained professional can help guide you through these types of conversations. You may need to have some conversations about the ways you communicate, how you handle conflict, or how you can protect your relationship against future infidelity.
Forgive Yourself
Yes, you made a huge, horrible mistake. You should spend plenty of time thinking about what led you to cheat, the consequences of your actions, and how to ensure you don't repeat your mistake in the future. But you also have to be able to eventually forgive yourself. Everyone makes mistakes, and most of us make pretty enormous ones at some point in our lives. This is one of those. But it doesn't mean you're pure evil, and you can't dwell on it forever. Don't spend the rest of your life hating yourself; it won't do you, your partner, or your relationship any good. (Or future relationships, for that matter.)
There's no sugar-coating it: you've got a long, rough road ahead of you. But with love, patience, and hard work, you can bring your relationship back from the brink.