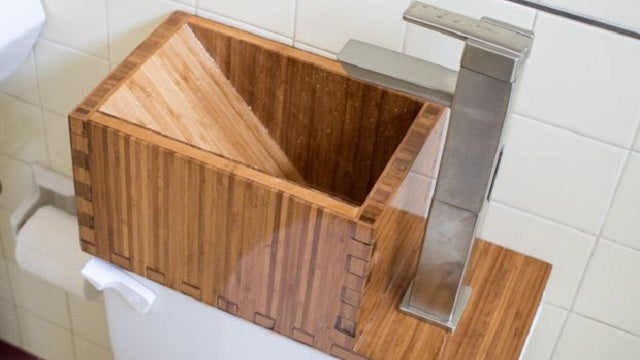 If you're interested in conserving some water at home, this custom sink re-routes the fresh, clean water that fills your toilet tank so you can wash your hands with the same water each time you flush.
This design, from Jonathan Odom at the Instructables Design Studio, replaces the lid from your toilet tank with a sink that activates each time you flush the toilet. On average, a single old-style toilet flush uses around 12L of water. Why let that water go to waste? Odom used Plyboo wood and a Moen 90 Degree high arc vessel faucet, but you could construct yours out of any type of material and a much cheaper faucet. You'll also need vinyl tubing, wood glue, construction adhesive, and a few other components. It's quite the project to take on, but once it's complete, you'll be saving water every time you use the toilet. You can find the complete guide and a video of it in action at the link below.
Toilet Top Sink [Instructables]
Lifehacker's Workshop column covers DIY tips, techniques and projects.