There's nothing better than cleaning your house of odds and ends you no longer need… and making some cash back on them. Whether you hop around to garage sales or are planning on having your own, these ten tips could help you make the most of any garage sale.
Illustration by Tina Mailhot-Roberge.
9. Make Sure Your Garage Sale Is Legal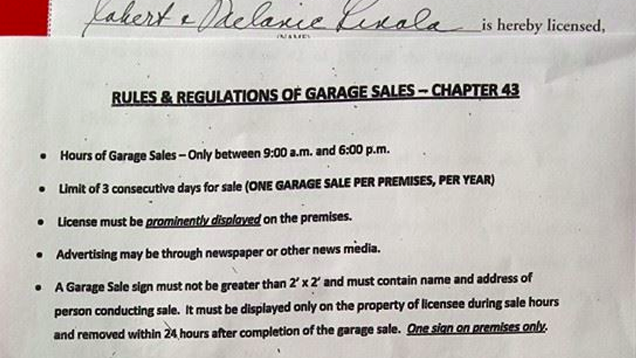 First things first. If you're going to have a garage sale, it's best to know what laws your council has governing them. My council is so prohibitive, I was pulled over by a cop when trying to post a garage sale sign on a traffic pole — you know, the signs that actually get people to go to your sale. Anyway, you don't want to go through all the trouble of preparing for a garage sale only to get fined or run into other problems.
8. Stage a Garage Sale to Attract More Buyers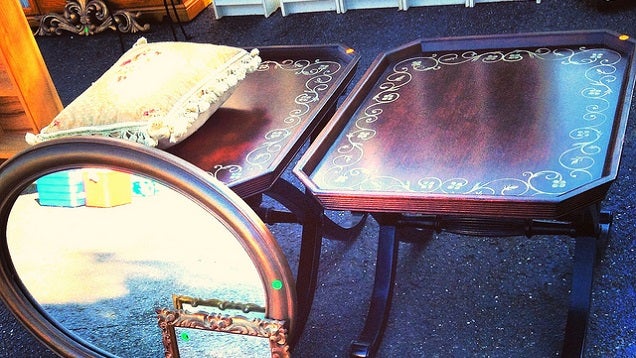 You'll probably get most of your traffic from people walking or driving by. If you want to convince more of them to stop and look around, how you showcase your items will make a big difference. Big or notable pieces, such as furniture and bikes, will draw more people, You could also have themed garage sales (a "geek garage sale" or "book sale") to sell more stuff.
7. Know What Sells and What Doesn't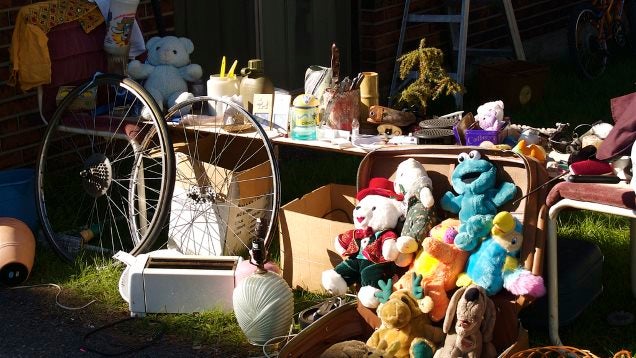 Garage sales take a lot of work. You can save some time and effort by only cleaning, pricing and putting out those items more likely to sell at a garage sale and donating the rest. If you want to get a better return on your stuff, expensive items are probably best sold on eBay or Gumtree instead of in your garden. soft drinks and snacks however? Great items to make a little extra cash at your garage sale.
6. Price Items Properly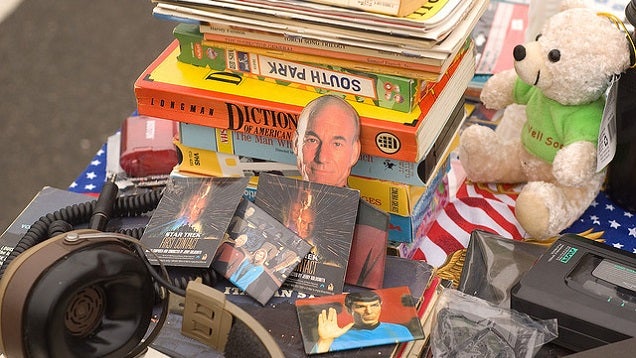 Garage sale shoppers want to get items at a bargain, while you probably want to both price things reasonably and get them sold. When coming up with your pricing strategy, consider pricing items anywhere between 10 and 25 per cent of what they were worth originally — garage sale shoppers won't likely go for more than that. Or, if you're just trying to declutter, you might sell more stuff and make more money (surprisingly) if you don't price the items. For a quick sale, bundle products together and consider having a last-day price drop sale to boost your earnings.
5. Pick the Best Day and Time for Your Garage Sale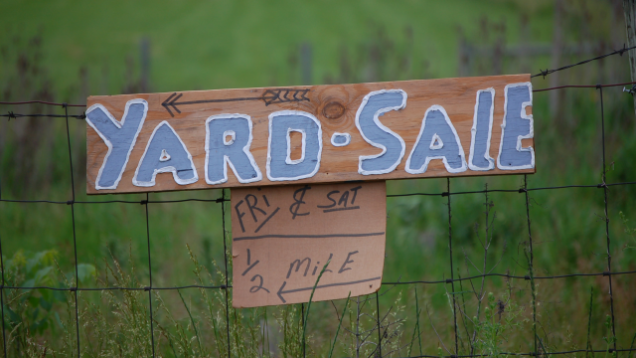 The classic time to hold a garage sale is early in the day on a Saturday, but you can also try scheduling your sale near the 1st or 15th of the month (paydays!) and avoid holiday weekends (unless you live in a tourist town). I found that people who go often to garage sales will shop during the weekday too, so if you can start on a Friday, you might grab those interested shoppers (and perhaps avoid more neighbourhood garage sale competition).
4. Plan Your Entire Garage Sale from Start to Finish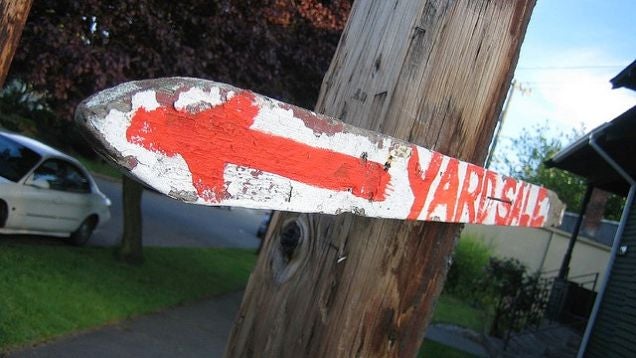 For more advice, see our guide to throwing a killer yard sale, which includes how to advertise your sale, place your items around your yard or garage and planning to haggle.
3. Stock Up on the Best Items at Garage Sales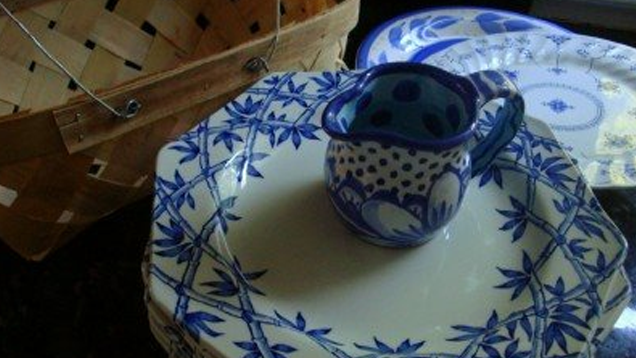 Besides getting deals on furniture, clothes and toys, people often shop garage sales for rare finds, like collectibles and vintage items. Beyond those, though, you might want to use garage sales to stock up on entertaining essentials, such as dish sets, cloth napkins and even throwaway containers.
2. Negotiate with Sellers at a Garage Sale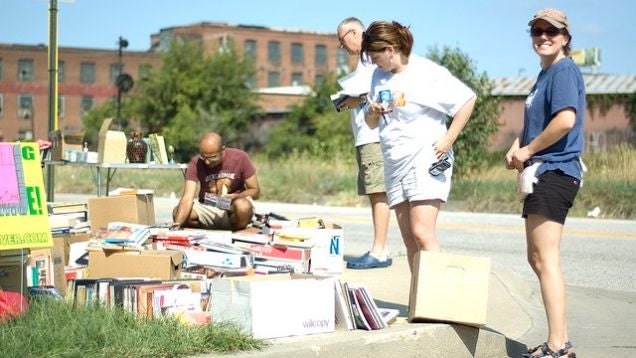 If there's something that catches your eye at a garage sale but the seller says "make me an offer", use the 10 per cent rule to figure out a price: Do a little quick research if you can to find the going price of the item and then make your offer at 10 per cent of that price. If it's in great condition, you could settle for 20 per cent or if it's not in great condition, go down to five. These are rules of thumb you can also use to evaluate if an item is priced fairly at a sale.
1. Donate Unsold Items or Schedule a Hard Rubbish Pickup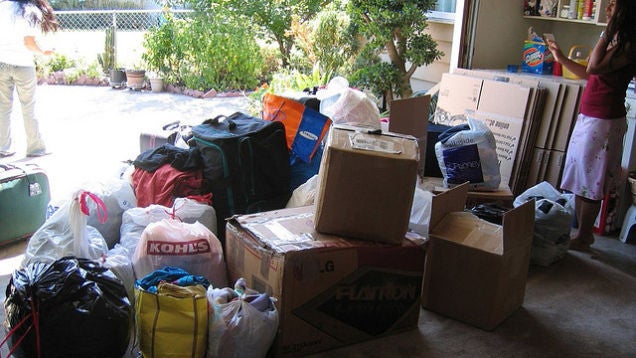 Just like it's smart to arrange a hard rubbish pickup before you start de-cluttering your home, schedule one for shortly after your garage sale ends. That way you don't have all those items that didn't sell sitting back in your garage. You might also want to employ this strategy if you're a frequent garage sale shopper. After bringing in all the new loot, find items to donate in your home, lest everything piles up — or, perhaps, host your own garage sale.