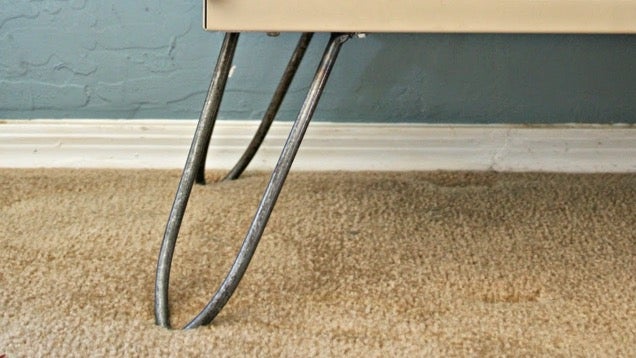 Mid-Century modern furniture can be difficult to find and expensive to buy. You can dress up your own piece of furniture by adding DIY hairpin legs to provide that Mad Men touch you've been looking for.
To create uniform hairpin legs, you'll need a pipe bender. You'll also need a cold rolled steel rod, 5" flat corner braces, an angle grinder with a cut-off wheel and grinding disc, and a MIG or arc welder.
If you've done some previous metalworking this project should be no sweat. Otherwise, it's a great reason to finally invest in a few metal working tools and learn some basic welding skills.
After you achieve the right "hairpin" bend to your legs, weld them to the corner braces at the angle of your choice and bolt or screw the legs to the underside of your dresser. Check out the link below for the full set of step-by-step instructions with photos.
DIY Hairpin Legs [Pneumatic Addict]