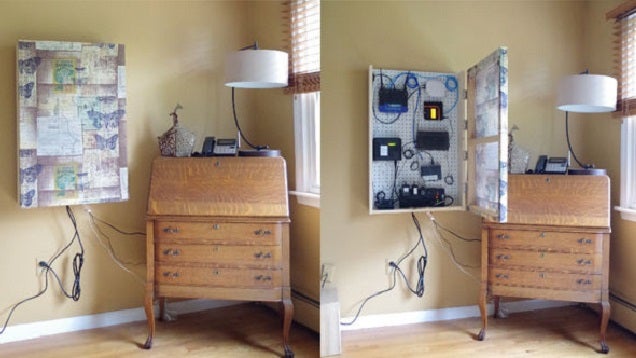 If you're tired of the mess that your modems, routers and cables are making on your desk, this simple frame design offers a nice-looking alternative for better organisation. Better yet, it's easy to make it fit in with your existing decor.
Using some pegboard, some basic hardware and some wood for framing, Instructables user ghochman created an elegant hideaway for routers and other network accessories.
The front panel can be a painting on cloth canvas or even a framed poster that swings open to reveal the gear inside. Everything attaches to the pegboard, and the top is completely open to help with ventilation. Add some cord coverage panels and it will be like there's nothing there but a painting. While you're at it, get your entertainment center organised too.
Discreet Electronics Organiser [Instructables]