After all the waiting, Australians now have access to the the streaming goodness that is Netflix. To help you get started, here are some tips and tricks for getting the most out of it here in Australia.
1. Run An Internet Speedtest
Jump on to a service like Speedtest.net or iiNet's broadband speed test. To get the best possible speed, take some time to work out anything that could be affecting it.
Check your equipment for any damage, faults, and (if you are using an NBN connection) if your hardware is NBN-ready — it needs to be able to connect to a Local Area Network (LAN). It's also a good idea to take a look at your plan with your internet service provider. You may be limited to slower speeds and need to upgrade or shop around for a better deal.
And don't forget to keep an eye on your quota so you don't end up getting your speed shaped. Unless you're an iiNet fixed line broadband or NBN customer who'll be able to access Netflix in Australia quota-free*
*Australian service only. Netflix streaming membership, compatible device, and internet required. See netflix.com/termsofuse. Excludes all Satellite, NBN Fixed Wireless, Mobile Voice & Mobile Broadband.
2. Use "My List" As A Shortcuts Bar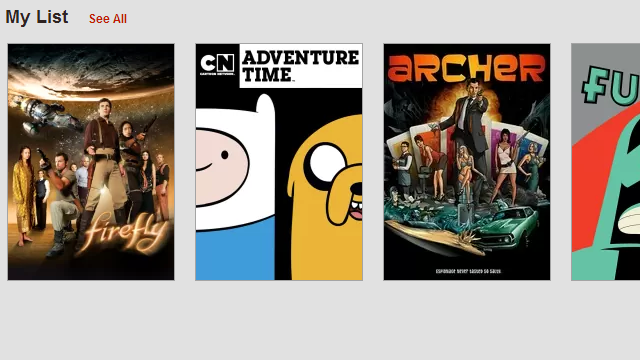 "My List" is where you will be saving items to watch later. It's layout — a customised, scrolling list of titles — means that it can also be used as a way of jumping straight to your favourite shows. Just choose what you want to watch and it will show up on your home page.
3. Get Notified Of New Content With iStreamGuide
Netflix's instant streaming library is changing constantly. Netflix occasionally sends you emails for new content it thinks you might be interested in, but if you want to discover content outside of that narrow scope, the iStreamGuide App (available on Apple and Android) will soon add Australian support to help you keep up with new arrivals in the Netflix library. You may also want to check out the Netflix Australia blog and the Australian Streaming Gyde app/mailing list.
4. Use Keyboard Shortcuts
Keyboard shortcuts make viewing easier when you're using a laptop. As well as hitting Spacebar to play/pause, Netflix has a host of keyboard shortcuts built into the player including fast forward, rewind, and mute. Check out this post for even more advanced shortcuts.
5. Access Hidden Streaming Options
Netflix has some super advanced options for streaming video in a hidden menu. You can access it on the desktop by pressing Shift+Alt+Left Click. It lets you see a wide range of A/V stats as well as manually adjust the streaming rate.
Haven't signed up to Netflix yet? What are you waiting for – head to Netflix and sign up today.