A common pitfall of internet use is clicking on broken links that lead nowhere. Sometimes dodgy coding is to blame, other times the linked-to webpage or subsite has been removed. Whatever the cause, it can be bloody annoying. Occasionally though, the website in question will take some of the sting out by turning its 404 error page into an interactive experience. Here are 15 of the best; from digital art canvases to full-blown text adventures. (We've also included broken links so you can play them yourself.)

AirTasker's 404 game resembles a cross between Flappy Birds and 1980s arcade shooter Thrust. You're tasked with safely landing AirTasker's flying shoe logo in a mountainous landscape. [Note: We had some trouble getting the game to work on Chrome but other browsers seem to work fine.]
Left Logic's 404 error page includes a digital canvas for bored artistic types to doodle in. The best creations from users are immortalised on the side of the page.
It's an interactive Magic 8 Ball! "Will this page ever get fixed?" "My reply is no."
Website design company Hot Dot has one of the coolest and most Zen-like error pages we've ever laid eyes on. The three numbers contain hundreds of tiny dots that can be manipulated by moving your cursor around and clicking on the mouse button.
Remember that scene in the original
Jurassic Park
where Newman disabled access to the park's computer network? Coding website Nouveller contains an interactive homage.
Google Chrome: Dinosaur game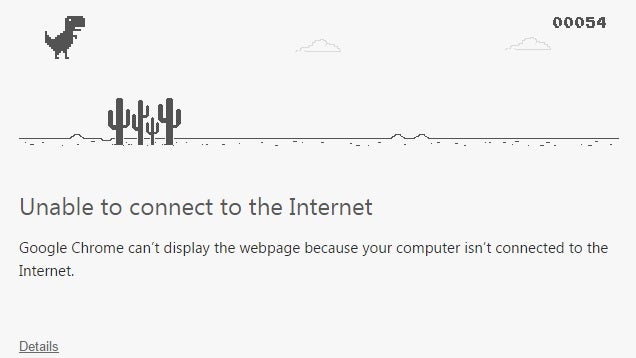 Okay, so this one technically isn't an error 404 game, but it's close enough. When you reach the "Unable to connect to Internet" screen in your Chrome browser, just hit the space bar to start an endless runner game starring the famous dinosaur. You can play it on PC and Android.
Retro arcade games are a popular fixture on error 404 pages. Here's a Space Invaders clone from Norwegian stock images company Klapp.
This extra-large Pac-Man maze is surprisingly addictive.
Here's one for the kiddies from SEO service provider Screaming Frog: click on the cute froggies to make them sing!
This has got to be our personal favourite: a full version of the classic text adventure game Zork! Originally released in 1979 by MIT members using the MDL programming language on a DEC PDP-10 computer, it remains one of the best titles in the genre. Best of all, you can save and restore your games inside the browser.
This one just looks cool. Plasm.IT's error 404 page gives the user an interactive example of its "endless grid" website creation tool.
Heyzap: Asteroids clone
Mobile advertising firm Heyzap offers lost customers an Asteroids-style arcade blaster.
Here's another 404 text adventure, courtesy of blog site Full Pickle. Like the site itself, the emphasis is on humour but it's also quite challenging.
PlatinumGames: Bayonetta
The makers of the video game Bayonetta offer a basic 2D shooter of its most popular IP in place of a standard 404 error page. Like the proper console game, it is fiendishly hard.
The website of developer Romain Brasier includes a 404 error page filled with Lemmings from the retro computer game of the same name. Click on the falling green-haired critters to save them from oblivion.
Lifehacker's weekly Streaming column looks at how technology is keeping us entertained.