You have lots of options for password managers, and when it comes to your security, you want the best possible tool for the job. Let's take a look at some of the most popular password managers and compare them side-by-side so you can pick the one that's right for you.
Photo by Sergay Nivens
Considering the security required for a password manager, you have a surprising number of choices here. We spent some time with all of them, then picked the following five because they hit the sweet spot between reliability, features, security and support (and not surprisingly, the best five were those picked in our last password manager Hive Five). With that said, we'll also talk about some of the other options at the end too. Let's start by taking a look at the basic feature set of our top five choices. In this table, 3P indicates support via a third-party app, not the original developer. (If you're on a mobile device and can't read the whole table, click here to see it in graphic form.)
| Feature | LastPass | Dashlane | KeePass | 1Password | Roboform |
| --- | --- | --- | --- | --- | --- |
| Windows | Yes | Yes | Yes | Yes | Yes |
| Mac | Yes | Yes | Yes | Yes | Yes |
| Linux | No | No | Yes | No | No |
| Chrome | Yes | Yes | No | Yes | No |
| Firefox | Yes | Yes | No | Yes | No |
| Opera | Yes | No | No | Yes | No |
| Safari | Yes | Yes | No | Yes | No |
| Internet Explorer | Yes | Yes | No | No | No |
| Windows Explorer | Yes | No | No | Yes | No |
| Android | Yes | Yes | Yes (3P) | Yes | Yes |
| iOS | Yes | Yes | Yes (3P) | Yes | Yes |
| Windows Phone | Yes | No | No | No | No |
| BlackBerry | Yes | No | No | No | No |
| Password strengh report | Yes | Yes | Yes | Yes | Yes |
| Automatic password changing | Yes | Yes | No | Yes | No |
| Password generator | Yes | Yes | Yes | Yes | Yes |
| Security alerts | Yes | Yes | No | Yes | No |
| Secure password sharing | Yes | Yes | Yes | Yes | No |
| Two-factor authentication | Yes | Yes | Yes (3P) | No | Yes |
| Form filling | Yes | Yes | Yes | Yes | Yes |
| Security notes | Yes | Yes | Yes (3P) | Yes | No |
| Syncing | Yes | Yes | Yes | Yes | No |
Features aren't everything — usability, support and security also matter. These are the basic features that each of these password managers offer:
Next, let's take a look at how each of these password managers differ — and what they charge — to help you pick the one that's right for you.
LastPass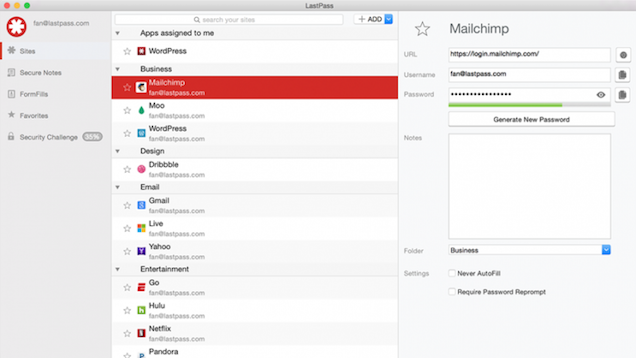 LastPass has long been a household favourite here at Lifehacker, but that doesn't necessarily mean it's the best manager for you. Let's take a quick run through its feature set:
Where LastPass fails: LastPass is free if you're only using it on your computers, but the extra features and mobile apps do cost $US12/year. That might sound like a lot over the course of your life, but with a subscription system you're more likely to get more features and better support. That said, even after a much-needed update, the interface is still a bit clunky, and it takes a while to get the hang of. Likewise, LastPass stores your (encrypted) passwords in the cloud, which some might not be comfortable with, but this is done in a fashion that's quite secure and keeps them safe from hackers. LastPass has been very good about notifying users immediately if an incident occurs, and if you have two-factor authentication enabled you should be safe in the case of any password breaches.
Who LastPass is for: LastPass is a great all-around solution for people who just want to keep their passwords safe. It has enough advanced features, even in the free version, to make it worthwhile for most power users. LastPass' real appeal, though, is the fact that anyone can get started using it really quickly (provided they can navigate the clunky UI). With the exception of mobile access, most of LastPass' best features are available for free, so if you don't need to get your passwords on the go, it's easily your best option. LastPass also has the widest mobile support of all the password managers, with apps on Android, iOS, Windows Phone and Blackberry, so if you're not an Android or iOS user, it's your best bet.
Dashlane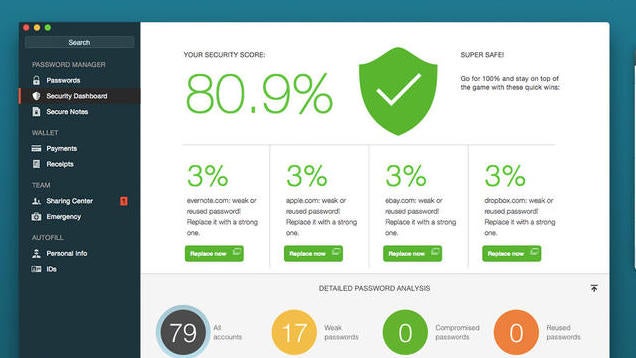 Where LastPass fails a bit in basic interface, Dashlane truly excels. It's packed with a lot of features and is incredibly easy to use, even if you're not the most computer-savvy person out there. Here's what you'll get with Dashlane:
Where Dashlane fails: If you want features like syncing and web access to passwords, Dashlane is quite costly pricey at $US39.99/year. However, you do get a lot of bang for your buck, and the app is constantly being updated with new features and security improvements.
Who Dashlane is for: If you're willing to pay the $US39.99/year for Dashlane, it's definitely one of the easiest password managers to use. The breach notifications, consistent UI and range of features makes it a better entry-level password manager than LastPass if you're willing to shell out the cash. The automated, bulk password changes also make it a great choice for anyone who doesn't want to spend the time altering passwords.
KeePass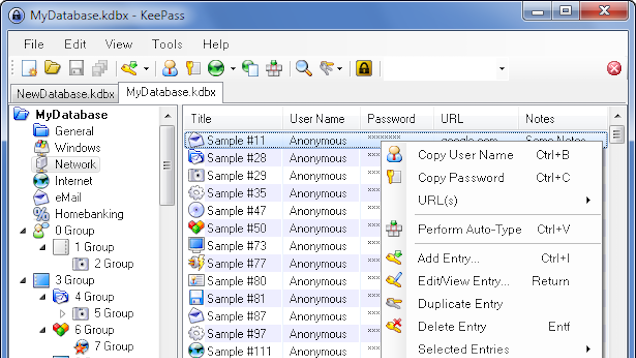 KeePass is the only truly free option that's any good, and it's also open source, which is immediately appealing to a lot of people. That said, KeePass works a lot differently than some of the more modern options. KeePass stores all your passwords locally, and doesn't have a syncing service — though you can sync your passwords through Dropbox with a plug-in. Beyond that, its feature set is drastically different to your other options.
Where KeePass fails: KeePass is a decidedly more hands-on password manager than the other options here, which means it's not as simple as something like Dashlane. It would be hard to recommend KeePass to anyone who isn't computer literate, even though it is the only completely free option. KeePass also doesn't have the handy security alerts and automatic password changing features of some of the other paid options.
Who KeePass is for: If you're willing to put in the effort to set it up, KeePass is incredibly powerful and well supported. Since it offers offline access and gives you complete control of your encrypted passwords, it's perfect for anyone who doesn't want to keep their data stored on a third-party server. If you're the tinkering type who likes to really customise your software, KeePass is definitely worth trying.
1Password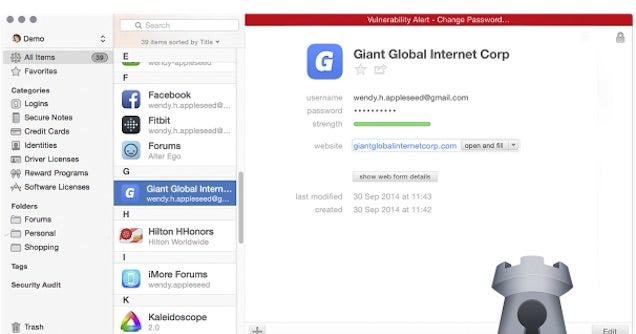 Like LastPass and Dashlane, 1Password takes the "simple is better" approach to a password manager and sports the best-looking software suite of the bunch. While it might look the same as its rivals at first glance, it has its own special twist on the password manager approach. It includes:
Where 1Password fails: While it's the only password manager on here that offers a one-time payment option, the $US50 entry fee to use 1Password is a bit high for some people. Thankfully, there is a demo available if you just want to check it out. While most people are only using Windows, Mac, iOS and Android, the lack of support for other operating systems does limit its usage a little. The lack of a two-factor authentication method is also a pretty big security hole and a major disadvantage compared to your other options.
Who 1Password is for: If you're a fan of good design, 1Password is easily the best looking password manager on this list. It's constantly getting updates and new features, so you know that your $US50 is well spent. If the thought of paying an annual subscription for Dashlane or LastPass is a turn off, 1Password's the way to go.
Roboform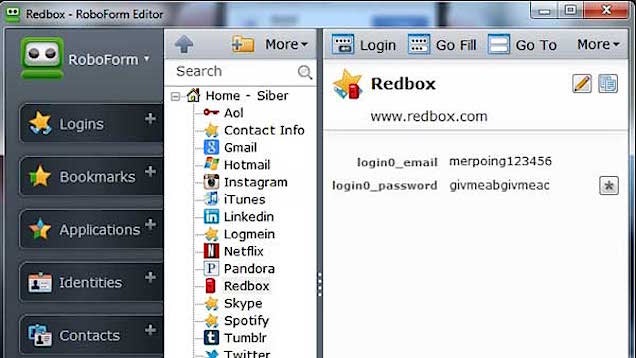 Roboform has been around for a long time, and while it's not the most innovative password manager out there, it does its primary job very well. It has:
Where Roboform fails: Roboform is easily the least feature-packed on this list, and at $US9.95/the first year and $US19.95/every year after, it's hard to justify why you'd pick Roboform over something like LastPass. If you're only interested in the desktop version and not the syncing features, you can grab the Windows or Mac apps for a one-time fee of $US29.95. Roboform has been around a long time and has a incredibly good history of solid security. For a password manager, that's a very important thing.
Who Roboform is for: Roboform's lack of advanced features have one very specific advantage: it's incredibly easy to use. It generates passwords, logs you into sites, and that's it. There's no extra fluff, no wasting time checking password security (assuming you're already up to snuff), or anything else. If you've been using strong passwords for a while, Roboform is a nice, barebones option that does just what it's supposed to do and nothing else.
Other, Lesser-Known Options
As we mentioned at the start of this post, there are a lot of different password managers in existence. Most don't stray too far from the feature set of the above five though, and many are held back by extreme pricing models or platform availability. That said, if none of the above work for you, these may be worth checking out:
Whichever one you pick, just remember: it doesn't really matter which you chose, but pick one. If you aren't using a password manager, you're more vulnerable than you think.