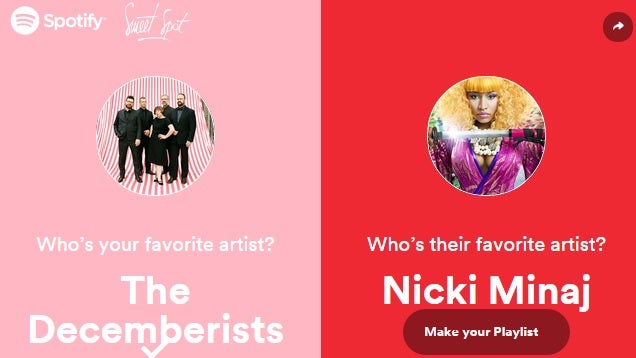 Do you find your taste in music constantly in battle with other people's tastes in music? Spotify's new Sweet Spot tool attempts to build the perfect playlist to bridge the gap between genres and styles.
Intended to be used by couples on Valentine's Day, Sweet Spot is designed to end the "what should we listen to?" discussion and get on with the music. If you're into folk rock and they're into hip-hop, there are a few degrees of separation there, but Sweet Spot does a pretty decent job of easing out of one genre and into the next. You start by entering your favourite musical artist, then enter theirs, and just like that your playlist is built. It might sound a little silly, but it actually works pretty well.
It's a useful tool for music discovery as well. You can enter two artists you like and look for artists you hadn't heard before, but still fit in with your tastes. If you like the playlist they come up with, you can easily save it to your personal Spotify collection.
The only downside I've come across so far is that you'll be given the most popular tracks from most artists — not always, but a majority of the time. So remember, if you find a popular track you like, be sure to check out the rest of that artist's material too. You can check out Sweet Spot for yourself at the link below.
Sweet Spot [Spotify]