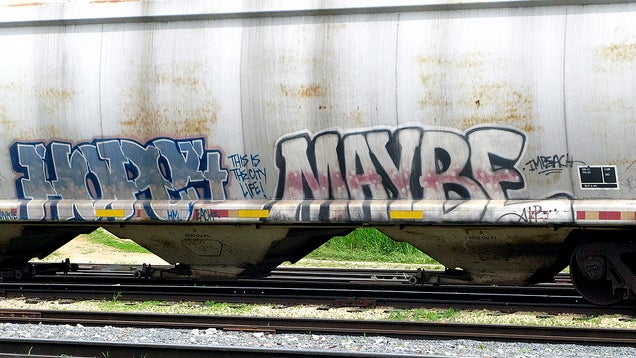 We all get stressed, and it's easy to get a little negative when that happens. While you can't always say "everything will be alright", adding a "maybe" to a few of those statements can reduce the stress.
Photo by Aaaarrrrgggghhhh!
World of Psychology shares some tips from Allison Carmen, author of The Gift of Maybe. When you're thinking about your stressful situation, acknowledge the possibility it may not turn out the way you expected. Carmen suggests challenging your view with these statements:
Maybe my beliefs about the situation are not true;
Maybe what is happening is good;
Maybe what's happening can get better;
Maybe I can find a way to accept whatever I'm experiencing and still be all right;
Maybe, in time, I will know what to do next;
Maybe everything is fine.
The language we use changes the way we think and relying on positive affirmations doesn't work for everyone. If you recognise you're reacting to a possibility rather than an absolute certainty, you'll be open to a potential positive outcome. We get so wrapped up in the immediate reaction that we don't realise we have a choice on how to approach the problem.
Check out the link for other ways to use "maybe" to your advantage.
The Power of Maybe [Psych Central]