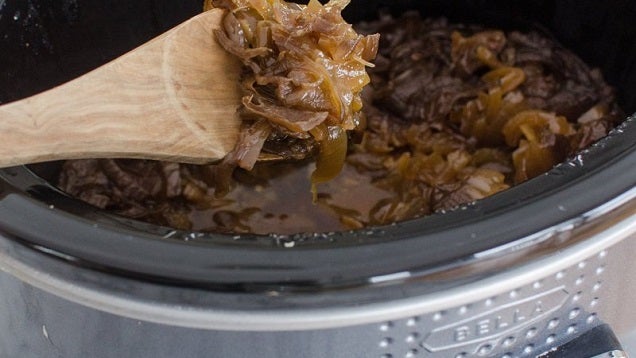 Making French onion soup from scratch can be a lengthy process, especially if you don't have any pre-caramelised onions on hand. If you plan ahead, a slow cooker can do almost all the work for you.
Properly caramelising onions takes time. While there are some things you can do to try and speed up the process, you risk losing the flavour you're after. Faith Durand at cooking blog The Kitchn suggests that a slow cooker will do all the heavy lifting instead. Chop up a few onions and throw them in the slow cooker with some butter, olive oil, salt, pepper. Cook it overnight on the low setting — or for at least 12 hours. Boom, a whole batch of caramelised onions. In the morning, add the broth and other ingredients, and let it cook on the low setting for another six to eight hours.
When it's dinner time, ladle some soup into some oven safe bowls, add the toast and some Gruyere cheese, and bake in the oven until the cheese is melted. Broil the serving bowls for a couple minutes to get a nice brown, bubbly top and you're ready to eat. Slow cookers just make some things so much easier, and French onion soup is a delicious, savoury dish. For the complete guide and ingredient options, check out the link below.
How to Make French Onion Soup in the Slow Cooker [The Kitchn]