The decorations are all up, the beer is on ice and the mood is nice and loose for your annual New Year's Eve party, but have you thought about the music? What are you going to rock out to at your party as the calendar ticks over to 2015? We've got you covered with the best playlists and streaming services your party could ask for.
Lean Back: Rdio, iTunes Radio, Pandora
So called lean-back music services are great, because they let you select one track or a genre of music and listen to a slew of songs that sound similar or match your interests. iTunes Radio is a great service for Apple users, while everyone else will get a kick out of services like Pandora (with its advanced music-matching algorithm) or Rdio and its beautiful, cross-device experience.
Rdio is probably the service we'd recommend to most, though. It's really easy to get started, has a beautiful interface and a massive range of songs that lets you skip almost infinitely (unlike iTunes Radio). Here are 10 tips to get the most out of it:
1. Promote your taste in music
Rdio gives you your very own personal profile on the web, which you can find by clicking the user avatar in the top right-hand corner of Rdio's browser interface. Visitors to the page, whether Rdio users or not, can then see the music you've been listening to most frequently and which songs and tracks have been recently added to your collection.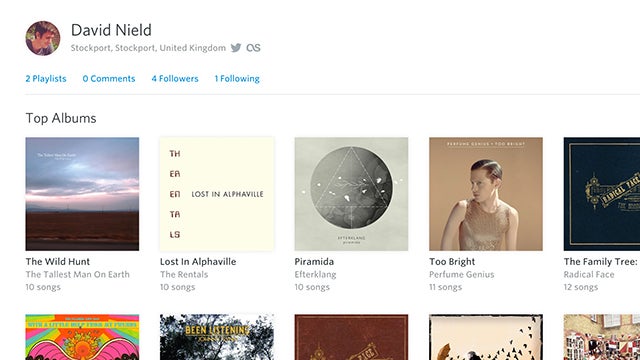 You can pass this URL around on social media, post it on your blog or even put it on your business card to let other people know just how eclectic your musical taste is. If you've rather not have this information public, head into the Advanced section of Rdio's settings where you can make your profile private (so it's only visible to people approved as followers on Rdio).
2. Embed songs on the web
If you've found a track, playlist or album that you really can't keep to yourself, then Rdio lets you embed mini players elsewhere on the web, like your personal site. You'll find the option anywhere you see the Share button. Click on it, then switch to the Embed tab to find the code, which you can copy and paste somewhere else.
There are seven different sizes of player to choose from, which can be accessed from the drop-down menu under the code. Rdio users who come across the embed can start listening straight away, assuming they're logged into the service, while non-Rdio subscribers can hear 30-second preview clips of all the music you've listed.
3. Remote control your music
Out of all the streaming services on the market, Rdio has one of the most intuitive queuing systems, and will remember exactly where you are down to the second as you switch between devices and web browsers. Remote control capabilities are also built into the service and work automatically. You can launch Rdio on your phone to control the playback coming from your laptop and vice versa.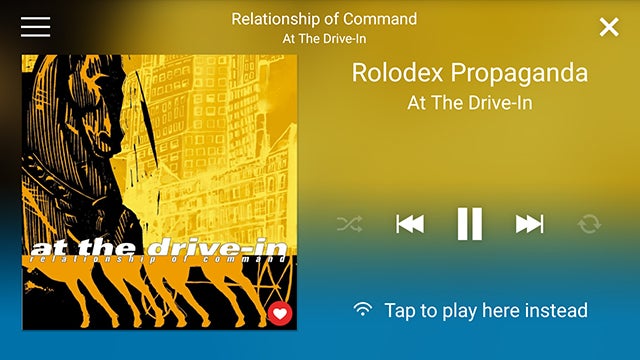 Open up the Rdio app while it's running elsewhere and you'll see a message to the effect that music is playing on a different device. You can still use the pause and skip buttons to control the playlist, however, and you can still add tracks to the upcoming queue remotely. Click the Play here instead or Tap to play here instead options to switch between devices.
4. Rearrange the play queue
We've mentioned the ease with which Rdio lets you queue up music for future listening — and the convenient way it keeps your position even when you're not using it — but there's plenty of flexibility to be found within the queue manager as well. From the web interface, click and drag any entry in the upcoming list to change its position in the queue.
You can remove tracks or albums completely via the X icon; to put them next in line for listening, click Move to top (it's an arrow icon pointing upwards). Each entry in the list also has a play button next to it, which you can use to quickly skip to something that you want to hear right away. Click on the icon showing three horizontal dots for more options.
5. Build up your Favourites
In September, Rdio changed its Collection feature to Favourites. It's basically where you keep all the music you actually like to save you the effort of sifting through the many millions of songs in Rdio's catalogue every time you want to listen to something. Rdio uses your Favourites to choose which artists it recommends to you, so it's worth shortlisting a few albums even if you don't use the feature very much.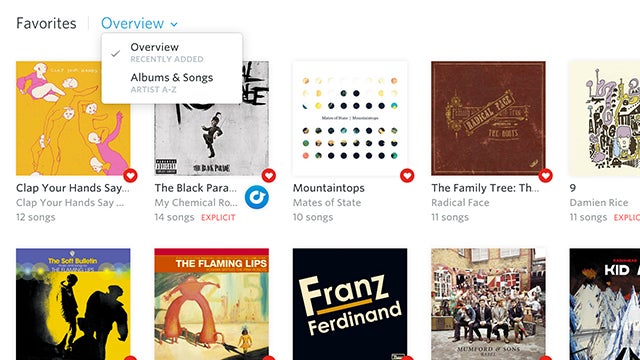 Albums, songs, playlists, artists and stations can all be added to your Favourites with a click on the ubiquitous heart icon that appears all of the Rdio interface (in the mobile apps you'll need to use a long press to find the option). If you've gone overboard on your favoriting spree, you can reset the whole Favourites section through the Settings page under the Advanced heading.
6. Set the download quality
Rdio makes syncing tracks to your mobile devices for on-the-go listening quick and easy, but there are settings that control the quality of the cached tunes. If you have plenty of storage space to space on your smartphone and tablet, and you want the best possible offline listening experience, then you can ramp this value up a little.
In both the Android and iOS apps open up the Settings page and you'll find the relevant option under the Downloads heading. You can set the figure anywhere from 64kbps to 320kbps. From the same screen it's possible to set whether or not downloads are allowed over cellular networks as well as Wi-Fi.
7. Add artwork to playlists
If you're going to be sharing a playlist with other people or publishing it to the web then you want to make sure it looks tidy. And the mosaic of album covers that accompanies Rdio playlists by default doesn't look very tidy at all. Thankfully, you can add your own customised artwork to a playlist before anyone else has a chance to see it.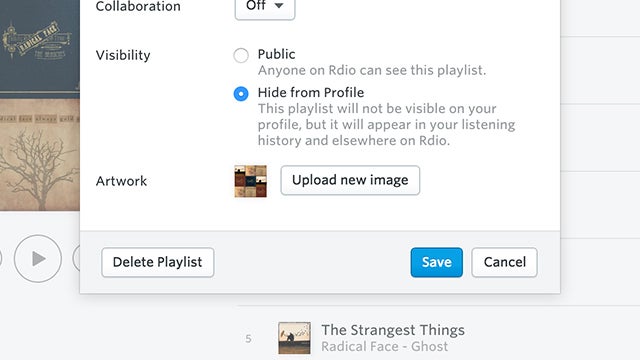 Head to the playlist from the Rdio browser interface, then click on the Edit button in the top right corner. You have the option to make playlists private or public, and to enable collaboration. To set the playlist image, click Upload new image. Pictures that aren't perfectly square will be cropped accordingly, not squashed or stretched to fit the space.
8. Add tracks to playlists quickly
Once you get to know Rdio's web-based interface, switching between albums, artists and playlists is as easy as clicking on your browser's forward and back buttons. There are plenty of useful features hidden away in the online interface, including the ability to add new tracks right from a playlist without having to search through the Rdio catalogue.
Click inside the Find a track field at the top of the playlist and start typing. The only problem is that you're going to need to know pretty much exactly what you're looking for to be able to find it. Select the track once it appears and it's appended to the end of the current playlist. This doesn't work for albums, just individual songs.
9. Contribute likes and comments
It's not easy trying to build up a community around music — just ask Apple — but Rdio lets you add comments and likes beneath albums, something you might not have realised if you've never scrolled down beyond the track listing. Add your own thoughts on an album or like a comment someone else has left if you feel the same.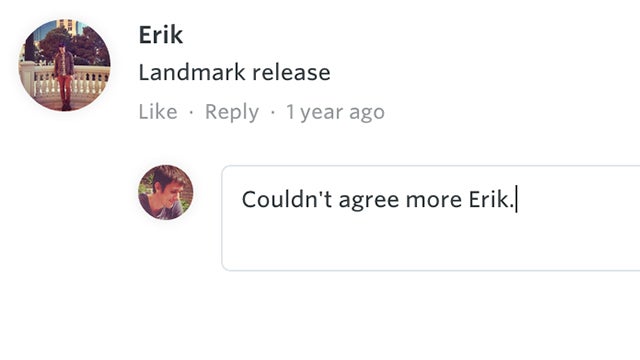 You can also add comments to comments if you want to keep the discussion going further and perhaps find some like-minded music lovers along the way. What's more, Rdio displays a list of users who have recently played the album in question lower down on the page, giving you another way of expanding the network of people you follow.
10. Go to sleep to Rdio
If you want to drift off to sleep to the soothing sounds of an Rdio playlist then you don't have to rely on any third-party software to do so. There's a sleep timer built into the mobile apps that you can find from the Settings screen. Make your choice between 15 and 120 minutes from the list.
You'll need to be playing your music on the device itself, as the sleep timer doesn't work remotely, and unfortunately there's no indication on the mobile interface that a timer has been set unless you go back to the Settings page. If you set it and forget it you might find your tunes cut off when you're not expecting any interruption.
---
Lean In: Spotify
Spotify is more of a lean-in music experience. You're the curator rather than some mystery algorithm. That means you'll need to build playlists yourself.
If you can't be bothered doing that though, try these on for size. We've put together 100 songs that defined 2014 for you, at a length of almost 6 hours. Fire this up at 8pm when people start arriving and you'll have music all night and into the New Year.
Otherwise, you can always listen to some of Spotify's suggested playlists built by the service's overlords. There are Australia specific playlists for everything from pop music through to dance and rock.
For example, here are the year's biggest chart hits in one playlist:
Then of course, there's mastering Spotify to get the best experience for yourself in the long run. Try these 10 tips to get started.
1. Show Lyrics With Your Tunes
Spotify launched its app platform late in 2011, allowing all manner of plugins and extensions to be built on top of it. One of the most effective is TuneWiki, which pulls lyrics for your tracks from the web and scrolls through them as the song progresses. Whether you want to set up an impromptu karaoke session or desperately need to know the words that are being mumbled/screamed, TuneWiki is an excellent tool to have to hand.
[clear]
2. Use Advanced Search Modifiers
Spotify's search box may look a little bare to the untrained eye, but there's plenty you can do with it if you know a few tricks. Try adding the operator "year:2000-2005" to limit the date range, or the operator "genre:rock" to only look for a particular genre of music. Other operators you can use include "track:", "artist:" and "album:" and you can combine them together with AND/OR operators too.
3. Organise Your Playlists
If your collection of playlists is becoming stretched and unwieldy you can split them up into folders to make them easier to manage. Choose "New Playlist Folder" from the File menu and you're good to go — drag existing playlists into this new folder to move them. Clicking on the folder name shows a summary of all the music in the playlists contained within, so you could use folders as a way of splitting up your music collection into different sections.
4. Import Tracks And Playlists
Don't throw out all of those neglected MP3s just yet — Spotify can import everything in your iTunes or Windows Media Library so you can access these files in Spotify (it's one of Spotify's key advantages over Rdio). The import option is on the File menu, and once completed you'll find all of your tracks listed under a Local Files heading in the navigation pane. If there's a rare recording Spotify doesn't have, or other gaps in its streaming library, then this is a great way to plug the holes.
Local files can be synced to your mobile devices if you're a Premium user ($US10/month), and of course they reduce the strain on your internet connection too, because no streaming is required when they're being played. Right-click on a local track and choose "Edit Info" to make changes to the file's metadata.
5. Embed Tracks On The Web
If there's a killer track you're dying to share with your friends, family and the world at large then you can embed it on the web using a bit of code provided by Spotify. It's called the Spotify Play Button, and you can find it here — simply paste in the track link (which you can find by right-clicking on it and choosing "Copy Spotify URI") and your widget code is ready to go. You can import it into a blog post, sidebar widget, or anywhere else you like.
Some sites, such as Tumblr, include optimised support for the Play button, so all that's required is the link. The trick works with playlists and albums as well as individual tracks.
6. Link To A Certain Point In A Track
Found an unbelievable guitar riff or an epic bass line? Link to a specific point in any Spotify track by adding "#3:00" to any URL, where "3:00" is the time you want playback to start. Paste this text into the Spotify search bar, for example, to listen to a certain well-known section of a certain well-known song:
spotify:track:2QO8cnnFW6khDuAuUAySeV#4:08
7. Track Your Listening Habits
Click the "Play Queue" link in the navigation pane and you can see the tracks you've got coming up; switch to the "History" tab to review what you've just listened to. If you want a more detailed breakdown of your listening habits, we'd recommend Last.fm and its impressive scrobbling service — you can sign into a Last.fm account on the Preferences screen, add it as a Spotify app and it works with iTunes, Windows Media Player and many other apps and services too.
With Last.fm tracking your listening you can look back on your favourite songs or albums of the last six months or the last six years, get instant recommendations of new music to listen to, and even befriend like-minded music lovers.
8. Send Songs And Playlists To Friends
We've covered embedding songs and playlists on the web, but you can also send tracks straight to the inbox of your Spotify friends. Click the small Share button by a track (or a playlist or an album) and open the "Send to Friend" tab. Type out your friend's name, include a glowing review, and you're all set. If you want to start work on a collaborative playlist then this is one way of announcing it.
9. Share Playlists On Your Profile
You may not have realised it, but you have a public Spotify profile that other users can see when they click on your name. This shows your followers, who you're following, and which artists you've listened to recently. To make one of your playlists visible to anyone else on your profile page, right-click on it and choose "Make Public". To change the default behaviour for new playlists, head to the Preferences screen (under the Edit menu) and tick the box marked "Automatically make new playlists public".
10. Share/Don't Share On Facebook
Whether you're ashamed of your love for Beyoncé or not, you need to know what you're sharing with your friends on Facebook — the option to toggle sharing on or off is under the "Activity Sharing" heading on the Preferences screen. You can also disable sharing to your followers on Spotify. To temporarily disable sharing across all your connected networks — when you want to hear Gangam Style, maybe — choose the "Private Session" option from the drop-down menu below your avatar.
---
YouTube & Vimeo
Of course, some of the music you like might actually be trapped inside video sites like YouTube and even Vimeo.
YouTube allows you to throw stuff into a playlist, and even allows you to shuffle and/or repeat clips in that particular playlist. If you want to be clever you can connect your phone or PC up to a larger display and play the music videos along with the songs for a truly 90's dance party this New Year's Eve.
Alternatively, you can use an app called Musicplayr, which lets you create playlists from both video sites on your phone (or in a browser) with ease.
---
What's your favourite music tip for stress-free party tunes? Tell us in the comments, and have a happy New Year's bash!
Originally published on Gizmodo Australia