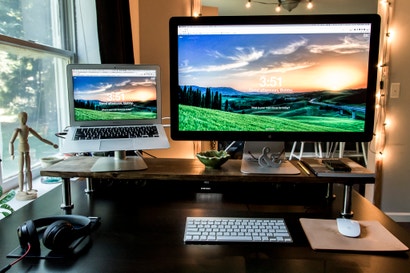 Reader Bobby Kane makes good use of monitor stands to keep everything at eye level, and hide away unsightly speakers in his small but homey workspace.
Bobby is using these IKEA legs and a shelf to raise up his monitor (as we've showcased once before), and a Twelve South HiRise to raise his MacBook closer to the level of his larger, main monitor.
He has also laid a Samsung soundbar under the monitor stand to keep his speakers out of sight. (You can see another view in the "in progress" photo of his workspace.) The welcome screen on Bobby's computer comes courtesy of Momentum, the productive and inspirational Chrome extension.
Workspace - Updated* [Flickr]