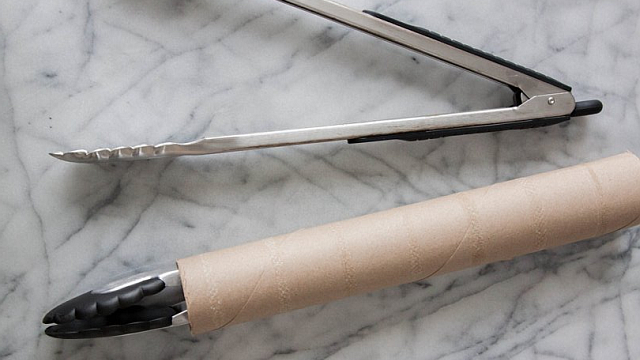 Kitchen tongs are awesome for many purposes, from squeezing citrus to grabbing hard-to-reach items. But they can make a mess when stored in a drawer. A simple cardboard tube is the answer.
Tongs usually come with a little lock to keep them shut together, but jostling in the drawer can release the latch easily and the tongs will spring open. You can stuff your tongs into old paper towel tubes so they are a snug fit in the drawer and don't take up more space than they need to, says The Kitchn.
ThriftyFun adds that you should cover the tubes with clear shipping tape to make them last longer. And finally, when you are using them, put them in a heavy beer mug to keep your counter clean, advises Preety's Kitchen.
Here's a Smart & Simple Way to Store Tongs in Your Kitchen [The Kitchn]