Whether you're shopping for books, music, software or video games, the web is full of "bundles" — discounted packs where you can get lots of goodies at a bargain price. Here are some of the best to check out.

Title photo by cherezoff (Shutterstock) and Zybr78 (Shutterstock)
---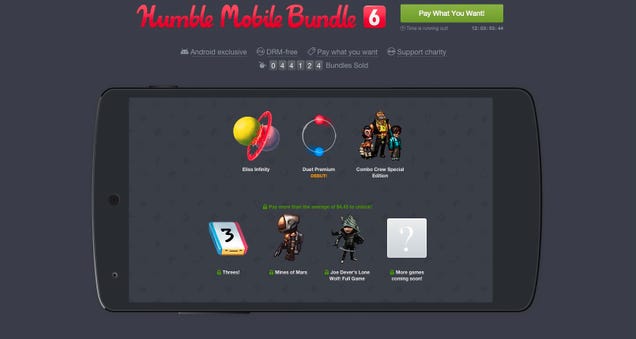 Ah, the Humble Bundle. This bundle of games is the first one that springs to mind, reflecting its long history of offering games bundles. While not every bundle is a news-maker, the prices are consistently awesome, and there's a commitment to DRM-free games that you buy once and own forever on all of the supported platforms As with many great bundles, you get "pay what you want" pricing, so you can pay as little as you can afford, or as much as you're willing to spend to unlock bonuses and premiums. Seriously, it's hard not to love the Humble Bundle.
---
The BitTorrent Bundle is a mixed media bundle sponsored by BitTorrent (the company, not the file transfer technology) that packs in books, movies, music and more. We
highlighted it when it launched
, and it continues to thrive, offering exposure for independent musicians, authors and movie-makers. The content of the bundles varies, but they usually include about a dozen different items. In many cases, you get the content in the bundle either for free or at a super-low cost, and then you're asked to support the artist, author, or moviemaker by pre-ordering their album, film or book at a discount. Once a bundle is launched, it doesn't really expire -- so you can go back through old bundles, find artists, musicians or movies you're interested in, and take advantage of them anytime. It's a treasure trove of bundly goodness.
---
We love Storybundle, and not just because the
brains behind the service
is former Lifehacker writer Jason Chen. There are so many awesome books in every bundle that's posted, covering a range of styles and genres. Storybundle adopts "pay what you want" pricing, with some of the money going to charity, some going to Storybundle itself, and the rest directly to the authors you're supporting. As you pay more and sales increase, additional books are unlocked and added to the bundle. Each bundle is only available for a limited time (so if you see something you like, hop on it).
---
The MacUpdate Bundles have been hit or miss for me, but when they've been hits, they've been *really* big hits. I've scored everything from Scrivener to Screenflow at steep discounts. When the bundles are big, they're well worth the money and you can find yourself scoring software that's normally on sale for hundreds of dollars for a fraction of that amount.
---
Have a favourite bundle we didn't mention? Tell us about it in the comments.