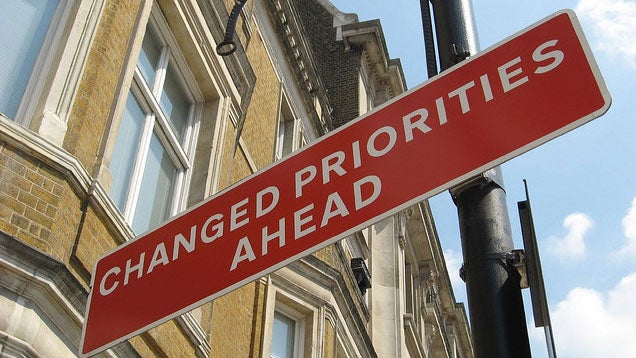 Warren Buffett might best be known for his financial advice (which is usually very simple), but we might also learn a few things from him about productivity and achieving our goals. Scott Dinsmore of Live Your Legend relates a story about Buffett in which he gave a friend advice on how to figure out and achieve goals.
Picture: R/DV/RS/Flickr
Make a list of the top 25 things you want to do in the next few years or even your lifetime, and then pick the five most important.
The other 20 things? Forget about them, for now:
Once the Top 5 planning session was over, Warren then asked "but what about these other 20 things on your list that you didn't circle? What is your plan for completing those?" Steve replied confidently "Well the top five are my primary focus but the other twenty come in at a close second. They are still important so I'll work on those intermittently as I see fit as I'm getting through my top 5. They are not as urgent but I still plan to give them dedicated effort."

To Steve's surprise, Warren responded sternly, "No. You've got it wrong Steve.Everything you didn't circle just became your 'avoid at all cost list'. No matter what, these things get no attention from you until you've succeeded with your top 5."
Most of us have heaps of things we hope to do. This is a simple exercise that can help you find what to focus on right now. (Reminds me of this story of a female general's approach to the to do list: List your priorities — one, two, three and so on — and cross out everything from three down.)
Warren Buffett's 5-Step Process for Prioritizing True Success (and Why Most Peope Never Do It) [Live Your Legend]