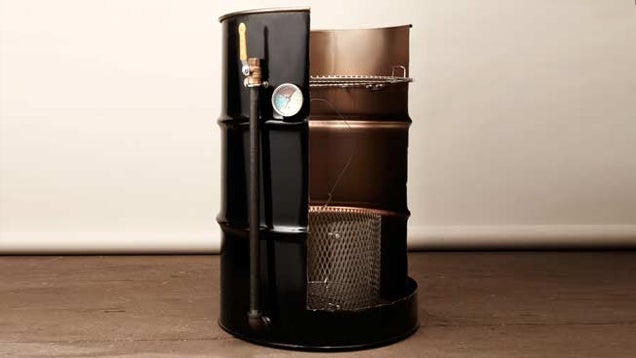 While using a grill is the most popular method of cooking outside, connoisseurs of slow-cooked meat will tell you that a smoker is the way to go. You don't have to buy another outdoor appliance to smoke your own meat though. This no-weld plan shows you how to build a smoker out of a 200-litre drum.
Ugly Drum Smokers (or UDS for short) are just what they sound like: ugly and made out of a 200-litre drum. But it turns out they also make good smoked meat, so this might be the project for you if you aren't bothered by aesthetics.
This step-by-step plan from Popular Mechanics shows how to assemble the smoker out of a steel drum, plumbing parts, a grill tray and miscellaneous fittings. It's important that the steel drum is unlined, food grade (not treated with epoxy). New drums can cost hundreds of dollars, but try searching for used ones online.
Build Your Own Smoker From a 55-Gallon Drum [Popular Mechanics]