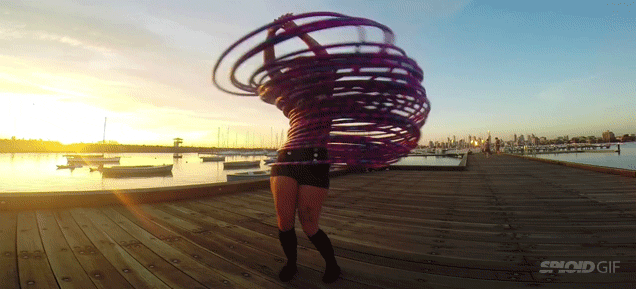 Brief news items of note for Lifehacker readers, including: Scientists empirically discover the best cheese for pizza, Ed Husic comes out swinging against anti-piracy laws, watch a girl dance with 30 hula hoops at once.
For those who haven't been keeping abreast, nude photos of Jennifer Lawrence, Kate Upton, Kim Kardashian and several other female celebrities were leaked online today. The illicit pics were released on the internet forum 4chan overnight, with the alleged hacker reportedly in possession of loads more images of other female celebrities. Gizmodo's Luke Hopewell explains why you shouldn't look at any of them.
Coral Jade is a street performer that's pretty much mastered the art of hula hooping. She can twirl them on every part of her body, use them to create mind bending warps and dance with 30 to make it look like she's being teleported in a JJ Abrams-era Star Trek Transporter. Watch her go!
Scientists have finally answered the question that's puzzled mankind for over a century: what cheese tastes best on pizza?
Why focus on piracy when the "Australia tax" issue still rages on? That's what IT Pricing champion and Federal MP for Chifley, Ed Husic wants to know. In parliament today, Husic let fly at the government for its tardy response to the IT Pricing Inquiry. "The government's busy doing the bidding of big business – obsessed with internet piracy while not taking a serious look at why Australia tops the charts for piracy...Where the big players have made products easier, safer and price sensitive you've seen ample evidence of positive changes in consumer behaviour." Gizmodo has the report.
Winter is over and before you know it it's going to be beach weather again. Here are some tips from PopSugar Australia Health & Fitness to ensure you stick to your diet.