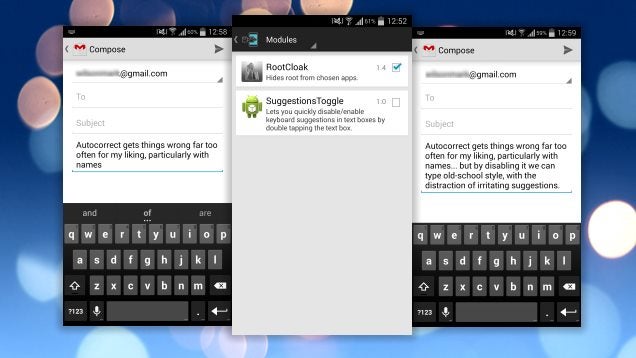 Android (rooted): Autocorrect is useful most of the time, but there are some words you just know are going to get mangled if you leave it on. Suggestions Toggle is an Xposed module that lets you switch autocorrect on and off whenever you want.
To use this, you'll need the Xposed framework, which we've shown you how to install before. Then install Suggested Toggle from the link below. Activate the module — it has no permission requirements — and restart your phone.
A double tap in a text field is all it takes to toggle autocorrect suggestions on and off. You might want to leave it enabled most of the time, but when you have trouble with a particular word, you can quickly disable it. Suggested Toggle works with both the Google keyboard and SwitftKey.
Suggested Toggle [Xposed Module Repository via XDA Developers]