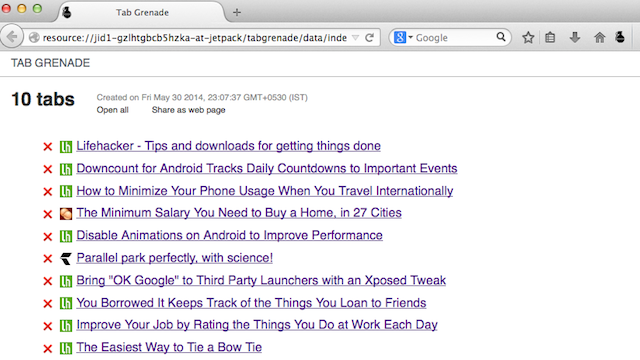 Firefox: Have too many tabs open? Tab Grenade lets you shut them all in one click without losing them. It saves them as a list, so you can open them when you want, and even share them with others.
The extension is similar to OneTab for Chrome. All your tabs are turned into a list of links, with the current date and time highlighting when you saved them. You can open them all at once or individually, and delete individual tabs from the list. There's also an option to share this list as a web page.
Ghacks notes that it doesn't work with everything: internal about: pages don't seem to be saved. That's a small downside for an app that keeps your Firefox running smoothly without losing all your tabs!
Tab Grenade [Firefox Add-Ons via Ghacks]