One of the best parts about XBMC, the kickass customisable media centre software, is its browser-like extensions. If you've ever wanted to incorporate watching TV, listening to podcasts, or playing video games to your XBMC box, this is how it works.

---
We originally published this list back in 2011, but with the release of XBMC 13.0 "Gotham", we decided to update it. There are lots of new add-ons out there, and lots of old ones that are no longer compatible, so check it out — you might find something you haven't seen before!
---
Downloading and Installing Add-Ons
Installing add-ons is incredibly simple, though it may take an extra step or two depending on whether the add-on is officially supported by XBMC. Here's how to install add-ons from within the XBMC repository, as well as add-ons from outside sources.
Installing From the Official XBMC Repository
Note: videos in the post use an older version of XBMC and discusses old add-ons, but the process should be the same for more recent versions.
XBMC's add-on system works very much like a Linux distribution (for those of you that are familiar with the process). There are a few different places you can get add-ons, called repsitories. One repository comes built-in to XBMC, so you can get right to browsing the add-on catalogue without any extra work. All you need to do is open up XBMC and head to System > Add-Ons > Get Add-Ons. At this point, your only choice will be "XBMC.org Add-ons" (the main repository). After clicking that, XBMC will present you with a number of categories to choose from, like Music Add-ons, Program Add-ons, Skins, and so on. Within these categories, you'll find tons of add-ons you can choose from.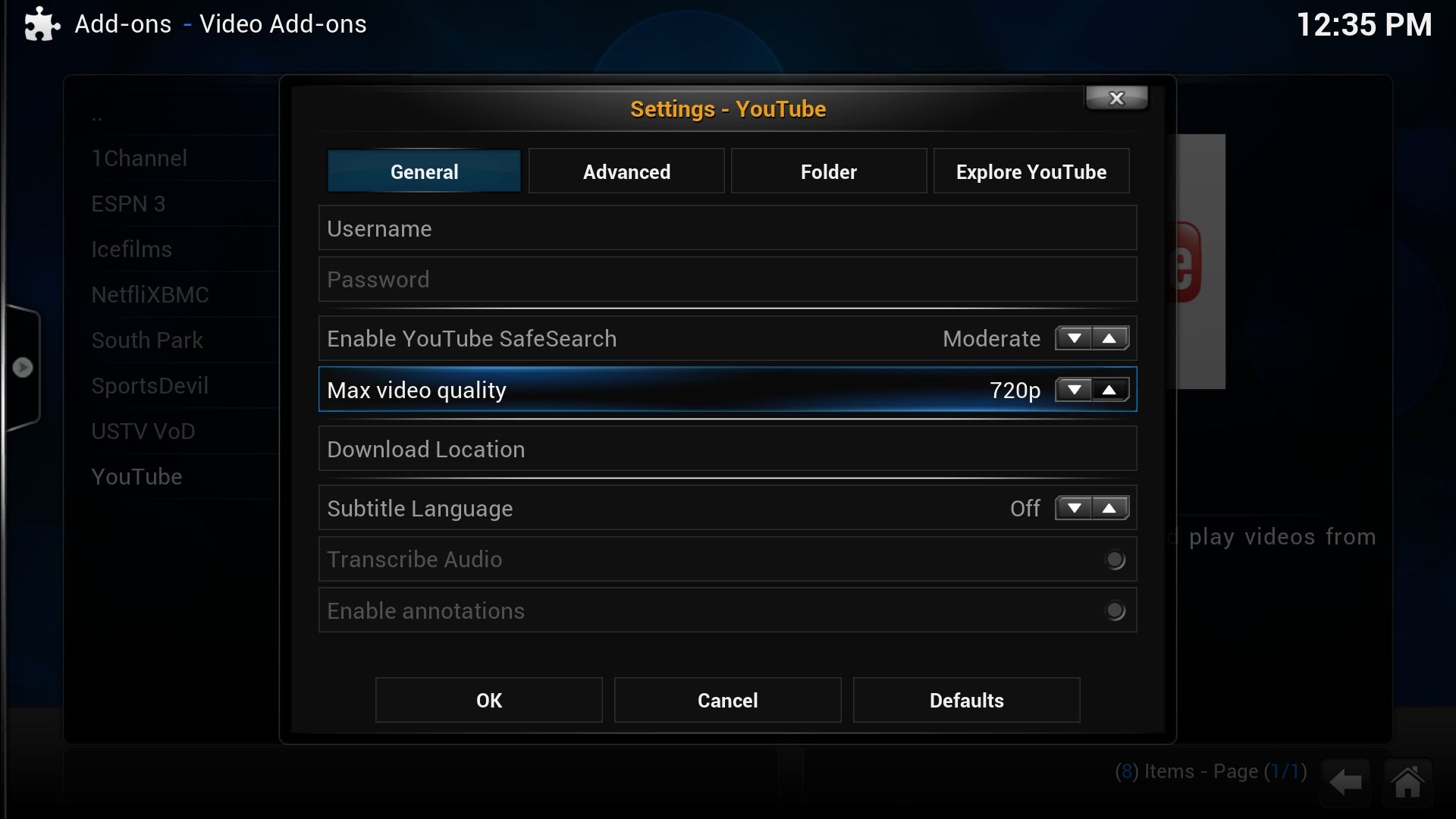 To get more information about an add-on, just select it, and you'll get a window explaining what the add-on does. From there, hit the "Install" button to install the add-on. To access it, go to its category (e.g. if you installed a "Music Add-on", you'd head back to the main menu and go to Music > Music Add-Ons). You may have to edit the add-on's settings before you can use it (usually by highlighting it and going to the context menu with the "c" key on your keyboard, or whatever the corresponding button is on your remote). For more information on specific add-ons, check out our list of favourites below.
Adding New Add-On Repositories to XBMC
There are a few third-party add-ons that you won't find in XBMC by default. To install them, you'll need to add their repositories. You can find some on this wiki page, but you'll find others on the XBMC forums, or even featured here on Lifehacker. Most revolve around a specific add-on or language set, though there are a few general repositories that contain a few different third party add-ons.
To install a third-party repository, just download its zip file from that wiki page to your computer. Then, in XBMC, head to System > Add-Ons and click "Install from zip file". Navigate to the zip file on your computer, and select Install. Then, when you head to "Get Add-Ons", you'll see the new repository listed as a choice, and you can browse add-ons from it just like you did the official repository.
Our Favourite Add-Ons
While we'd recommend browsing the repositories to see what cool add-ons you find, there are definitely some we'd consider must-haves. Here are some of our favourites (all of them are from the official XBMC repository unless otherwise noted).
Content Channels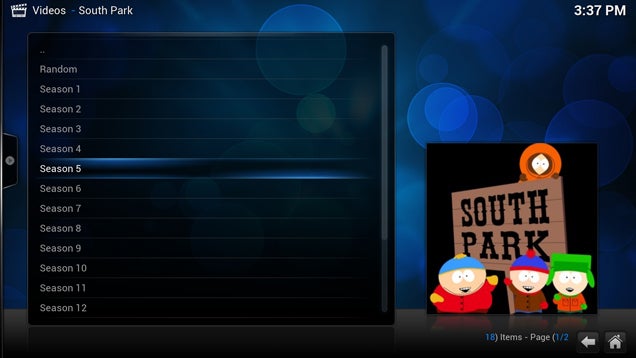 Location: Audio Add-Ons and Video Add-Ons, available in many repositories
What They Do: It's not one specific add-on, but if you look in Audio Add-Ons and Video Add-Ons, you can usually find quite a few of your favourite content providers, from whom you can stream shows right from the Music or Video sections of XBMC. They range from real broadcast channels like PBS, NPR, Fox News, and Cartoon Network to podcast networks like TWiT, Jupiter Broadcasting, TED Talks, Revision3, and even web videos like YouTube and Funny or Die.
And those are just the ones that come with XBMC. You can also find some other great ones in third-party repositories, like Democracy Now and The Guild in the Queeup repository, or South Park in the AddonScriptorDE testing repository.
Navi-X, 1Channel and Icefilms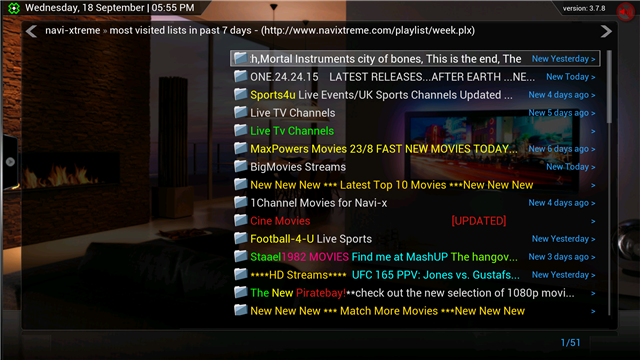 Location: You'll find Navi-X on Google Code, 1Channel on GitHub, and Icefilms in the Anarchintosh repository. Install them from ZIP files and you'll find them in Video Add-Ons.
What They Do: These three add-ons (and many others like them) grab movies, TV shows, podcasts, live sports streams, and other videos from different streaming sites on the internet. They are, essentially, insanely huge libraries of just about anything you could ever imagine. They're a little overwhelming at first, but if you can't find what you're looking for anywhere else, you can probably find it here.
Note, however, that many of the streams are unofficial — meaning some of them can be finicky, and some may also be illegal. Use them responsibly.
uTorrent, Transmission and CouchPotato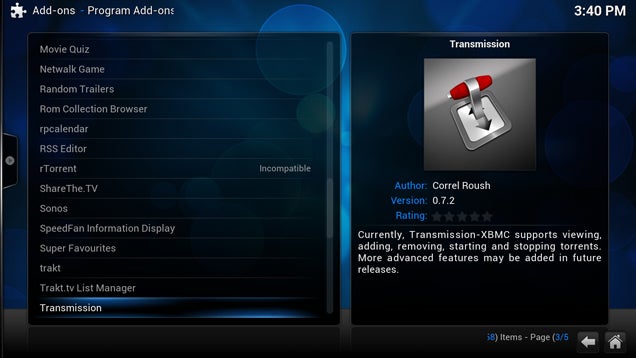 Location: Program Add-Ons
What They Do: Whether you use BitTorrent or Usenet to download your movies and TV shows, XBMC has quite a few download managers in its add-ons catalogue. By setting up uTorrent's WebUI, Trasmission's Remote Control, or CouchPotato for Usenet and inputting the right information to the corresponding XBMC add-on, you can check on (and, in come cases, even start and stop) your downloads from your TV, whether they're on that computer or a remote one.
Advanced Launcher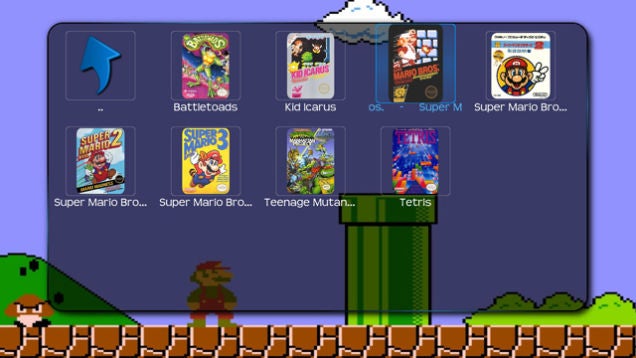 Location: Angelscry Repository > Program Add-Ons
What It Does: Want to play video games on your XBMC box from XBMC's remote-friendly interface? We actually showed you how to use the original Launcher plugin back before add-ons were easy to install — now all you need to do is install the plugin from Program Add-Ons and get to emulatin'.
Advanced Launcher isn't the only add-on of its type available; if you aren't happy with it, you can also check out ROM Collection Browser, available in the Official XBMC Repository.
XBMC Library Auto-Update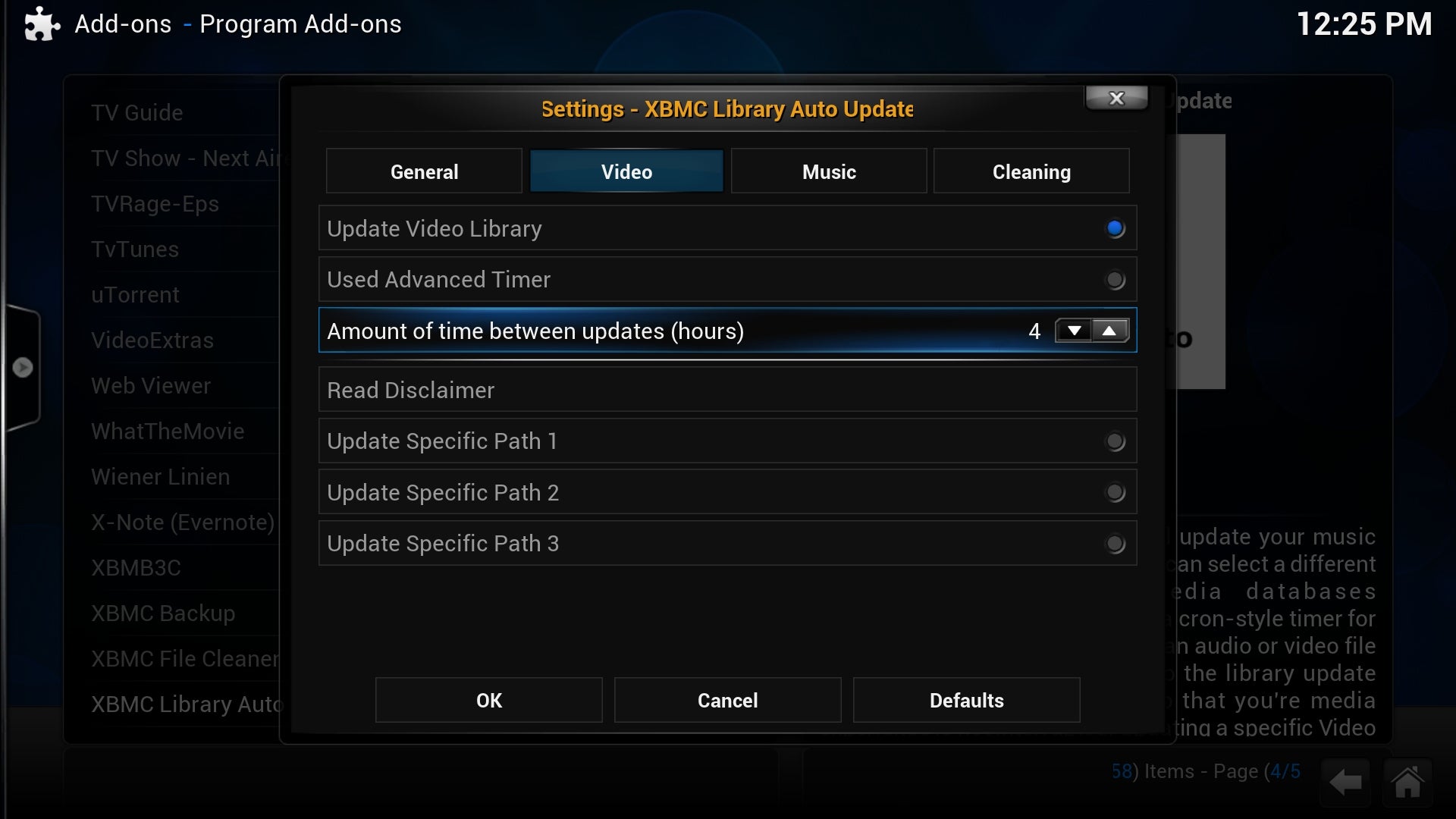 Location: Program Add-Ons
What It Does: If you'd prefer not to have to restart XBMC every time you add something new to the library (or every time your automated system does it for you), you can start up this add-on at the beginning of your XBMC session, and it will automatically scan your library for new content on a certain time interval.
XBMC File Cleaner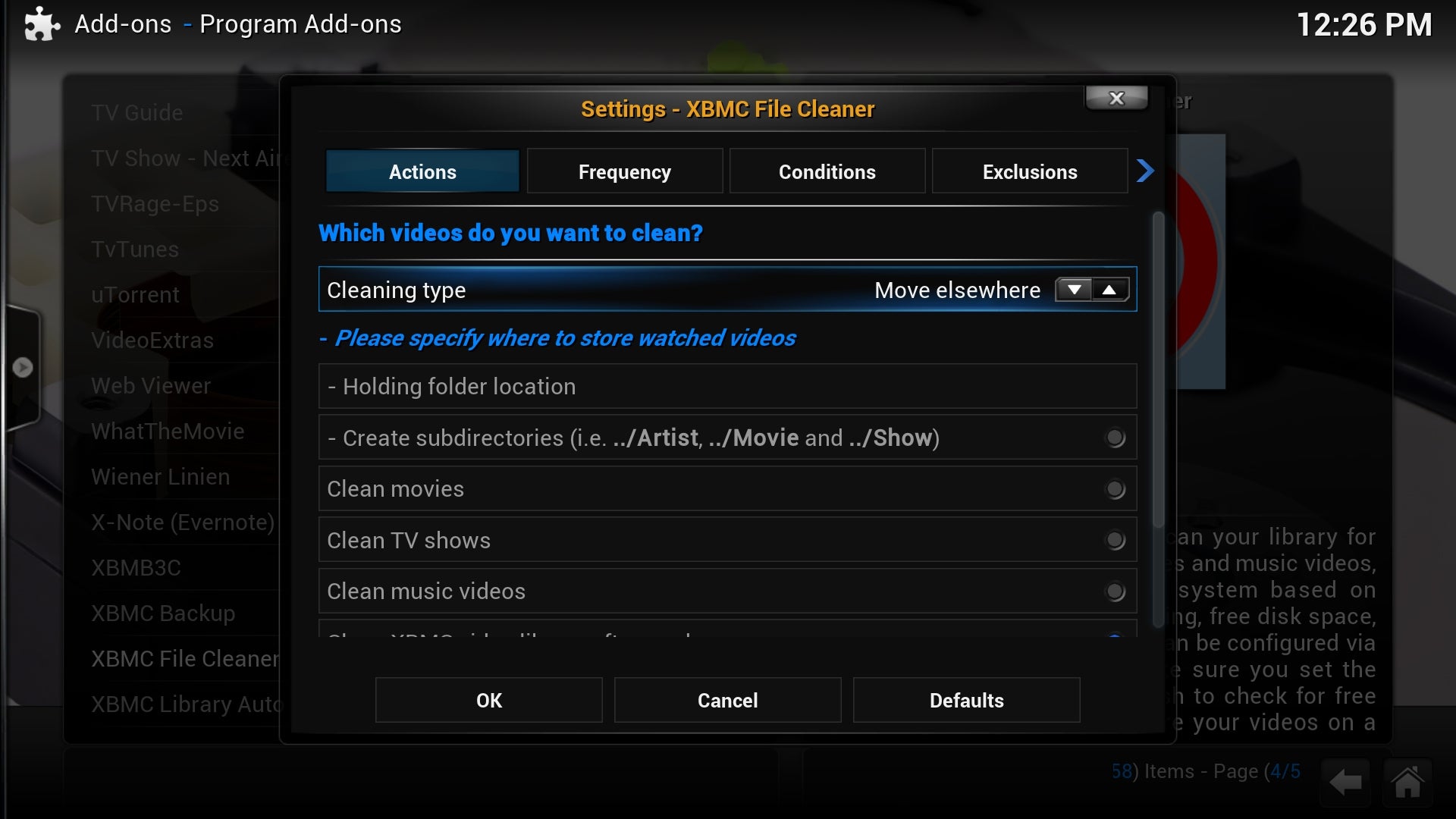 Location: Program Add-Ons
What it Does: This neat little extension scans your library for watched TV shows and movies and moves or deletes them based on things like age, rating, and free space on your disk. You can further configure how it works in its settings. Be careful with this one; if you aren't, you could delete all your movies (yikes!).
Skins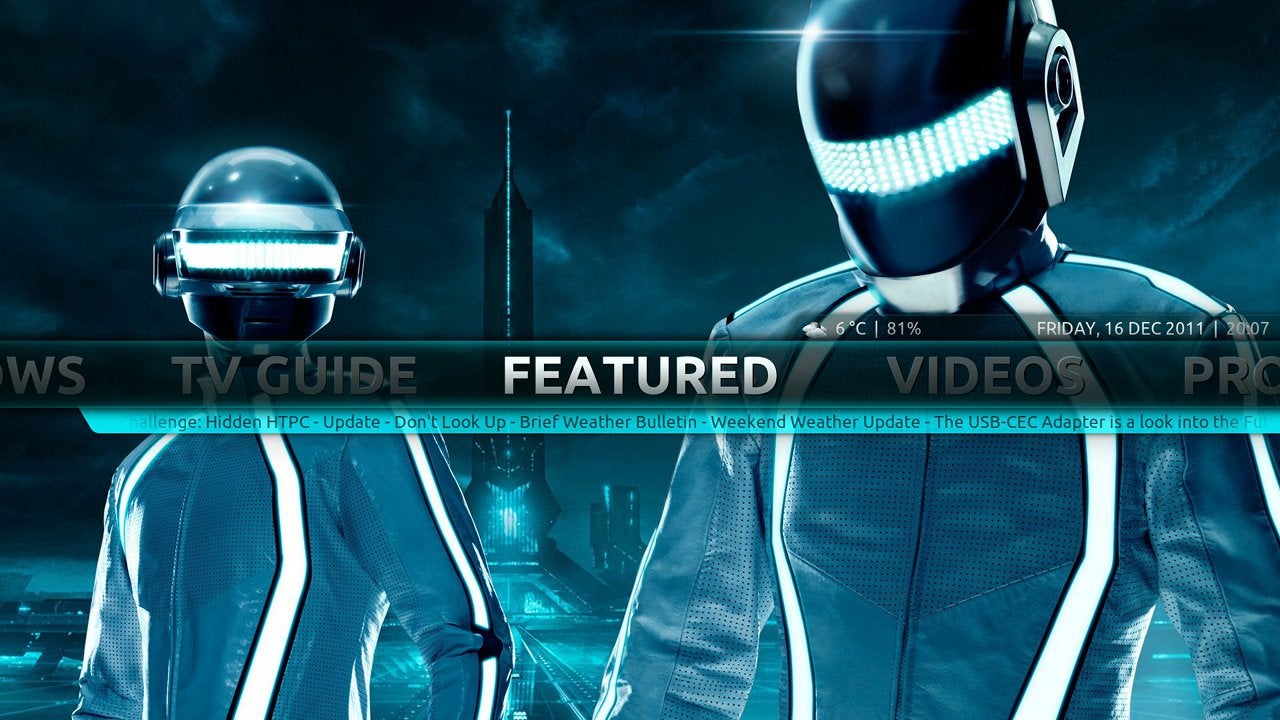 Location: Skin, in many repositories (including the official XBMC.org repository)
What they Do: Just like it sounds, skins make your XBMC installation look and behave differently. Just head to the "Skin" section of the add-ons manager, and you'll find a nice helping of popular XBMC skins that you can install with one click. Try a bunch out and find one that you like!
These are just a few of our favourite add-ons we've found after playing with the new version of XBMC. There are quite a few more out there, so head over to the XBMC add-ons manager, and hunt around on sites like the official site, XBMC.org, and the popular (but unofficial) XBMChub.com. You're bound to find something pretty awesome.