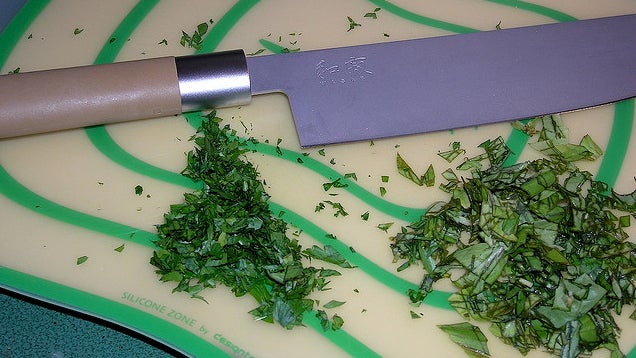 Cooking spray can keep cheese from adhering to a grater and help with scooping sticky ingredients, but it also prevents delicate herbs from getting caught on your knife.
Photo by The Marmot.
WonderHowTo suggests:
Sweeping already-diced herbs off the knife as you chop is half the work when prepping for meals. A light mist of cooking spray onthe sharp blade of a knife will help it glide more easily as you cut and chop. Pesky, sticky foods like garlic and onions will no longer cling to the knife blade; instead, they will slide right off, without any assistance from your fingers.
If you don't like using commercial cooking spray, feel free to use an oil mister on your knife.
5 Must-Know Kitchen Hacks for Cooking Spray [WonderHowTo]