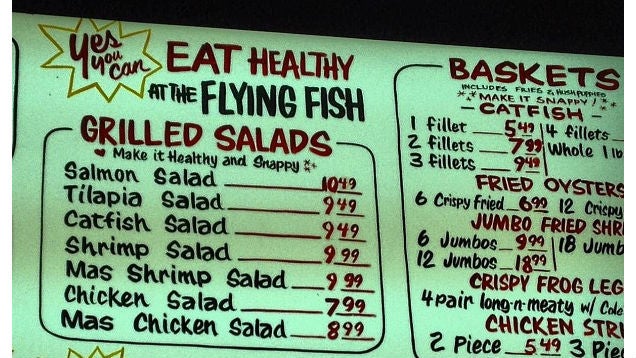 From time to time, we all feel that it makes sense to go for the healthier option on the menu. But research shows that it's all too easy to skip the lighter bites if they are all grouped together on the menu.
Picture: Jeff Stevens/Flickr
Research by Jeffrey R. Parker and Donald R. Lehmann found that diners are likely to almost unintentionally avoid the healthy-only section of a menu. A study found that consumers quickly zone in on the food they order by eliminating "unacceptable alternatives using relatively simple criteria". This makes it easy to ignore breakfast options at dinner time, but there is also the side-effect that many people will ignore the low-calorie options if grouped together.
Drawing on several streams of research, we show that although calorie posting tends to result in lower-calorie choices, additionally grouping low-calorie dishes on the same menu into a single "low-calorie"-labelled category ironically diminishes the positive effects of calorie posting.
The reason is that menu items singled out as "healthy", "light" or "low-calorie" are often seen as inferior.
Intuitively, having options additionally calorie organised should facilitate lower-calorie choices. Yet "should" does not necessarily equal "will." The less healthy consumers believe a dish is, the better tasting it is expected (and experienced) to be. This suggests that categories such as "Low Calorie" or "Under 550 Calories" are likely to cue negative inferences about the dishes contained in them (e.g., "not filling" or "taste bad").
The solution is to make a conscious decision to hunt down the healthy option — seek out the lower-calorie section of the menu and commit to selecting from it.
How and When Grouping Low-Calorie Options Reduces the Benefits of Providing Dish-Specific Calorie Information [Journal of Consumer Research, Inc. via WonderHowTo]