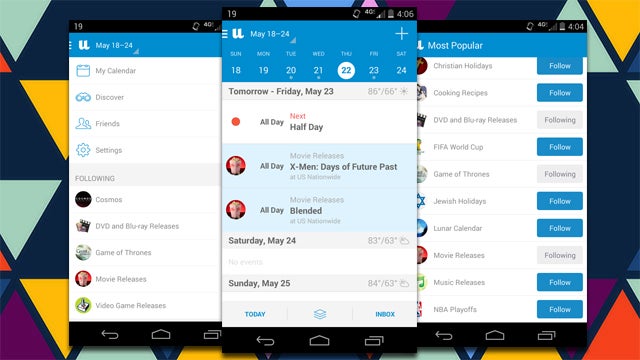 Android/iOS: Most of us include work and social events in our calendars, but we don't tend to add peripheral things we're interested in, such as movie releases or astronomical events. UpTo makes this easy by creating a second layer in your calendar for events you might be interested in.
The app first asks you to subscribe to a number of public calendars that may correspond to your interests. You can follow general movie release dates, episodes of TV shows, religious holidays, sporting events and much more. In the calendar itself, you'll only see your regular events by default, but you can expand the agenda view to see the second layer of events "below" the main one. If you see an event you're very interested in, you can swipe to the left to add it to your primary calendar.
If you prefer Google's own calendar app (or want some of this info on the web as well), you can check out our guide on the coolest things you can automatically import into Google Calendar.