Some Web apps can be controlled with nothing more than an email. Be it creating a Web page, setting up a reminder, or even adding a book to your Kindle, there are plenty of tasks possible with nothing more than old-fashioned email.
The beauty of these email-based services is that they work across any email address, any client, any browser, and any platform. Some of them may need you to sign up in advance, but once that's done, they are ready to go. Obviously there are many more tasks you can accomplish if (for example) you're willing to set up IFTTT recipes.
---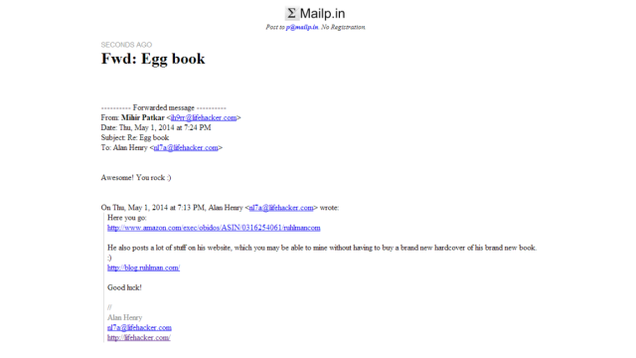 What it does: Creates an instant web page with the contents of your email.
Why it's useful: You don't need to register and it's super-simple to use. Create a new message or forward an existing email to [email protected] and in a few seconds, you will receive a reply from Mailpin. This includes a link to a converted HTML page based on that email. Links are clickable, it works with images, YouTube videos appear embedded, and all email IDs in the mail are automatically scrambled. The page is visible only to those you share the link with.
---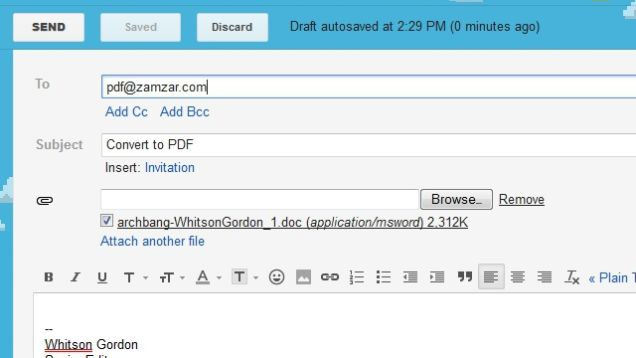 What it does: Converts images, documents, files to different formats
Why it's useful: Zamzar's email converter is fantastic if you are on your phone, or if you don't want to use a specific webapp to convert a file. To use it, send an email to [email protected] replacing "format" with the file type you want. So for example, if you wanted to convert a Doc file into a PDF, you need to attach the file and email it to [email protected] Zamzar supports most common audio, image, video and document formats.
The catch here is that the free account works only with attachments of up to 1MB in size. You'll need a paid account to convert larger files—$US7/month for Basic (5MB files), $16/month for Pro (15MB files), $49/month for Business (25MB files).
---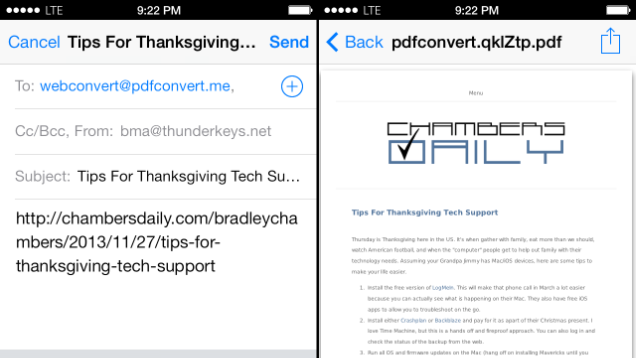 What it does: Converts an email, its link or its attachment into a PDF.
Why it's useful: Zamzar can convert attached files, but if you want the contents of your email in a PDF, then PDF Convert is the way to go. It will convert attachments, web links and the actual body of the email into a PDF—not something Zamzar does. If it's the email itself that you want converted to PDF, you need to mail [email protected] or [email protected] (to get it without the email headers). To convert the first link in your email, send it to [email protected] For documents, email to [email protected] It works perfectly from mobile, which is where it's the most useful. FYI, the service store your information only for as long as it's needed to convert the file.
---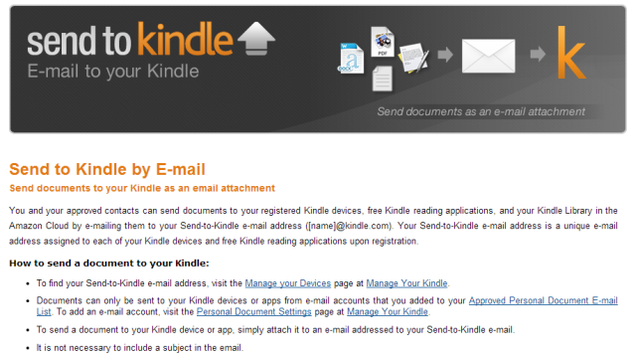 What it does: Sends any Kindle-compatible file to your Kindle.
Why it's useful: You can read anything on your Kindle with a single email. The file has to be compatible with Kindle: PDF, DOC, HTML, RTF or Mobi. Simply attach the document in an email to your personal Kindle email address (which you can find in the Kindle settings). You also need to add the sending address to your Amazon account (this prevents your account being spammed). As an added bonus, if you use the word "convert" as the subject line, the attachment will be converted to native Kindle format.
---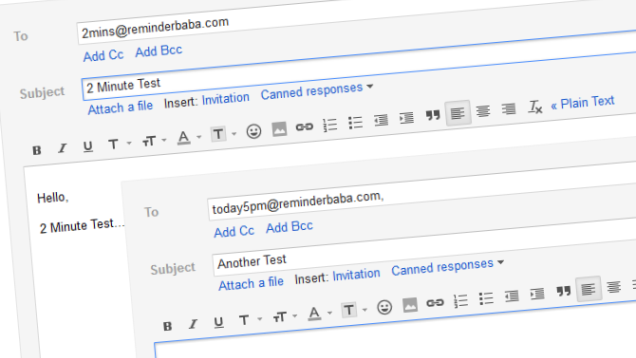 What it does: Sends you a reminder, including recurring reminders.
Why it's useful: While reminder apps are great, they are not for me. With ReminderBaba, you simply send a message to [email protected] or whatever time period you want to be reminded in, and after that, an email pops into your inbox. You can set it by days, weeks, months, and send recurring reminders with all sorts of permutations and combinations for day, date, week, month, year and time. The full list is available at ReminderBaba, and you won't have trouble remembering it after you use it for a few weeks.
---

What it does: Intelligently reads your emails and adds events to Google Calendar.
Why it's useful: Adding email-coordinated appointments to Google Calendar is easy with Super.cc. First, you need to register and grant the app access to your Google account. Send the email with the appointment to [email protected] and the app does the rest, figuring out the place, date and time. It can be a little inaccurate in longer emails, so when you are confirming the appointment, try to summarise it in Super.cc's recommended formats.
---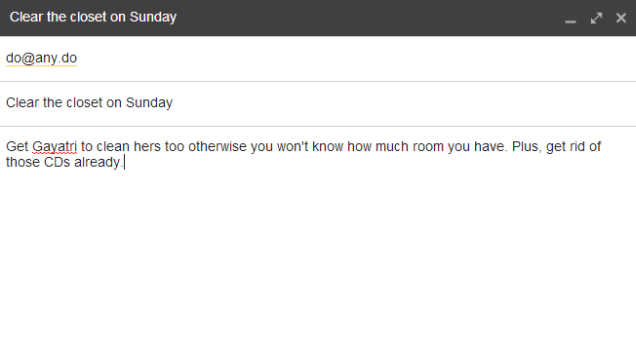 What it does: Adds tasks to your to-do lists.
Why it's useful: Any.DO is one of the most popular to-do list managers, and you can add tasks to your to-do list in it via email. It has to be sent from the same email address associated with your Any.DO account, but it's pretty simple after that. Just fire an email to [email protected]: the subject line is the task and the body is the notes. It's especially useful when you are checking your email on your phone and want to add a quick reminder without opening the Any.DO app and breaking your flow.
---
Know of a useful email-based service we should add to this list? Tell us in the comments.