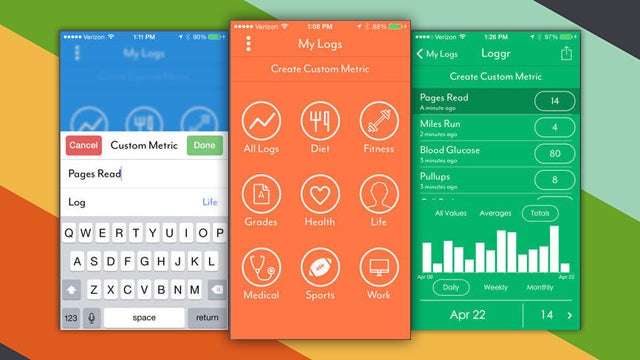 iOS: Most health and fitness trackers let you keep track of specific things, such as steps taken or hours slept. Loggr lets you keep track of whatever you want to track, whether it's blood pressure, heart rate, pages read, meals cooked, whatever — and it will build graphs and reports around all of it so you can see how you're doing.
Loggr is kind of a "build your own life tracker" app. If you do want to keep track of your blood pressure, for example, this app can help with that. If you're trying to build better habits and want to work out more regularly, cook more meals at home, water the plants regularly or just clean the house, the app can track all of that for you too.
Best of all, Loggr does a good job at building graphs and interactive charts so you can keep an eye on your progress, which is great if you're a data nerd. You can even export all of your data to Excel and save it to use in other apps. The app is completely free, but for $3.79 (via in-app purchase) you unlock additional features, including the ability to sync your data to Dropbox automatically (without having to manually export), import data from Runkeeper or Moves, view advanced statistics, and personalise the look and feel of the app.
Hit the link below to give it a try. If you've been wanting a personal tracker that lets you manage your own data, it's worth a look.
Loggr (free) [iTunes App Store]