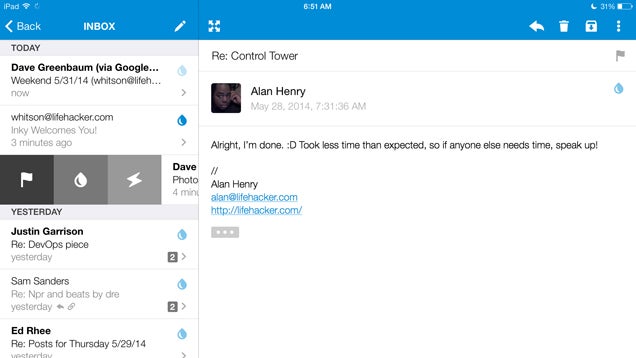 iOS: Inky, the desktop email client that aims to organise your inbox by perceived importance, is now available on iPhone and iPad. The iOS version also comes with lots of smart filters.
For those of you that didn't try the desktop client back when we first featured it, Inky aims to be something like Gmail's Priority Inbox. It will rank your email by importance based on who its from, the content of the email and so on using a small ink icon that gets darker for more important messages. It also provides multiple views, including a unified inbox for all your accounts, a filtered inbox for only important messages, as well as messages pertaining to social networks, deals, subscriptions, packages and messages including maps.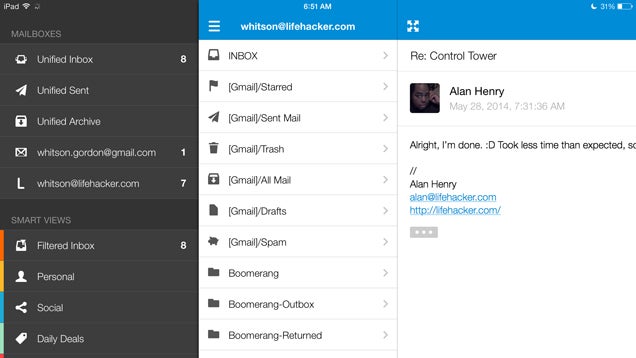 The app itself works quite well — it's very smooth, it has some handy swipe gestures, and its flat interface feels much more at home on iOS than it did on the desktop. It also has some nice features in tow, like one-tap unsubscribe, address mapping, package tracking, quick "canned" replies and Dropbox integration. All of these work fairly well and make it feel like more than just an email client.
However, it also still has some of the same annoyances as its desktop counterpart: you need to sign up for yet another account (which is completely unnecessary), and its headline feature — priority sorting — still isn't as smart as it should be. It has three levels of importance, yet everything in my inbox is either "low" or "medium" — the only message marked as "high" importance was the Welcome to Inky message. Even threads I'd been replying to were marked as medium (although, again, you can adjust the importance of individual messages, which I assume allows Inky to "learn" from you). Even with "medium" and "low" importance, it's not all that different from Priority Inbox — although I can't speak to how well it learns over time (Priority Inbox is great if you take the time to teach it).
Inky continues to be a nice concept that just needs a little time to mature, and it works well provided you aren't using Gmail, which has many similar features (like Priority Inbox and Smart Labels). If you're unhappy with the few iOS email clients out there, give Inky a try.
Inky Mail [iTunes App Store]