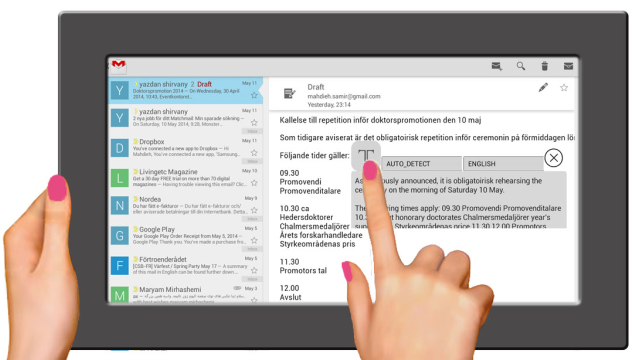 Android: When you need any text on your Android translated, Inapp Translator does the job without making you move away from the app you're currently using. You get all the information you need in a floating window.
Inapp Translator is available as a floating icon, but you don't need to keep that on all the time. When you do need it, start it up, select the text and copy it to your clipboard. Then just tap the Inapp Translator floating icon and you'll get your translation. It's based on Microsoft Translator and supports the following languages:
Arabic, Bulgarian, Catalan, Chinese Simplified, Chinese Traditional, Czech, Danish, Dutch, English, Estonian, Finnish, French, German, Greek, Haitian Creole, Hebrew, Hindi, Hmong Daw, Hungarian, Indonesian, Italian, Japanese, Klingon, Klingon (pIqaD), Korean, Latvian, Lithuanian, Malay, Maltese, Norwegian, Persian, Polish, Portuguese, Romanian, Russian, Slovak, Slovenian, Spanish, Swedish, Thai, Turkish, Ukrainian, Urdu, Vietnamese, Welsh.
You can also type in the floating window and have that text translated to a language of your choice. So, if you're talking with someone in another language, you can do it all without ever having to open another app!
The basic version is free and includes ads. But these ads aren't really intrusive, and removing them costs a pricey $10.
Inapp Translator (free) [Google Play Store via XDA Developers Forum]