Windows 8 brought a few handy improvements to Windows Explorer, including the "one folder up" button from previous incarnations of Windows. Explorer Rebar Tweaker is a small program that lets you customise the Windows Explorer address bar.
It doesn't do much, but you can hide the up button, hide the search box, and tweak the padding around the address bar and navigation buttons. It's not something most users will need, but you may like it if you prefer a cleaner Explorer (and use a different search program, such as Everything).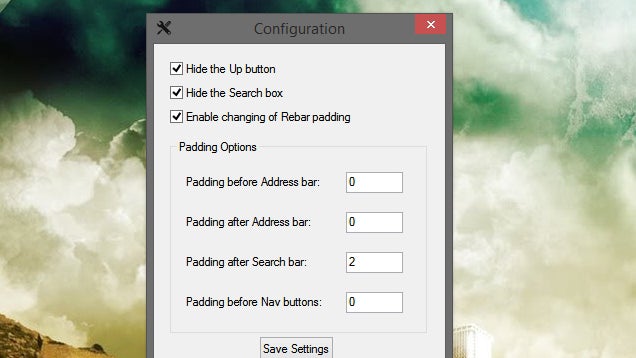 The app is portable, so just extract it and its configuration files into a folder on your hard drive, then run the version for your OS (32-bit or 64-bit) to run it. You can change the options by running the Configuration GUI app.
Hit the link below to try it out (and be sure to bypass the Adfly ads before the download link).
Windows 8.x Explorer Rebar Tweaker [DeviantART via AskVG]