The wait is nearly over: the fourth season of Game of Thrones will screen on Australia's Foxtel network in just a few hours' time. To prime yourself for this quasi-historic occasion, we're assembled the best Westeros-flavoured articles from across the Allure network. Let the feast begin!
The hotly-anticipated debut of Game of Thrones Season Four is expected to be one of the biggest events in television history. If you're a fan, the date is already marked on your calender: Monday 7 April on Showcase at 3.30pm, followed by a primetime encore at 7.30pm. Here's a cross-selection of Game Of Thrones posts to whip you into a pre-show frenzy. Click on the headlines to go to each article.
---

Last year, Game Of Thrones author George R.R. Martin took to the stage at the Sydney Opera House to discuss his popular fantasy series, the spin-off HBO TV show and his craft as a writer. Here are ten kernels of wisdom that could help budding authors write their own fantasy saga.
---
There's no shortage of fantasy fiction in modern entertainment — but can any of it hold a candle to
A Game Of Thrones
? We've assembled a list of similar works that should satisfy any George R.R. Martin fan including novels, TV shows, comics and movies. If you're looking for compelling characters and lashings of sex and/or violence, you'll find it here!
---
If you're a regular user of social media, avoiding
Game of Thrones
spoilers is next to impossible — if it's not some US viewer letting the cat out of the bag early, it will be a smug reader of the books. Tch, eh? This is where the Chrome-based web app Silencer comes in.
---
When Game Of Thrones returns to Australian screens on Monday, you'll no longer have the option of buying the episodes on iTunes shortly after transmission. Here's what you can do instead.
---
The hotly-anticipated fourth season of HBO's Game Of Thrones is set to debut in April. To the annoyance of many Australians, this year's season will be shown exclusively on Foxtel, which means you no longer have the option of buying the episodes on iTunes shortly after transmission. Foxtel is offering an olive branch in the form of a Premium Movies & Drama package spearheaded by Game Of Thrones for just $10 per month.
---
If you enjoy Game of Thrones but don't really obsess over every last detail of the show, this nine minute recap of the first three seasons might be just the ticket. Particularly if you've forgotten what happened and don't have the time to spend a whole week marathoning the show.
---
The console game was rubbish, the browser-based social strategy game lacks action — what's a Game of Thrones fan gotta do for a satisfying video game adaptation of their passion? Spanish comic artist Abel Alves offers this free solution.
---
Karakter design studio in Germany were brought on by HBO to do the concept art for pretty much every VFX shot in the show's second season. Including the epic Battle of Blackwater. Feast your eyes on a gallery of highlights.
---
Watch 14 of the most grisly
Game Of Thrones
death scenes re-imagined as 8-bit video games; from Kraznys mo Nakloz' dragon-fueled immolation to the infamous Red Wedding scene.
---
With the new season of Game of Thrones around the corner, it seems like a good time to look back on some fun facts about the show. This collection of trivia spans both the show and the books.
---
Well, it had to happen some time.
---
Now you can wear your love for the Houses of Stark, Lannister or Targaryen with the new Game Of Thrones collection from Black Milk.
---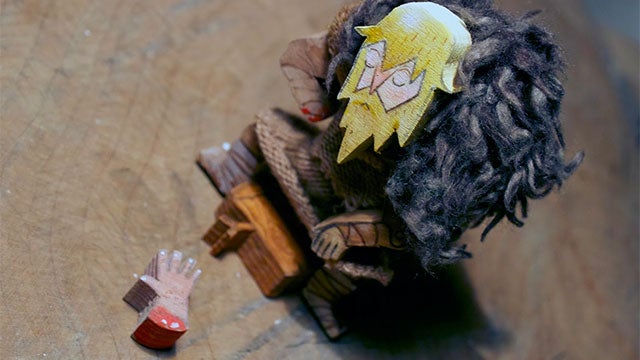 These aren't official figures. They're the work of artist Mick Minogue, and will be appearing at a Seattle art show. Each one was carved, and painted, by hand.
---
HBO has released a new 15-minute featurette detailing the making of
Game of Thrones
season 4. Peter Dinklage (Tyrion), Emilia Clarke (Daenerys), Maisie Williams (Arya) and various other principals all spill the beans about what's to come (spoilers are kept to a minimum). There's also a brief snippet of Drogon the dragon taking on a, er, goat.
---
If you're already subscribed to Foxtel Go, Foxtel Play or Foxtel's good ol'-fashioned cable TV service, you're in for a treat. Full seasons of some of the best TV in recent years are sticking around online for the long run; you'll soon be able to stream a complete archival season of Game Of Thrones.
---

Congratulations, Australia! You bunch of swashbuckling, Game Of Thrones-torrenting, content piracy lovers: thanks to the efforts of the country's pirates, Australia is still leading the world in Game Of Thrones piracy, as the season finale sets new BitTorrent records around the world.
---

Game of Thrones comes back for season four on April 7, and we have all the new pictures! In the stills, we get to see beloved characters like Jon Snow rocking a brand-new outfit (a rarity on this show), a few new actors and characters, and stuff we got a glimpse of in the thrilling trailers, like Jaime's slick new haircut.
---
He's known to his fans as Jon Snow on Game of Thrones, and now Kit Harington steps into his first leading man role in the action blockbuster Pompeii. During our interview, Kit gave us some Game of Thrones season four scoop and revealed how he watches the show.
---
Game of Thrones is one of those rare shows where viewers get so swept up in the world and stories that it's easy to forget the characters are being played by real people.
---
Lifehacker's weekly Streaming column looks at how technology is keeping us entertained.