Dear Lifehacker, I'm clumsy. I dropped my phone and broke its screen badly. The problem is I don't have the money to spend on a new phone right away. What are my options? Thanks, Totalled Telephone
Dear Totalled,
If you don't have the money to buy a new phone outright, you still have a few options. First let's look at whether your phone is repairable.
Repair Your Own Phone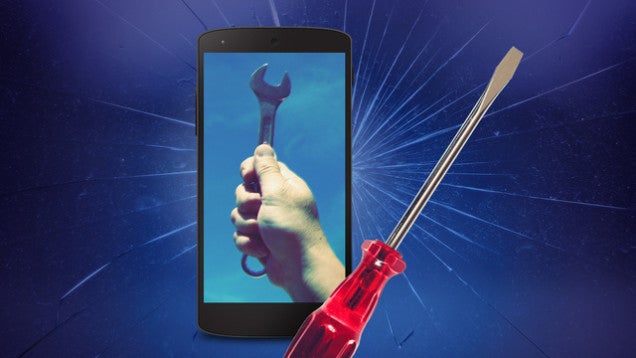 For many issues with your phone, you may be able to repair it yourself. We've previously featured a guide on the most common smartphone repairs you can do yourself as well as a number of DIY fixes and upgrades. While it's not quite as easy as swapping out a graphics card in your desktop, many repairs are actually pretty simple, provided the manufacturer hasn't made it impossible to open up your phone.
It should be noted, however, that if you try to fix your own phone, not only is your warranty void (not really an issue since the warranty doesn't apply for damage that's your fault), but you could make it harder to sell it (yes, it's possible and we'll come back to that) or make an insurance claim.
Sell Your Broken Phone
Buying a replacement phone is going to cost a decent chunk of money. Any value you can get out of your phone is worth it. For lost phones, you're obviously out of luck, but you can still squeeze a few bucks out of a broken phone.
As discussed above, you may be able to do a number of smartphone repairs yourself, but if you don't want to go to the trouble, you can try selling through a smartphone buyback site — our handy worksheet will help you research the best price. Be honest about the condition of the phone: if you lie, you'll ultimately end up not getting the money anyway, and you'll waste everyone's time. eBay or Gumtree or also options, but with so many undamaged phones on sale, your odds of scoring much money aren't great.
Consider Getting Insurance Next Time
Phone insurance can be of questionable value, depending on how much it would be to replace your phone off-contract. Most of the most popular, high-end smartphones cost around $600 or more, which means insurance might be worth it — if you lead an active lifestyle and chances of breakage are high. However, the rise of cheaper, high-end phones (like the Nexus or Moto lines) make it a bit more complicated. There are two main costs to insurance you'll need to calculate to figure out if getting insurance is worth it:
The monthly premium: This varies quite a lot, depending on the phone you buy and the length of your contract — but $10 or so a month is a typical figure. Be sure to check your details carefully.
The excess: This is the amount of the replacement cost you'll have to pay.
If both of these costs together are significantly less than the cost of a replacement phone, then insurance can be worth it. However, on a two-year contract where your phone is broken in month 20, you could easily be looking at $300 or more. Between used phones, refurbished devices, and models that are simply cheaper, your chances of getting a decent handset if you just save that money and buy it yourself have never been better.
Buying phones more frequently than once every two years is always going to be more expensive, no matter what elaborate system carriers, manufacturers, or insurers come up with. The upside is that you have plenty of options available. Just be sure to do the maths for your specific situation.
Cheers Lifehacker
Got your own question you want to put to Lifehacker? Send it using our [contact text="contact form"].