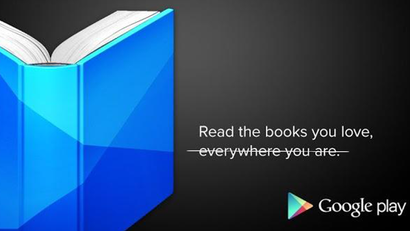 It's hardly news to Australians that Google services aren't available worldwide — we didn't see music sales until April this year, for instance. However, something you might not realise is that those differences in global availability mean you shouldn't update apps for viewing books, music or movies when travelling, or you'll risk losing all that in-flight and on-the-road entertainment you so carefully collated.
In a forum post, John O'Donnell explained how updating his Google Play app while in Singapore resulted in his losing access to all his books, since Books aren't yet offered by Google in Singapore. He didn't lose permanent access to the books, but he wasn't able to re-download them until he was back in a country where that content was available via Google.
The easy (and obvious) way to avoid this problem is to never update apps when you're on the road. For anything that involves paid-for content, that seems like a sensible move. However, it's a reminder that for all the convenience of ebooks, it's far too easy for our access to be cut off as well as granted.
Current Liblicense Archive [via Boing Boing via Gizmodo ]