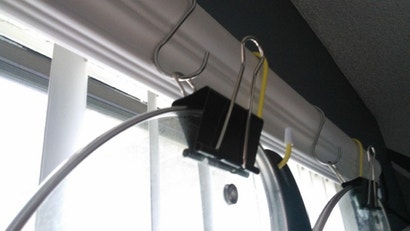 We already knew that binder clips were great for holding recipes in the kitchen, but it turns you they can keep your saucepan lids organised as well.
Reddit user dashingdays has S-hooks hanging on a curtain rod above his window to hold his saucepans (which is a pretty great idea on its own), and then uses binder clips to hold the lids as well. You just have to clip a large, sturdy binder clip to the lid, and slide it onto the end of the S-hook with its corresponding sauceppan. If your lid is really heavy, the binder clip might not do the job, but this trick should work perfectly for most models.
If you don't have a good spot in your kitchen to hang your pans and lids, cheap adhesive hooks can keep them organised in a cabinet.
Hanging pots, pans, and their lids on bedroom curtain [Reddit via BuzzFeed]