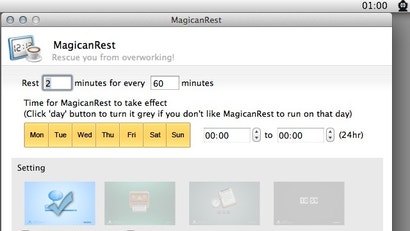 Mac: We've seen plenty of daily break reminders before, but MagicanRest is a break reminder that offers up enough options to make it worthwhile for just about anyone.
MagicanRest's purpose is to remind you when you're overworking, and tell you to rest your eyes. You can set up intervals throughout the day and create different schedules for different days of the week where MagicanRest will remind you to take a break.
When MagicanRest kicks in, you're locked out of your system until the break interval is over (there's an emergency button if you need it). It's not packed with features, and certainly struggles with the English translation a bit, but it has enough customisation options to make it worthwhile over some of the other simpler timers out there.
MagicanRest (Free) [Mac App Store via Addictive Tips]