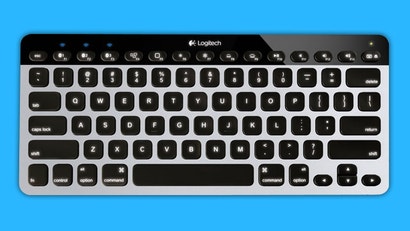 When you have a computer, a tablet and a media centre, you might have one keyboard for each device. The Logitech Bluetooth Easy-Switch Keyboard, however, can pair with all three, so you only need a single input device.
Logitech's Easy-Switch Keyboard offers three different Bluetooth-pairing buttons so you can quickly switch the keyboard between different devices as needed. Whether you want to just switch just between phones and tablets or add your computer into the mix, you can. The keyboard itself somewhat mirrors Apple's Bluetooth Keyboard in its size and chiclet key style, but adds function to that form.
While it may cost a little more than your average keyboard (and annoyingly costs nearly double in Australia than its US price), it can effectively take the place of three, so it isn't a bad deal when used as designed.
Logitech Bluetooth Easy-Switch Keyboard ($149.95) [Logitech via The Wirecutter]